Meredith Baxter comes from a family of entertainers. She has definitely acquired some skills from them and developed more during her acting journey. Over the 50 years of her career, Meredith Baxter has entertained fans with her undeniably great performances. She has also used her fame to help people with breast cancer.
If you're willing to learn more about this Family actress, here are the primary things about Meredith Baxter's career, height, body measurements, diet, workout routine, plastic surgery, and more.
Meredith Baxter's Career
Born to parents who were both in the entertainment industry Meredith Baxter is from South Pasadena, California. She attended James Monroe High School and went on to study at Hollywood High School.
Meredith Baxter began her acting career in 1971 when she had a cameo role in an episode of The Young Lawyers.
Other than that, she has guest-starred in several other television series, including The Doris Day Show, The Partridge Family, Doc Elliot, The Streets of San Francisco, McMillan & Wife, Police Woman, 7th Heaven, Half & Half, Brothers, Glee, Code Black, and more.
Baxter played her first lead role in 1972 in the television series Bridget Loves Bernie, in which she portrayed Bridget Fitzgerald Steinberg. Following that, she had lead roles in Little Women, Beulah Land, Family Ties, Family, and The Faculty.
When it comes to movies, Meredith has acted in numerous television and theatrical films. Her first small-screen movie, The Invasion of Carol Enders, was released in 1973.
Since then, she has had roles in The Stranger Who Looks Like Me, The Family Man, Kate's Secret, The Diaries of Adam and Eve, For the Love of Aaron, Dog's Best Friend, Murder on the Orient Express, Naughty or Nice, and other television films.
As for her theatrical cinema roles, Meredith Baxter made her big-screen debut in the film, Stand Up and Be Counted, which came out in 1972. She followed it with her cinematic roles in All the President's Men, Bittersweet Love, Devil's Pond, The Onion Movie, Airline Disaster, Reading Writing and Romance, Undateable John, and other movies.
Meredith Baxter's most recent role was in the 2020 television film Christmas on the Vine. After which, she was busy shooting for her upcoming movie, Genesis: The Future of Mankind Is Woman, in which she will play the lead role.
Meredith Baxter's Height and Weight
Meredith Baxter has constantly looked breathtaking on red carpets and award shows. Thanks to her gorgeous figure that allows her to stun in any attire. Her height is 5 feet 7 inches or 170 cm (1.70 m), and she weighs around 59 kg or 130 pounds.
Meredith Baxter has just made one simple rule that would be difficult for meat lovers to follow. She chose to become a vegetarian to stay in shape.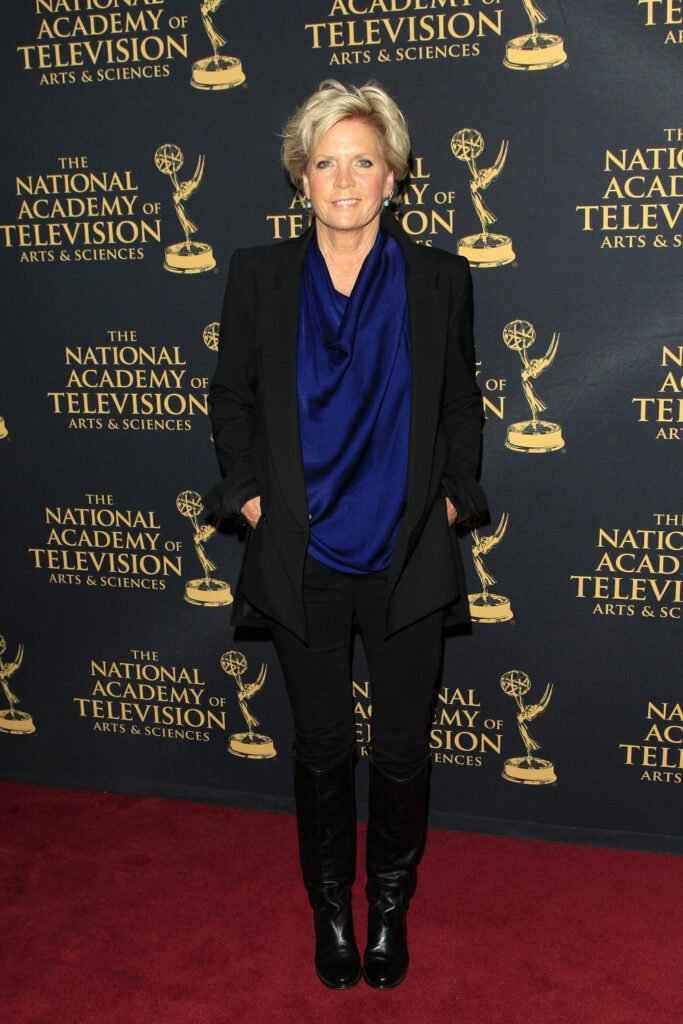 Meredith Baxter's Dating History
Meredith Baxter was previously in three marriages before she finally found her true love.
Baxter's first marriage was with Robert Lewis Bush, with whom she was married from 1966 to 1971. The pair had two children; Theodore Justin "Ted" Bush and Eva Whitney Bush.
After their split, Meredith Baxter married David Birney in 1974. She has three children with her second husband, whom she divorced in 1989. Then Meredith Baxter was married to Michael Blodgett from 1995 to 2000.
Following their divorce, Meredith Baxter kept her dating life on the down low for a decade before coming out as a lesbian in 2009. She also revealed that she was in a seven-year relationship with Nancy Locke. Coming to terms with her sexuality gave her a clear picture of why her last three marriages failed.
Meredith Baxter and Nancy Locke tied the knot in Los Angeles in 2013. Now, in 2022, Meredith Baxter is happily married to her wife, Nancy Locke.
Full Born Name: Meredith Ann Baxter
Nickname: Meredith
Occupation: Actress
Religion: Atheist
Date of Birth: 21 June 1947
Birthplace: South Pasadena, California, United States
Zodiac Sign: Gemini
Father Name: Tom Baxter
Mother Name: Whitney Blake
Siblings' Names: Richard Whitney Baxter and Brian Baxter
Spouse: Nancy Locke (m.2013), Michael Blodgett (m.1995 – 2000), David Birney (m.1974-1989), and Robert Lewis Bush (m.1966-1971)
Children: Kate Birney, Eva Bush, Peter Birney, Mollie Birney, and Ted Bush
Meredith Baxter's Body Measurements
Meredith Baxter's body measurements are 33-25-32 in or 84-64-81 cm. She has a slender healthy figure that allows her to excel in all her roles.
In her 70s now, Meredith Baxter's go-to workout is Pilates which helps her exercise her muscles and stay fit. She attends Core Sport which was suggested by her wife, Nancy Locke.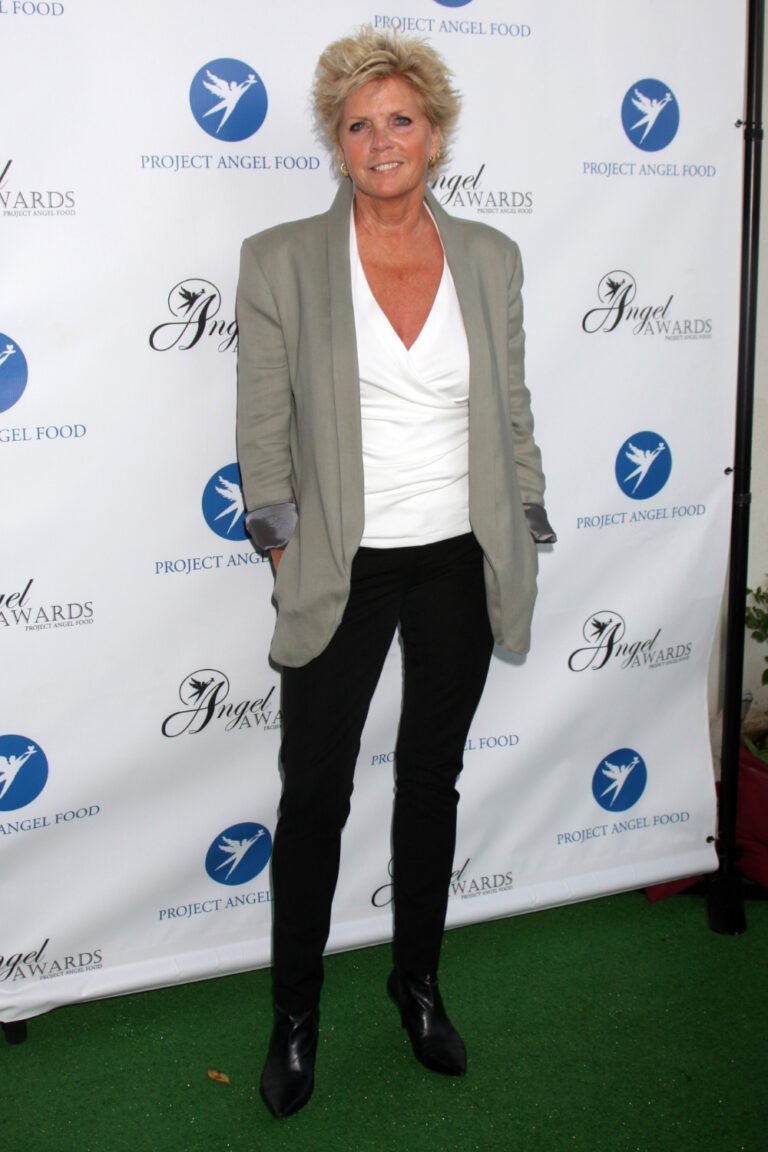 Meredith Baxter's Ample Bosom
Meredith Baxter's breast size is 33 inches, and her bra size is 32B with a cup size of B. She has perfectly shaped busts that she feels happy about.
There was a time when she detested her breasts. She felt they were too big and that people paid more attention to her chest than her, which used to make her uncomfortable. Then she had to get a breast reduction due to her breast cancer. She now likes her new assets better.
| | |
| --- | --- |
| Height | 5 feet 7 inches or 170 cm (1.70 m) |
| Weight | 59 kg or 130 pounds |
| Breast Size | 33 inches |
| Bra Size | 32B |
| Cup Size | B |
| Body Measurements | 33-25-32 in or 84-64-81 cm |
| Figure | Slim |
| Chest Size | 33 inches or 84 cm |
| Waist Size | 25 inches or 64 cm |
| Hips Size | 32 inches or 81 cm |
| Shoe Size | 8 (US) or 38.5 (EU) or 5.5 (UK) |
| Dress Size | 6 (US) or 38 (EU) or 10 (UK) |
| Eyes Color | Blue |
| Hair Color | Blonde |
| Natural breasts or implants | Implants |
Did Meredith Baxter Have Any Plastic Surgeries?
Actresses are required to look beautiful and perfect in all instances. No matter their age, the entertainment industry expects them to put forth a youthful appearance.
Such unrealistic expectations were sprung on Meredith Baxter, too, who was asked to get a facelift when she was in her forties. Though there are rumors that she did get the said facelift, Meredith Baxter has not spoken anything about it. With this, we can be assured that she did not get cosmetic surgery to give her face a youthful look.
Other than that, Meredith Baxter did undergo breast reduction surgery as she battled breast cancer. She feels better about her busts after the surgery as she always regretted her ample bosom.
Meredith Baxter's Net Worth
Since 1971, Meredith Baxter has been entertaining audiences with her performances in movies and television series. She is known for her roles in made-for-television movies for channels like ABC, CBS, NBC, Lifetime Television, and Hallmark Channel.
As someone who has been in the industry for about five decades, Meredith Baxter has an estimated net worth of $7 million as of 2022.
Meredith Baxter's Most Notable Awards And Nominations
Primetime Emmy Award: Outstanding Supporting Actress in a Drama Series, Family, 1977 – Nominated
Primetime Emmy Award: Outstanding Supporting Actress in a Drama Series, Family, 1978 – Nominated
Primetime Emmy Award: Outstanding Lead Actress in a Miniseries or a Special, A Woman Scorned: The Betty Broderick Story, 1992 – Nominated
Daytime Emmy Award: Outstanding Performer in a Children's Special, CBS Schoolbreak Special, 1994 – Nominated
TV Land Award: Lady You Love To Watch Fight For Her Life in a Movie of the Week, 2007 – Nominated
Daytime Emmy Award: Outstanding Special Guest Performer in a Drama Series, The Young and the Restless, 2015 – Nominated
Exciting Facts About Meredith Baxter
Meredith Baxter came out as a lesbian when she was 62 years old.
Meredith Baxter's love story with Nancy Locke began with phone calls before they met five months later.
Meredith Baxter was one of the 900 children who auditioned for a role in the television series National Velvet. She was selected for a screen test along with four others.
Meredith Baxter owns a cosmetic brand called Meredith Baxter Simple Works. The proceedings from it go to Meredith Baxter Foundation for Breast Cancer Research.
What face shape does Meredith Baxter have?
Meredith Baxter has a heart-shaped face. Lately, she has been sporting a bob cut which looks great for her face frame.
What is Meredith Baxter's hair color?
Meredith Baxter is a natural blonde. Even shades like brown suit her well.
What color eyes does Meredith Baxter have?
Meredith Baxter's eyes are blue in color. They compliment her hair color.
Does Meredith Baxter have tattoos?
Meredith Baxter does not have any visible tattoos.
Did Meredith Baxter win an Oscar?
Meredith Baxter had not won an Oscar yet. But she has received five Emmy nominations to date.
Does Meredith Baxter speak Spanish?
Meredith Baxter can speak Spanish. Besides that and English, she can also speak French and German.
Can Meredith Baxter sing?
Meredith Baxter can sing. She performed some of the songs in Family Ties.
Where does Meredith Baxter live?
Meredith Baxter used to live in Santa Monica, but she sold that house. She is probably living in California at the moment, where her wife, Nancy Locke, works.
Meredith Baxter is a remarkable actress who has contributed to the production of a few movies and TV series. Another actress who has worked as a producer is Paget Brewster, who produced The Witch Files. Most people know her from portraying Kathy on Friends.