Margaret Constance Williams, renowned by nickname Maisie, has manifested tomboy characteristics that relate well to her on-screen character Arya Stark from the acclaimed drama television series Game of Thrones.
She adopted her stage name 'Maisie' from the popular comic 'The Perishers,' and since then, she has worked her way to the top to be an iconic figure in Hollywood.
We have brought a detailed exploration from Maisie William's life, covering all the major insights like her success story, romantic relationships, and fitness regime.
Maisie Williams Journey to Stardom
Margaret Constance Williams possesses immense talents to be a youth icon and a remarkable celebrity in the present. She has delineated magnificent performances on the big screen and marked her name as a master at work in the industry.
She received worldwide recognition at a very young age as she was born on 15 April 1997 in Bristol, United Kingdom. She inherited English and Scottish heritage from her parents Gary Williams and Hilary Pitt Frances and studied in Midsomer Norton.
Maisie enrolled in the performing arts course and showed keen interest in the entertainment industry, marking her stardom journey. She auditioned for several roles as a child actor and finally bagged her breakthrough role in 2011 as Arya Stark in HBO's Game of Thrones.
As she got popular throughout the subsequent seasons of the show, she was approached by several filmmakers for her amazing grace and acting range. Finally, in 2012, Maisie Williams made her Hollywood debut with 'The Olympic Ticket Scalper,' as Scraggly Sue.
This rendition of her career has had a wholesome effect on her future. She is widely acclaimed and is followed by many people worldwide. Her appearances for commercial, promotional projects have put her in the media's limelight, and director Danny Boyle has decided to cast her in the Sex Pistols series.
Maisie Williams career's noteworthy roles were in movies and tv shows like 'The Falling,' 'The Book of Love,' 'Cyberbully,' 'The Owners,' 'Mary Shelley,' 'The New Mutants,' and 'The Secrets of Crickley Hall,' which have distinguished her from the sumptuous actresses of her prime.
Maisie Williams is the youngest star influencer in the media who has promoted talent growth in the UK. She has been making headlines for her fashion sense, charitable works, and giving TED talks from a young age.
Maisie Williams is a big-time environmentalist who has highlighted important issues in the world. She has protested against climate change, Dolphin hunts and worked globally to improve sanitation and hygiene.
Maisie Williams is the youngest global ambassador for the World Wildlife Fund, which supports sustainable development, earth day, and ensures a sustainable future for people and wildlife.
Maisie Williams' Height and Weight
Maisie Williams is an adorable woman with an amicable stature. She stands at the height of 5 feet 1 inches or 155 cm (1.55 m) and weighs about 51 kg or 112 pounds which have put her in some prominent positions in her career.
Maisie Williams' height to weight ratio perfectly complements her aim in life. To stay healthy, she has been following a moderate diet plan which allows her to satisfy her cravings occasionally but be consistent with her health routine.
Maisie Williams has reformed her diet plan while growing up. In her childhood, she used to eat a lot of junk food and was fond of eating pizza and spicy wings on the sets of Game of Thrones. Presently, she has switched to salad, smoothies, fruits, dates, almond milk, and vegetables.
Maisie Williams Romances
Actress Maisie Williams' persona of an absolute charmer has won the hearts of fans and her co-stars alike. As a result, she is fancied by many people in the industry, which has led to some meaningful romantic relationships in her past.
Since she is an elusive woman who likes to keep most of her private life a secret, we have covered all the serious romances in which she has shared a fair share of her past.
Her first relationship was in 2014 after she earned her name in the industry as Games of Thrones star Maisie Williams. She started dating Youtuber Casper Lee back when they maintained a high-profile image and showed a public display of affection over social media posts and tweets.
Maisie Williams even appeared in a Youtube video titled 'Bedroom Advice ft. Maisie Williams' on Caspar's Youtube channel. The duo never confirmed their relationship publicly, which led the fans to believe that their bond was platonic.
In 2015, Maisie's name was linked with Motorsport racing driver Ollie Jackson who she dated until 2018. The duo spent quality time with each other and showed PDA on social media before having an amicable breakup.
Maisie even attended the final season 7 premiere of Game of Thrones with Ollie Jackson before separating from him and choosing Reuben Selby as her new partner.
In 2019, Maisie revealed that she has fallen in love with boyfriend Reuben Selby and loves him and the perfect companionship she has found in him. Since then, the duo has been dating and is known as the GenZ dream team.
Maisie Williams and Reuben Selby attended her co-star Game of Thrones actress Sophie Turner and Joe Jonas' wedding. Maisie and Sophie are siblings in the show, they play Arya and Sansa Stark, and in real life, Maisie was the bridesmaid at Sophie's wedding.
They have co-founded the Contact Agency – a creative platform that supports talented people. Since then, the duo has lived happily together, and fans are waiting for them to see each other at the altar reading wedding vows.
Full Born Name: Margaret Constance Williams
Nick Names: Maisie
Occupation: Actress, Dancer
Religion: Catholic
Date of Birth: 15 April 1997
Birthplace: Bristol, United Kingdom 
Zodiac Sign: Aries
Father Name: Gary Williams
Mother Name: Hilary Pitt Frances
Siblings' Names: James Williams, Beth Williams, Ted Williams
Spouse: None
Children: None
Maisie Williams' Body Measurements
Maisie Williams has a petite figure which is fancied by the majority worldwide. She has astounding looks that have made her fans drool over her beauty. Maisie's perfect figure of 35-25-35 inches or 88.9-63.5-88.9 cm is competent for the roles she appears in.
Maisie Williams has looked phenomenal throughout the years as she has to maintain her actress physique to fit in the on-screen roles. In addition, Maisie is an avid fitness enthusiast who trains for about five days a week.
Maisie Williams' training routine keeps changing as per her schedule, and it has been customized several times to provide flexibility. In addition, she indulges in recreational activities like traveling and performs yoga, treadmill runs, dancing and jogging.
Maisie's workout includes strength training, kettlebell training, bodyweight exercises, and cardio sessions which help her maintain the best shape of her life.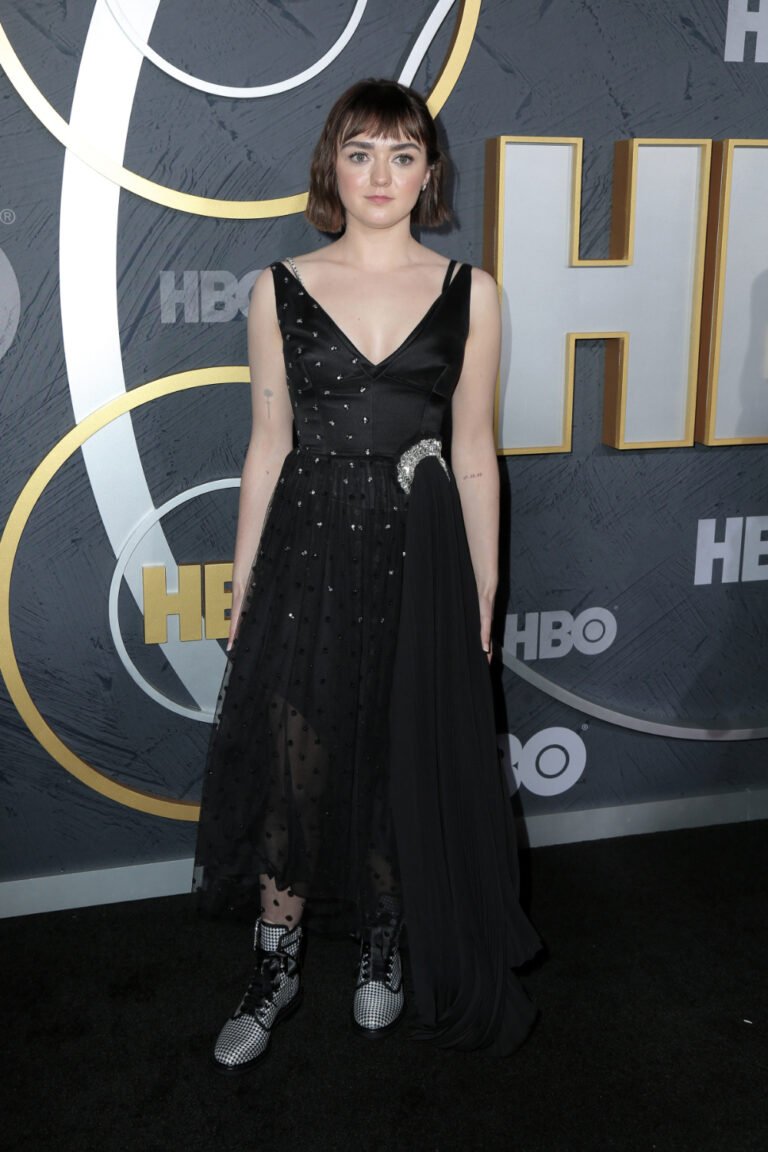 Maisie Williams' Ample Bosom
Maisie Williams has astonished the world with her amazing assets, which are commendable at her age. She flaunts a breast size of 35 inches in a bra size of 32C while wearing a cup size C.
Maisie Williams' slim figure looks ravishing in body-fit clothes. She has graced the fans with her sensual appearances at red carpet events and best-dressed looks in social media posts.
Maisie Williams is a gorgeous beauty featured on the covers of fashion magazines like S, Nylon, Metal, Rolling Stone, and Entertainment Weekly.
| | |
| --- | --- |
| Height | 5 feet 1 inches or 155 cm (1.55 m) |
| Weight | 51 kg or 112 pounds |
| Breast Size | 35 inches |
| Bra Size | 32C |
| Cup Size | C |
| Body Measurements | 35-25-35 inches or 88.9-63.5-88.9 cm |
| Figure | Slim |
| Chest Size | 35 inches or 88.9 cm |
| Waist Size | 25 inches or 63.5 cm |
| Hips Size | 35 inches or 88.9 cm |
| Shoe Size | 6 (US) or 36.5 (EU) or 4 (UK) |
| Dress Size | 6 (US) or 38 (EU) or 10 (UK) |
| Eyes Color | Gray |
| Hair Color | Dark brown |
| Natural breasts or implants | Natural |
Has Maisie Williams Considered Plastic Surgery?
Maisie Williams is a trending actress who has astonished the world with her marvelous talent. She has undoubtedly stunned the viewers at the Brit Awards, where she looked unrecognizable and raised several speculations about personal information regarding going under the knife.
Maisie Williams has looked ravishing at the Met Gala and Super Bowl, accompanied by icons like Taylor Swift, Ed Sheeran, and Lena Headey.
Since Maisie has stayed in front of the camera for most of her life, it is evident that no drastic change will ever go unnoticed by any person who follows her dedicatedly.
Maisie Williams has stayed natural, and her iconic personality and physique result from her struggles to achieve success in the industry, which is commendable.
Maisie Williams Net Worth
As of 2022, Maisie Williams has managed to earn a fortune for herself. She is ranked amongst the youngest millionaire actresses of her prime. Her net worth in the present is estimated at $6 Million as she earns about $150 Thousand as a salary per episode from The Game of Thrones series.
Maisie Williams has earned her name amongst the youngest influencers on social media platforms. People have been following the starlet since she became famous, and this has helped her organize digital marketing campaigns on her Instagram.
A major share of Maisie Williams' net worth is generated from the brand endorsements and commercials she appears in. She has endorsed the H&M campaign and promoted the brand Coperni on social media.
Maisie Williams Most Loved Things:
Favorite Foods: Pizza
Favorite Hobby: Traveling, Dancing
Favorite Colors: Red, Black
Awards Won By Maisie Williams
Academy of Science Fiction, Fantasy & Horror Films, USA: Best Performance by a Younger Actor in a Television Series, 2015, 2019
Berlin International Film Festival: EFP Shooting Star, 2015
Evening Standard British Film Awards: Most Promising Newcomer, 2016
Gold Derby Awards: Drama Supporting Actress, 2019
IGN Summer Movie Awards: Best TV Ensemble, 2019
London Critics Circle Film Awards: Young British/Irish Performer of the Year, 2016
CinEuphoria Awards: Merit – Honorary Award, 2020
Exciting Facts About Maisie Williams
Maisie Williams has an athletic figure as she has been indulging in practicing gymnastics and trampolining from a young age. In addition, she is an art lover who loves dancing and has performed several artforms like Ballet, Tap, Musical Theatre, Pointe, and Freestyle since she was four years old.
Maisie Williams has a lot of tortoises as pets. People have stated that she has a dynasty of tortoises, in which she named her favorite tortoise Barney. Unfortunately, she was down with imposter syndrome in her childhood, which made her feel left out.
In the final Game of Thrones season, Maisie Williams won the fans' hearts when she fought the night king accompanied by Jon Snow – played by Kit Harington. Co-star Nikolaj Coster Waldau explained how he has watched Maisie grow from a pretty young lady to a gorgeous woman.
What shape of face does Maisie Williams have?
Maisie Williams has a heart-shaped face with a pointy chin and a broad forehead, making her facial expressions captivating.
What color is Maisie Williams' hair?
Maisie Williams' natural hair color is Dark Brown which she displays ostentatiously in shorter lengths. However, Maisie likes to experiment with her hair and has kept a jet-black, platinum, purple, and blonde look in wavy texture and ponytails.
What color eyes does Maisie Williams have?
People want to dwell on Maisie Williams' mesmerizing naturally Gray colored eyes.
Does Maisie Williams have tattoos?
Maisie Williams is an art lover with about four tattoos on her body. 'No One' tattooed on the back of her neck; 'Little Rascal' tattooed on her forearm; A detailed flower on her right bicep; and the date '07.08.0.8' tattooed on her left arm.
Maisie Williams is an exceptional talent who rose to fame at a young age. She has the acting temperament to ace any role with her wide skill set. Her co-star, Emilia Clarke, has inspired her as the Mother of Dragons in Game of Thrones. She is a trending celebrity, and you should check out her transformational journey in Hollywood.