Katee Sackhoff is an absolute diva renowned for her stellar presence, benevolent nature, and wide range of acting skills. Time and again, she has proved her worth by delineating magnificent performances in highest-grossing commercial movies.
Katee Sackhoff's name strikes first when one thinks of a podcaster blondie who has appeared in significant roles in movies and tv shows. Read along to know more about Katee Sackhoff's life as we explore her success story, stellar physique, and fitness tips.
Katee Sackhoff's Success Story
Kathryn Ann Sackhoff is a woman with diverse talents who has lived a glorious career in the industry. She is blessed with heavenly beauty and has shown sheer determination to work her way to the top.
This diva was born on 8 April 1980 in a Christian family in Portland, Oregon, the United States. She inherited English, Lebanese, and Irish descent from her parents, Dennis and Mary Sackhoff.
Katee Sackhoff's parents worked in land development and ESL program coordination. Katee liked swimming during her high school days, and she was keen on pursuing the sport as a professional career until a prone injury became a barrier in her career.
Since then, Katee has been very active, and while growing up, she developed an interest in practicing Yoga and Acting. At the age of seventeen, she moved to Los Angeles to pursue a professional career in acting.
Katee Sackhoff's breakthrough role came in 1998 when she appeared in the movie Fifteen and Pregnant. Her role was greatly complimented on the big screen, which motivated her to relocate to New York and search for work.
Katee Sackhoff appeared as Susan in the 1999's show 'Zoe, Duncan, Jack & Jane.' She then made her theatrical debut in 2001 with 'My First Mister.' Later, she got a recurring role on the MTV show 'Undressed.'
Some of the initial successes of Katee Sackhoff's career are 'The Education of Max Bickford,' 'My First Mister,' 'Halloween: Resurrection,' 'Robot Chicken,' 'Terminator 2: Judgement Day,' and 'Call of Duty: Black Ops III.'
Katee Sackhoff is best known for her role as Lieutenant Kara Thrace in 'Battlestar Galactica.' However, she is also popular for her portrayals, such as Sarah Corvus in Bionic Woman and Detective Reed in CSI: Crime Scene Investigation. In the Star Wars series, she even lends her voice to Bo Katan Kryze.
American Actress Katee Sackhoff has played significant roles in Clone Wars, Star Trek, and the Star Wars Rebels. In addition, she appeared as Dana Walsh in tv series 24 and co-produced the movie 'Sexy Evil Genius.'
Recently, Katee Sackhoff has made headlines for appearing in The Mandalorian and as Niko Breckinridge in the second season of Netflix's Another Life.
Mandalorian Katee Sackhoff is also known for her charity works as she has co-founded the 'Acting Outlaws' with Tricia Helfer. The organization raises awareness about the Human Society, Gulf Restoration Network, and Red Cross amfAR.
Katee Sackhoff's Height and Weight
Katee Sackhoff's perfect stance and lean physique have made fans crazy about her. She stands at the height of 5 feet 6 inches or 168 cm (1.68 m) and weighs about 56 kg or 123 pounds which have put her in some significant positions in her career.
Katee Sackhoff's dedication to being a top-class actress by doing whatever she could in her capabilities is commendable. In addition, Katee follows a healthy lifestyle as she has reformed her diet, which positively impacts her life.
Katee Sackhoff has shared her diet tips in a Youtube video explaining her daily meals. She tracks her calories and drinks a lot of water throughout the day to eliminate all the toxins and rejuvenate her skin cells to get a glowing face.
Katee Sackhoff follows a paleo diet which includes morning Coffee, egg, banana, caramel, beef bar, coriander, broccoli, carrot, cauliflower, salt, oil, parsley, vinegar, pepper, lettuce, chicken, prunes, and strawberries.
Katee Sackhoff's Romances
Katee Sackhoff's beauty has worked like a charm to pave the way for her prolific career, and her astounding physique has made several people fall in love with her. Though Katee has always been secretive about her love life, we have dug into her past to find out all the secret relationships she has been involved in.
In 2012, Katee Sackhoff and producer Scott Niemeyer announced their engagement. In addition, the Battlestar Galactica alum revealed that she was selected for a role in Pitch Perfect by Scott, who was producing the movie in 2011.
She had collaborated on several projects with him earlier and would film the final cut in the movie. However, Katee revealed that she faced some issues in her professional career while being with finance Scott Neimeyer, so she decided to call it quits in 2014.
Katee began with a new instance in her love life when she started dating the New Zealand actor Karl Urban in 2014. Karl Urban had recently been divorced before meeting Katee on a flight to Montreal.
The duo made headlines when they started dating, and both visited Karl's family as a couple in 2015. She bought a house in 2016 and placed boyfriend Karl Urban's action figure on her bookshelf, which confirmed they were serious in their relationship.
In 2019, Karl Urban revealed their amicable breakup through a tweet that he considers Katee a phenomenal woman, a compassionate humanitarian & a brilliant actor, for which he loves and respects her. But despite the mutual affection, they both were no longer together.
After her separation from Karl Urban, Katee Sackhoff started dating a profound artist, writer, and producer Robin Gadsby. The couple got married in October 2021 and are living a happy life together with their child.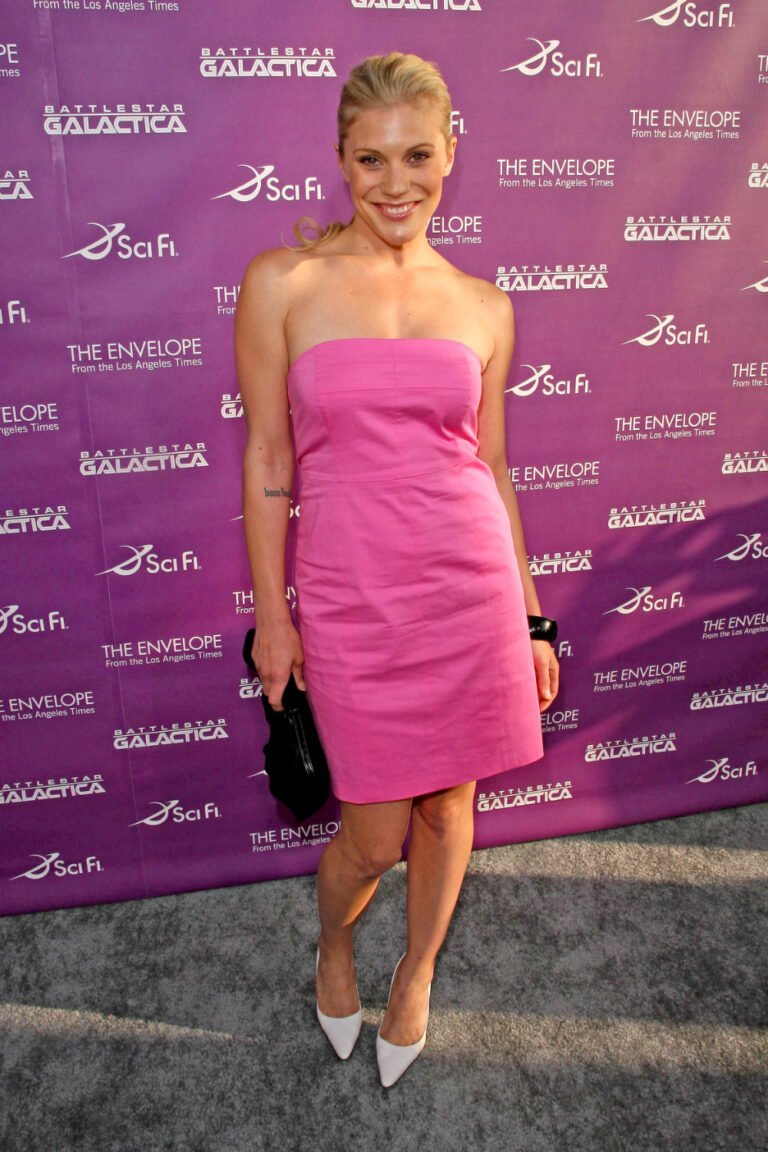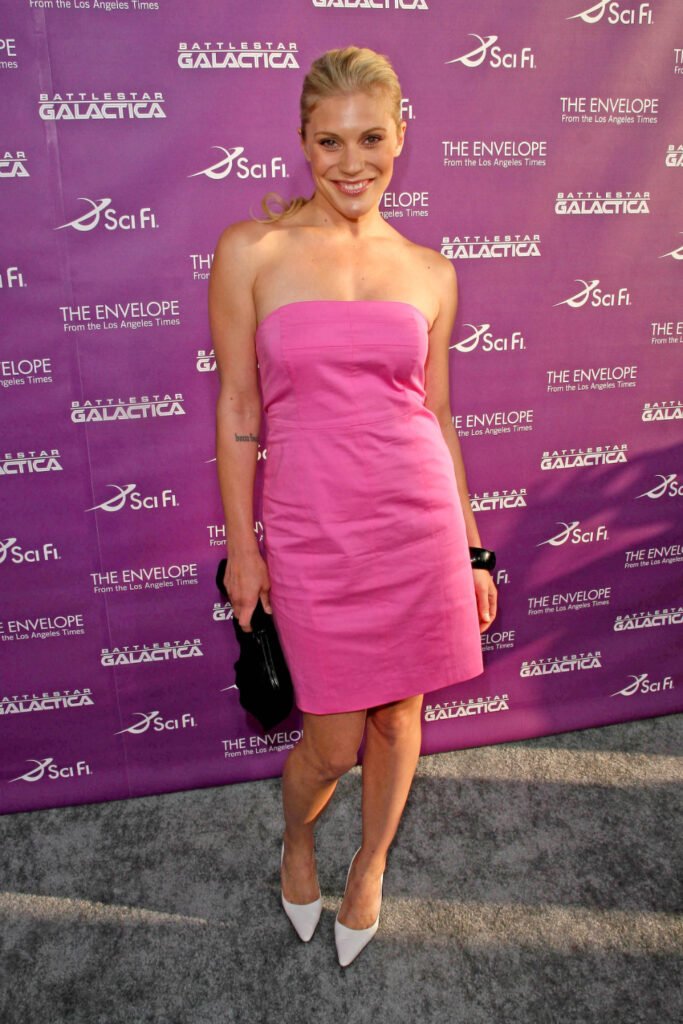 Full Born Name: Kathryn Ann Sackhoff
Nick Names: Katee
Occupation: Actress, Voice Actor, Podcaster
Religion: Christian
Date of Birth: 8 April 1980
Birthplace: Portland, Oregon, United States
Zodiac Sign: Aries
Father Name: Dennis Sackhoff
Mother Name: Mary Sackhoff
Siblings Names: Erick Sackhoff
Spouse: Robin Gadsby
Children: Ginevra Grace Gadsby
Katee Sackhoff's Body Measurements
Katee Sackhoff's perfect body measurements of 35-25-33 inches or 88.9-63.5-83.82 cm have taken the world by storm. She has all the right curves that give her a sensual appeal whenever she poses for her fans.
Katee Sackhoff is featured amongst the most beautiful and sexiest women in the world for her astounding looks. She credits her regular workout regime and faster metabolism for her lean and toned physique.
Katee Sackhoff is an avid fitness enthusiast who has shared her workout tips on her official Youtube channel, which has helped her achieve her dream physique. She performs bodyweight exercises, strength training, core-focused ab exercises, cardio, yoga, and pilates sessions to keep fit and active.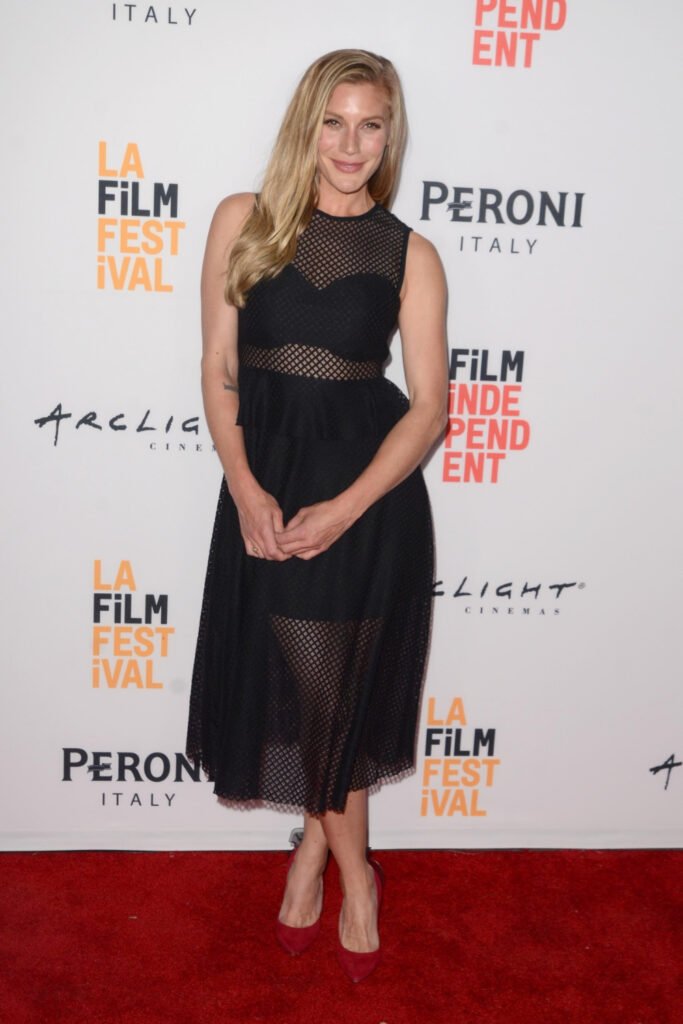 Katee Sackhoff's Ample Bosom
Katee Sackhoff looks stunning in every attire because of her heavenly assets. She flaunts a breast size of 35 inches in a bra size of 34B while wearing a cup size B.
Katee Sackhoff's perfect physique is fancied by the majority worldwide as she looks ravishing on the red carpet events, award shows, and Comic-Con. Her best-dressed looks have been featured in several fashion magazines like TV Guide, Celebrity Style, and USA Weekend.
| | |
| --- | --- |
| Height | 5 feet 6 inches or 168 cm (1.68 m) |
| Weight | 56 kg or 123 pounds |
| Breast Size | 35 inches |
| Bra Size | 34B |
| Cup Size | B |
| Body Measurements | 35-25-33 inches or 88.9-63.5-83.82 cm |
| Figure | Athletic |
| Chest Size | 35 inches or 88.9 cm |
| Waist Size | 25 inches or 63.5 cm |
| Hips Size | 33 inches or 83.82 cm |
| Shoe Size | 8 (US) or 39 (EU) or 6 (UK) |
| Dress Size | 4 (US) or 36 (EU) or 8 (UK) |
| Eyes Color | Light Brown |
| Hair Color | Blonde |
| Natural breasts or implants | Natural |
Reality Behind Katee Sackhoff's Cosmetic Surgery Rumors
Katee Sackhoff has been in the industry for almost two decades, making her an unforgettable celebrity in public. Since her youth, her beauty has worked like a charm in getting her significant opportunities in the mainstream media.
Presently, Katee Sackhoff is in her 40s, but she still has maintained a stellar physique and a youthful look throughout the years. However, Katee's ageless appearance has raised several speculations amongst the people who have followed her for years.
They have alleged that even though Katee Sackhoff has been a star in Hollywood for many years, she must have gone under the knife to sustain the tough competition in Hollywood.
Katee Sackhoff has faced the enormity of the industry as people accused her of getting a nose job to look perfect. The critics believed that she had got Botox and fillers to preserve her youthful look.
As there is no evidence to confirm these rumors, it is believed that Katee's perfect diet and fitness regime have helped her maintain her figure and flawless beauty. In addition, she has credited makeup and styling for her polished, elegant look.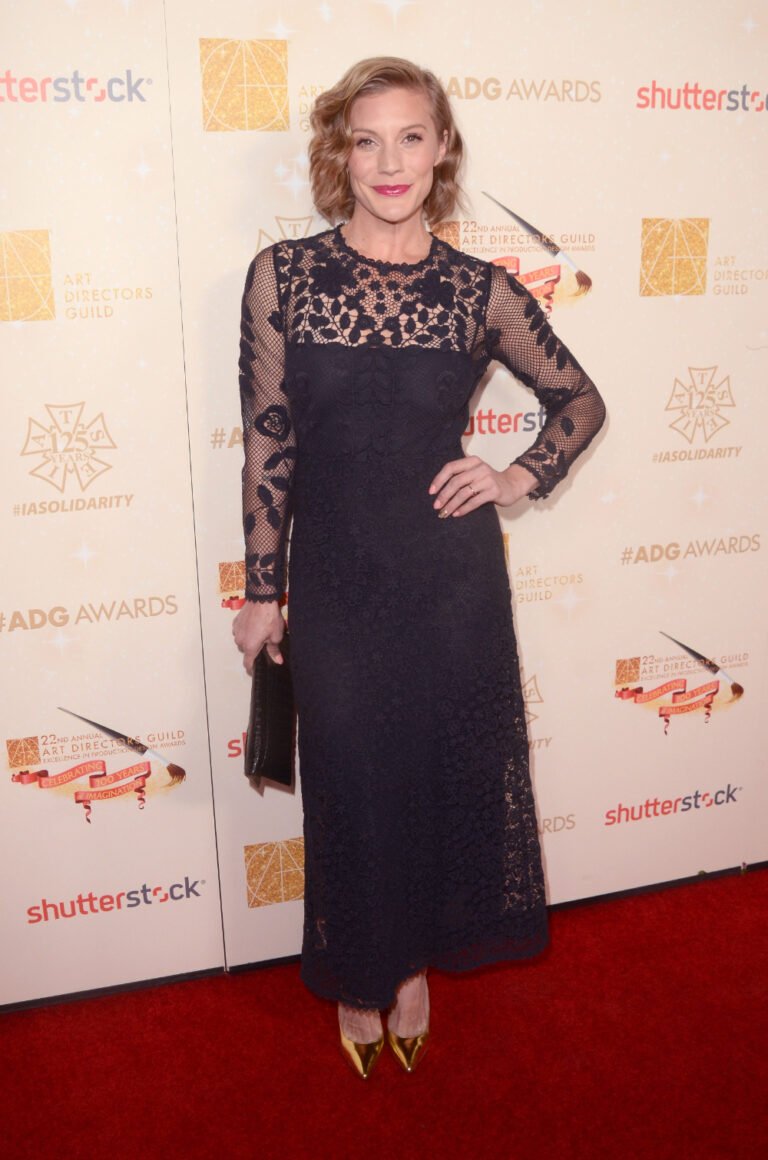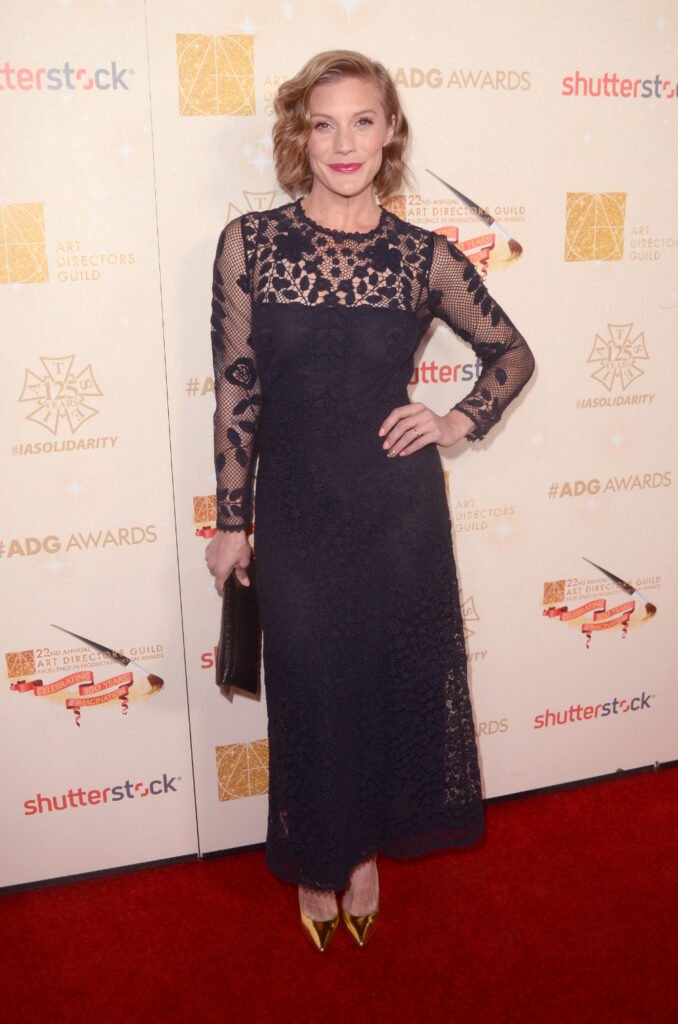 Katee Sackhoff's Net Worth
As of 2022, Kate Sackhoff's net worth is estimated at $4 Million, which she has managed to earn with a $60 Thousand salary per episode. She is a famous actress and podcaster who has earned millions by collaborating with other trending stars in the present.
She has made several public appearances promoting brands, shows, and movie premiers that have earned her an affluent status in the industry. In addition, she is a growing star on Instagram with thousands of followers, where she participates in digital marketing campaigns for several brands.
Katee Sackhoff's Most Loved Things:
Favorite Foods: Coffee, Prunes, Chicken, Cauliflower, Strawberries
Favorite Places: New York, New Zealand
Favorite Hobby: Swimming
Favorite Colors: Black, Blue, White
Awards and Nominations Won By Katee Sackhoff
Academy of Science Fiction, Fantasy & Horror Films, USA: Saturn Award, Best Supporting Actress on Television, 2006
SFX Awards, UK: Best TV Actress, 2007
Teen Choice Awards: Choice TV Actress: Action, 2010
Women's Image Network Awards: Outstanding Actress Drama Series, 2013
Behind the Voice Actors Awards: Best Female Vocal Performance in a Television Series in a Supporting Role – Action/Drama, 2014
Fangoria Chainsaw Awards: Best Supporting Actress, 2015
Indiana Film Journalists Association, US: Best Actress, 2016
Online Film & Television Association: Best Guest Actress in a Drama Series, 2021
Exciting Facts About Katee Sackhoff
Katee Sackhoff is a dog lover who has adopted two adorable dogs. She named them 'Meatball' and 'Nelly B.' Her pet 'Meatball' even posed for a photoshoot with her, photographed by Frank Veronsky.
Katee Sackhoff's character in the series 'Battlestar Galactica' became so famous that she signed a non-disclosure agreement in the third season. As a result, she could not reveal anything from the final episodes to preserve her character's secrecy in the show.
What face shape does Katee Sackhoff have?
Katee Sackhoff has a square-shaped face with a low hairline and charming facial features, which have won the fans' hearts.
What is Katee Sackhoff's hair color?
Katee Sackhoff's natural hair color is blonde. She has a grown-out fringe with long layers and a wavy hairstyle.
What color eyes does Katee Sackhoff have?
Katee Sackhoff has captivating natural light brown colored eyes, which have made people fancy her even more.
Does Katee Sackhoff have tattoos?
Yes, Katee Sackhoff has four visible tattoos on her body. She has a writing on her side, saying, 'You're not here by chance.' In addition, she has a fading cross tattoo on her left shoulder blade; the date '8-27-14' inked on her left upper arm; and a Latin phrase 'bona fiscalia' on her right forearm.
Where does Katee Sackhoff live?
Presently, Katee Sackhoff lives in Portland, Oregon, the United States.
Katee Sackhoff is a world-class celebrity who has driven fans crazy about her magnificent charm. Her successful journey to mark her presence in Hollywood is inspirational. She reminds us of diva Emilia Clarke who has stunned the world with her glorious career and fascinating aura praised by the majority worldwide.