Multi-talented, dynamic, gorgeous, and a master of all performing arts, that's Julianne Hough for you.
Exploring a new melody, choreography, and script is what her life is made of, and she cannot get enough of it. Hough is an Emmy-winning choreographer, which is enough proof of her brilliant moves!
IN A GIST
Julianne Hough dances tall at the height of 5 feet 3 inches or 160 cm (1.6 m).
She keeps herself in great shape at a weight of just 54 kg or 119 pounds.
She is 34 years old, but her energy on stage tells otherwise. Read along to know more about her star-studded life, career, measurements, lifestyle, and more.
Julianne Hough's Age and Birthday
Multitalented artist Julianne Hough is 34 years old and was born on July 20, 1988. Her birthdate makes this blond beauty's zodiac sign cancer.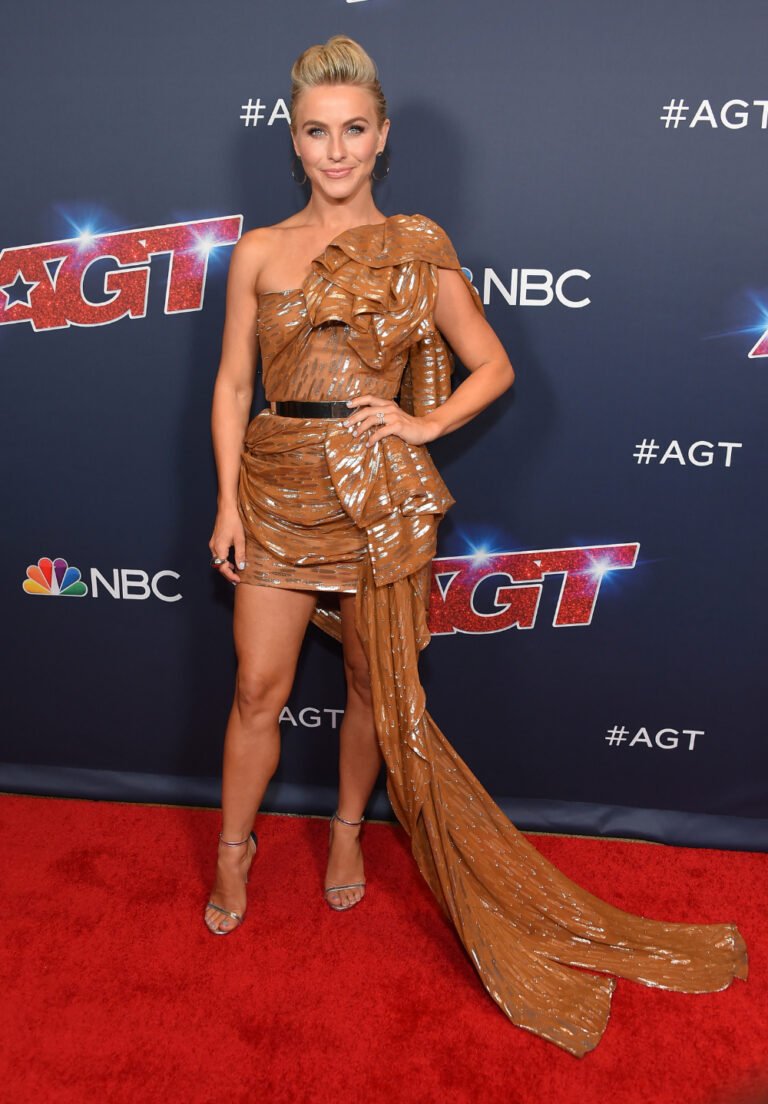 Julianne Hough's Education Background
The diverse talents of Julianne Hough were honed at a young age at the Center Stage Performing Arts Studio in Orem. Then at ten, she moved to London with her brother, and they both trained with their mentors.
Hough studied song, theater, gymnastics, and many forms of dance, at the Italia Conti Academy of Theatre Arts. After turning 15, Julianne moved back to the United States and continued her training at the Las Vegas Academy while pursuing her education at Alta High School.
Julianne Hough's Family
Julianne Hough comes from a generation of dancers. She inherited her talents from her grandparents, who were dancers as well. Hough is the daughter of Bruce Hough, who's been the chairman of the Utah Republican Party twice, and Marianne Hough.
Julianne is the youngest amongst her three elder sisters, Sharee, Marabeth, Katherine, and a brother, Derek. Her parents divorced when she was nine years old. After that, she and her brother left for London to pursue dance training.
Julianne Hough's Career
Julianne's formal training began at a young age, and she started her career at 15. She became the youngest dancer and American to win two global championships at the Blackpool Dance Festival. Since then, she has only been shining brighter.
Hough was the winner of Dancing with the Stars, season 4 (US), and she made history by being the youngest professional dancer to win. In 2007 she also won season 5, and for her performance, she was nominated at the 60th Primetime Emmy Awards the next year.
But dancing was not all that Hough was meant for! Her music career began with her debut single, "Will You Dance With Me," in 2007. The next year she signed on with Universal Music Nashville and released her first self-titled album.
A year later, she won an award at the 44th Annual Academy of Country Music Awards. While keeping her dance moves and singing intact, Julianne also ventured into acting in 2010. She appeared in the musical Burlesque alongside Cher and Christina Aguilera.
The next year she landed her debut leading role in the film Footloose and soon got a chance to work with Tom Cruise in the hit Rock of Ages. Hough has come far in her acting career, having worked in many popular works like Safe Haven, Curve, Dirty Grandpa, and more.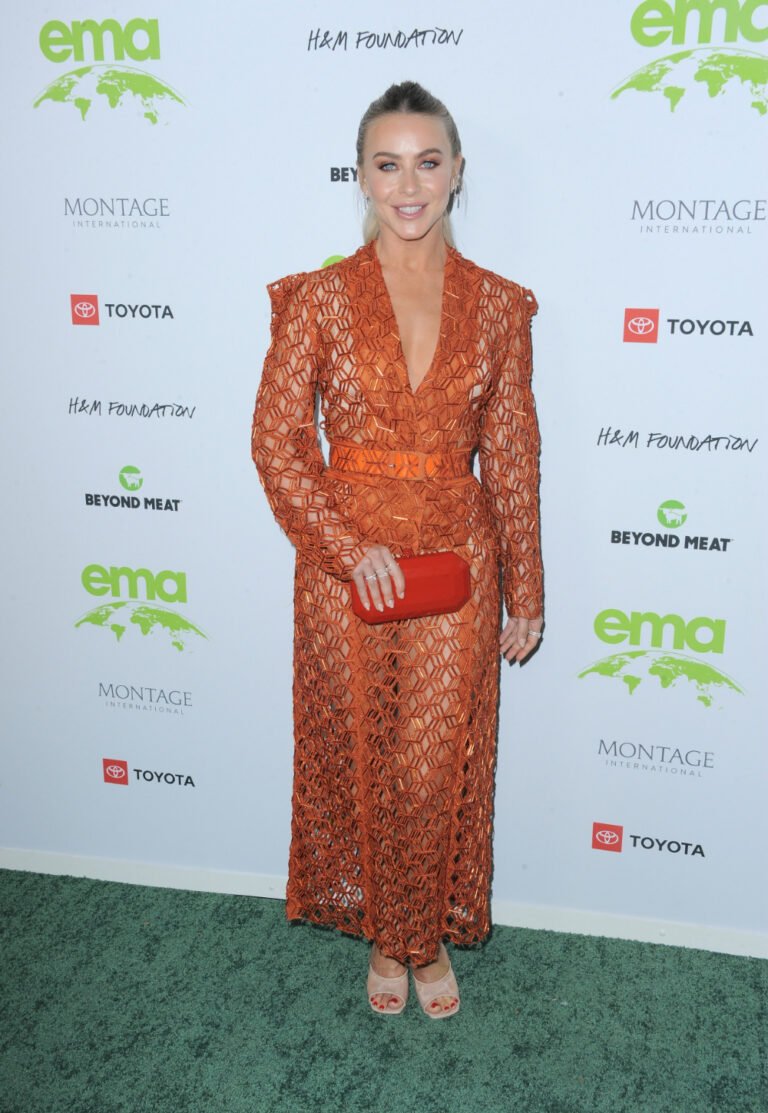 She has also appeared in the Netflix show Heartstrings. Hough's talent didn't miss the Broadway stage, either. She was applauded for her performance in her debut play, POTUS: Or, Behind Every Great Dumbass Are Seven Women Trying to Keep Him Alive.
Full Born Name: Julianne Alexandra Hough
Nicknames: Jules
Date of Birth: July 20, 1988
Birthplace: Orem, Utah, U.S.
Zodiac Sign: Cancer
Father Name: Bruce Hough
Mother Name: Marianne Hough
Siblings' Name: Sharee, Marabeth, Katherine, and Derek
Spouse: Brooks Laich (2017- 2022)
Children: None
Julianne Hough's Height and Weight
Dancer Julianne Hough stands tall at an average height of 5 feet 3 inches or 160 cm (1.6 m). She has a slim figure and maintains her weight at around 54 kg or 119 pounds. Hough's flexible figure is the reason her moves are always so clean!
Julianne Hough's Body Measurements and Stunning Features
Dancing is where Julianne Hough gets her fitness quota for her impressive body measurements of 34-24-34 inches or 86-61-86 cm. And looking at her body type, her bra size is probably 32B with a cup size of B.
Julianne Hough's oval-shaped face looks gorgeous when she's smiling wide to bring out her perfect cheekbones. And her latest fringe cut in her naturally brown hair suits her personality as a fun-loving and mesmerizing artist.
To add to the charm she brings on stage, she has a beautiful pair of blue eyes.
What Delicacies does Julianne Hough Enjoy?
Hough loves her glass of wine, but she prefers that it be low in calories and carbs. To celebrate a night gone well, she enjoys a good slice of pizza or a huge serving of an appetizer. Like most coffee lovers, Hough likes her cup to be big!
How does Julianne Hough Sweat it Out?
No surprises for guessing; the biggest workout for Julianne Hough is what she's known for; dancing! Her muscles get stretched to all extremes when she's making those moves up on stage.
Like all celebrities, Hough hits the gym to lift weights and get an all-body workout. Besides, she enjoys going on long hikes to enjoy the mountain beauty and give her body the adrenaline rush of adventures.
| | |
| --- | --- |
| Height | 5 feet 3 inches or 160 cm (1.6 m) |
| Weight | 54 kg or 119 pounds |
| Face Shape | oval-shaped face |
| Bra Size | 32B |
| Cup Size | B |
| Body Measurements | 34-24-34 inches or 86-61-86 cm |
| Shoe Size | 7 (US) or 5 (UK) or 38 (EU) |
| Dress Size | 2 (US) or 6 (UK) or 34 (EU) |
| Eyes Color | Blue |
| Hair Color | Brown |
Disclaimer
Julianne Hough's Net Worth
As a winner and star of DWTS, a successful singer, broadway performer, and actress, it's no surprise that Julianne Hough has earned millions! As of 2022, she has made an estimated net worth of around $10 million.
Julianne Hough's Social Media Fanbase
Popular for her talents and loved for her humility, Hough has a great fanbase on social media platforms that runs into millions.
Julianne Hough's Favorites
Favorite Animal: Dogs
Favorite Color: White
Favorite Adventure Activity: Hiking
Bet you Didn't Know these Fun Facts about Julianne Hough
Hough's song Is That So Wrong was inspired by her breakup with country singer Chuck Wicks.
Julianne and Nina Dobrev are business partners in Fresh Vine Wine.
Hough declared to New York Post in 2013 that she is no longer a practicing Mormon, although she was glad to have been raised as one.
She appeared as a school student in the first part of the Harry Potter film series.
Julianne's brother Derek is also a dancer, and the two toured the US and Canada as part of the Move Live On Tour.
What face shape does Julianne Hough have?
Julianne Hough has a graceful, oval-shaped face, and it looks the best with a dark shade of lipstick that brings out her cheeks.
What is Julianne Hough's hair color?
Julianne Hough has naturally brown colored hair, but she has also experimented with going blonde, both of which have suited her fabulously.
What color eyes does Julianne Hough have?
Julianne Hough has been blessed with the most elegant blue eyes that need no additional touchup as they're just perfect.
Does Julianne Hough have blue eyes?
Yes, Julianne Hough has natural blue-colored eyes.
Does Julianne Hough have tattoos?
Julianne Hough is happy with her natural self and doesn't seem to have any visible tattoos.
Does Julianne Hough sing in Rock of Ages?
Although Julianne is known to be a country singer, she did take on the challenge of singing in Rock of Ages and earned praise.
Did Julianne Hough play in Harry Potter?
Julianne Hough played the role of a schoolgirl in Hogwarts in the film Harry Potter and the Philosopher's Stone.
Did Julianne Hough go to school?
After returning from London at around 15 years old, Julianne Hough attended the Alta High School in Las Vegas while continuing her training at the Las Vegas Academy.
Where does Julianne Hough live?
Julianne Hough lives in New York, US, where she is currently performing on Broadway.
Multi-talented is the new definition of an artist in Hollywood. Whether it's Julianne Hough, who comes from a family of performers, or actress Ginger Gonzaga who steps into the shoes of a singer and director, 'one artist, many talents' is a new dream. Read all about Gonzaga here.