Hailee Steinfeld has an alluring personality that has made most of the world fall for her. She is a trending celebrity who rose to fame at a very young age because of her miraculous skill set and the grace with which she carries herself.
You've reached the right place to learn more from her life as we have covered all the major insights covering her journey to stardom, relationship history, and fitness tips that you might be interested in knowing.
Hailee Steinfeld's Hollywood Journey
Hailee Steinfeld has acted in several television commercials and has made guest appearances on tv shows from a young age. She is a phenomenal performer of today's time who has lived a splendid life in Hollywood.
She was born on 11 December 1996 to Peter Steinfeld – a personal fitness trainer, and Cheri Steinfeld – an interior designer. Hailee inherited Jewish, Russian, Filipino, African-American, English, German, Irish, and Scottish descent and was raised in Tarzana, Los Angeles, California, the United States.
Hailee Steinfeld chose to pursue a career in the entertainment industry and got into the acting biz at a young age. In 2007, she appeared in her first television show 'Back To You,' and by 2008, she made her Hollywood debut with the movie 'Heather: A Fairytale.'
Hailee Steinfeld has played profound roles on the big screen, which has raised her to fame. She is widely acclaimed for her character 'Mattie Ross' in True Grit.
After establishing her name amongst the remarkable actresses of her prime by appearing in commercially successful movies like 'She's a Fox,' 'Without Wings,' 'Grand Cru,' and 'Spider-Man: Into the Spider-Verse,' she got fond of musical and acting styles.
In 2015, Hailee Steinfeld had a career transformation when she marked her singing debut via Republic records by releasing her album 'Haiz.'
Hailee has sung dulcet songs like 'Love Myself,' 'Half Written Story,' and later got worldwide recognition for her collaboration with DJ Zedd for recording the hit single 'Starving,' which made headlines on the Billboard chart.
She has several accolades to herself for her phenomenal work in the industry, as she has graced the fans in movies and tv shows like 'Bumblebee,' '3 Days to Kill,' Begin Again,' Charlie's Angels,' 'Pitch Perfect 3,' 'The Edge of Seventeen,' and 'Dickinson.'
Hailee Steinfeld is popular for her philanthropy and public appearances in charity events. She has supported organizations that work to eradicate child hunger, Alzheimer's, breast cancer, homelessness, and poverty.
Hailee Steinfeld's Height and Weight
Hailee Steinfeld has a statuesque figure as she stands at the height of 5 feet 8 inches or 173 cm (1.73 m) and weighs 59 kg or 130 pounds which have put her in significant positions in her career. 
Hailee Steinfeld is a phenomenal actress and model who has maintained a lean physique by eating healthy meals. As a result, she has a faster metabolism; therefore, she can eat in moderation. However, she doesn't shy away from satisfying her cravings with cheeseburgers.
Hailee Steinfeld's diet includes a bowl of cereal for breakfast. She eats one to two bowls of cereal of the brand Special K. For lunch and dinner, Hailee eats grilled chicken, pasta, brown rice, and broccoli.
Hailee Steinfeld's Relationship History
Hailee Steinfeld has mesmerized the world with her sharp features like a broad nose and smokey eyes, distinguishing her from many other celebrities in her prime.
But when it comes to dating, she has had a non-scandalous relationship history which we'd like to unfold, bringing some personal information.
In 2016, Hailee Steinfeld's first relationship drew people's attention when she spent time with soccer player Cameron Smoller in New York. The duo indulged in the public display of affection and featured each other on social media posts.
Hailee and her then-boyfriend Cameron Smoller made their first public appearance as a couple in 2017 at the Golden Globes. But, unfortunately, this tempting relationship lost its charm with due course of time and fizzled out by the end of the year.
After her split from Cameron, Hailee Steinfeld dated her long-time friend and One Direction band's singer Niall Horan. Hailee wished Niall on his birthday with generous captions on Instagram that confirmed their ongoing chemistry.
Hailee talked about falling in love without mentioning Niall's name. Still, by 2018, the couple decided to separate on mutual terms, which was confirmed online by Entertainment News.
Currently, she is single and focusing on her career.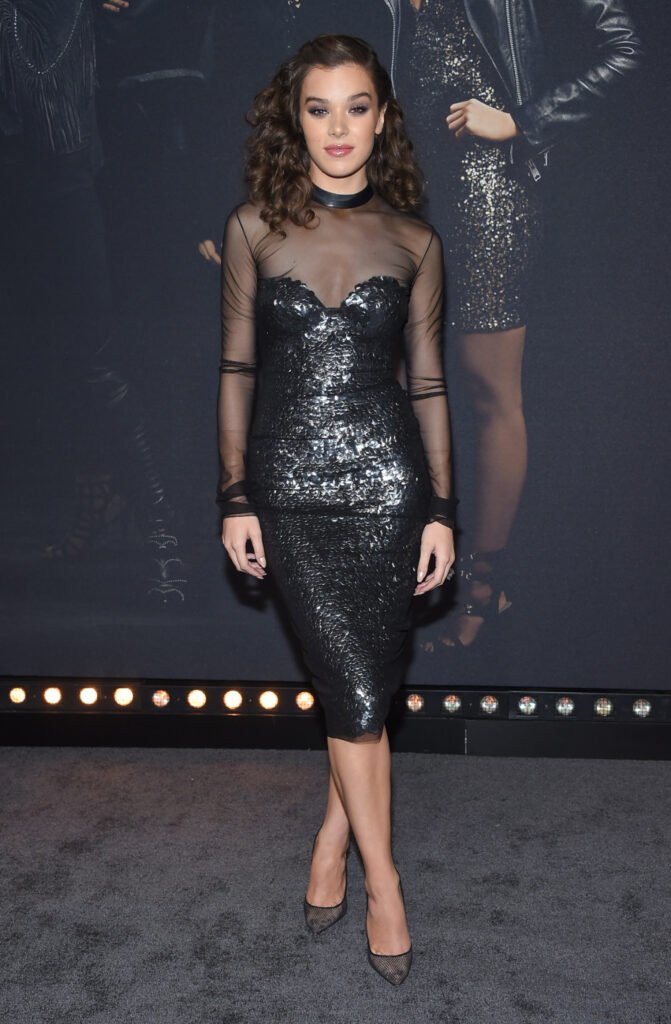 Full Born Name: Hailee Steinfeld
Nick Names: Haiz
Religion: Jewish
Date of Birth: 11 December 1996
Birthplace: Tarzana, Los Angeles, California, United States
Zodiac Sign: Sagittarius
Father Name: Peter Steinfeld
Mother Name: Cheri Steinfeld
Siblings Names: Griffin Steinfeld
Spouse: None
Children: None
Hailee Steinfeld's Body Measurements
Hailee Steinfeld's amazing body measurements of 34-27-35 inches or 86.36-68.58-88.9 cm have left the fans drooling over her beauty.
She has a splendid physique which she has showcased on red carpet events looking as beautiful as ever. She has a toned and lean figure because of her dedication to staying lean and active.
Hailee Steinfeld looks adorable in every attire, and body-fit clothes suit her the most. She is an avid fitness enthusiast because her passion for fitness runs in the family.
Hailee's father is a professional fitness trainer who has helped her achieve a dream physique through circuit training five times a week.
Hailee's workout routine includes strength training, cardio sessions, yoga, pilates, and core building exercises. She does three thousand crunches a day and spends fifteen minutes every day either walking or riding a bike.
Hailee Steinfeld's Ample Bosom
Hailee Steinfeld's perfect assets of 34 inches, which she flaunts in a bra size of 33B while wearing a cup size B, are commendable.
Hailee Steinfeld has done cheerleading in her youth and played sensual roles in movies, television commercials, and music videos.
Hailee Steinfeld has graced the fans with her exotic looks in her Instagram posts and on the covers of fashion labels like Flare, Glamour, Cosmo Girl, and InStyle.
| | |
| --- | --- |
| Height | 5 feet 8 inches or 173 cm (1.73 m) |
| Weight | 59 kg or 130 pounds |
| Breast Size | 34 inches |
| Bra Size | 33B |
| Cup Size | B |
| Body Measurements | 34-27-35 inches or 86.36-68.58-88.9 cm |
| Figure | Average |
| Chest Size | 34 inches or 86.36 cm |
| Waist Size | 27 inches or 68.58 cm |
| Hips Size | 35 inches or 88.9 cm |
| Shoe Size | 10 (US) or 42 (EU) or 14 (UK) |
| Dress Size | 8 (US) or 39 (EU) or 6 (UK) |
| Eyes Color | Hazel |
| Hair Color | Brunette |
| Natural breasts or implants | Natural |
Hailee Steinfeld's take on Plastic Surgery?
Hailee Steinfeld made several headlines for her astounding appearance at the 2021 Met Gala, which caught the attention of her fans and critics alike. Yet, despite proving her worth time and again, she had to face the enormity of the industry.
She looked stunning in the blonde locks with bleached eyebrows and an unrecognizable figure that raised several speculations about Hailee going under the knife.
While Hailee Steinfeld has stayed in front of the camera for all her roles, it is evident that no drastic change would go unnoticed by people interested in knowing about her life.
Hailee Steinfeld credits her natural beauty and stunning transformation to her fitness tips, leading her to age gracefully and avoid cosmetic enhancements.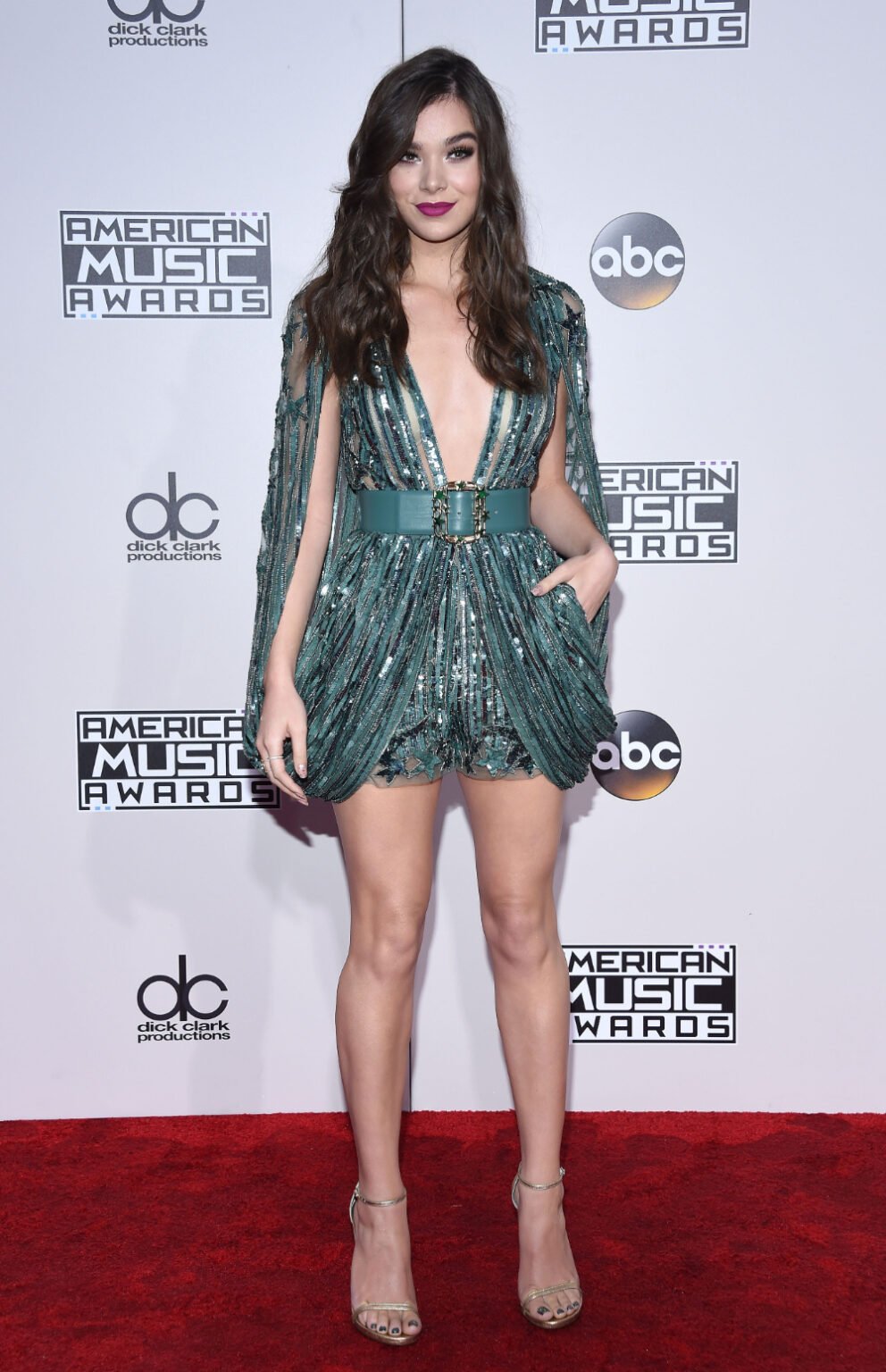 Hailee Steinfeld's Net Worth
Hailee Steinfeld has appeared in various roles showcasing her diverse talents in the mainstream media, which has led her to earn a fortune of $10 Million.
Hailee Steinfeld has lived a glorious career in the industry and has been featured in several television commercials and movies, which have fairly contributed to her net worth.
Recently, she was named the brand ambassador of fashion labels 'Miu Miu' and 'Mission,' designer and athleisure brands that pay her appreciable figures.
Hailee Steinfeld's Most Loved Things:
Favorite Foods: Cheeseburgers, Avocado
Favorite Products: Kora Organics Noni Glow Sleeping Mask, Batiste Dry Shampoo, Patrick Ta Monochrome Moment Precision Lip Crayon, Frankies Bikinis Glow Moisturizer, Voluspa Laguna Candle
Favorite People: Britney Spears, Captain Marvel, Marvels Hawkeye
Favorite Colors: Yellow, Red
Favorite Sports: Rugby, Swimming
Awards Won By Hailee Steinfeld
Austin Film Critics Association: Best Supporting Actress, 2010
Awards Circuit Community Awards: Best Performance by an Actress in a Supporting Role, 2010
Alliance of Women Film Journalists: Best Supporting Actress, 2011
Broadcast Film Critics Association Awards: Best Young Actor/Actress, 2011
Young Hollywood Awards: Breakthrough of the Year, 2011
Central Ohio Film Critics Association: Best Supporting Actress, 2011
Santa Barbara International Film Festival: Virtuoso Award, 2011
MTV Europe Music Awards: Best Push Act, 2017
Exciting Facts About Hailee Steinfeld
Hailee Steinfeld is a social butterfly who was very popular as a kid. She was a magnificent cheerleader in her high school for about eight years. In 2010, Hailee Steinfeld was cast as 'Mattie Ross' after auditioning eight times for True Grit's American Western film.'
Recently, she has made headlines in the latest news for being cast as Kate Bishop – a young avenger in the marvel cinematic universe. Marvel fans are delighted to see her alongside Jeremy Renner playing Clint Barton in the Disney plus marvel studios' Hawkeye series.
Hailee has recorded several songs which have topped the Billboard – Penske Media Corporation charts. In an interview, Tony Dalton, Zahn McClarnon, Rhys Thomas, and Vera Farmiga stated that Hailee is one of the most amazing actresses working in this generation.
Hailee Steinfeld and Anna Baryshnikov promoted their upcoming series Dickinson and revealed what fans could expect in the final episode. Billy Eichner even shared a post on his Instagram featuring Hailee dancing on the sets of Dickinson.
What's Hailee Steinfeld's face shape?
Hailee Steinfeld has an oval-shaped face with sharp facial features and long layers of hair, which complements her face.
What is Hailee Steinfeld's eye color?
Hailee Steinfeld's natural eye color is Hazel which looks dazzling.
What color is Hailee Steinfeld's hair?
Hailee Steinfeld has a natural brunette hue with deep-parted wavy hair. However, she has experimented with her hair and is seen in jet-black, platinum, and blonde locks.
Does Hailee Steinfeld have tattoos?
Hailee Steinfeld does not have any real tattoos even though she has stated that she loves tattoos and has appeared as Emily Dickinson with fake tattoos in Dickinson's TV series.
Does Hailee Steinfeld play guitar?
Hailee Steinfeld is a phenomenal artist who sings and plays guitar. She has performed as the lead guitar player for the song 'Tell Me If You Wanna Go Home' in Begin Again.
Hailee Steinfeld has all rights reserved to be a deserving performer in Hollywood. She has given commendable performances and has contributed majorly to the entertainment industry like her peer Cheryl Cole. She has delineated her euphony and mesmerized millions. Do check out her amazing transformation and journey to success.