Gina Gershon is an award-winning actress whose love and undying passion for acting are evident through her portrayal of her different characters. Audiences recognize her from House of Versace, Riverdale, and Showgirls. Having started as a theater performer at 14, she has come a long way with her acting.
Interested in this dedicated actress who gives her full to prepare for a role? Here are all the details about Gina Gershon's career, body measurements, diet, workout routine, net worth, favorite things, awards, and more.
Gina Gershon's Career
Born in Los Angeles, Gina Gershon grew up in a Jewish household. She studied at Beverly Hills High School and graduated from New York University, majoring in drama and psychology/philosophy.
Gershon began performing on stage when she was 14. Her first significant theater role was in Camille and The Substance of Fire. She has also acted in Broadway plays such as Cabaret, Boeing-Boeing, and Bye Bye Birdie.
Gina Gershon was introduced on-screen with her role in 1981 in the film Beatlemania, in which she was a dancer. Like many other actors, she started with minor roles, and soon she was bagging important roles.
Some of Gina Gershon's prominent movies are Pretty in Pink, Out for Justice, Red Heat, City of Hope, Showgirls, Bound, Lulu on the Bridge, P.S. I Love You, Love Ranch, Lost Cat Corona, American Dresser, Don't Look Up, and more.
Gershon made her television debut, acting in the television film Stark: Mirror Image, which premiered in 1986. Since then, she has worked in various TV movies like Miss Rose White, Love Matters, Category 7: The End of the World, House of Versace, and Hunt For The Labyrinth Killer.
Gina Gershon received her first role in a television series with a cameo in The Twilight Zone in 1987. She's also had guest roles in other series, including Monsters, Melrose Place, The Untouchables, Ellen, Ugly Betty, Psych, Glee, Community, Empire, Younger, etc.
Many recognize Gina Gershon from her recurring roles in Brooklyn Nine-Nine, Z Nation, Red Oaks, Riverdale, and New Amsterdam.
Gershon bagged her first leading role in 1992 in the award-winning miniseries Sinatra. She portrayed Nancy Barbato Sinatra in the series that went on to win two Emmy awards and a Golden Globe.
After Sinatra, Gina was a regular in a couple of television series, including the Snoops, Tripping the Rift, Everything She Ever Wanted, and Cleaners. She has also voiced for the animated movies and television series Red Shoes and the Seven Dwarfs, Spider-Man: The New Animated Series, The Batman, Family Guy, and American Dad!
Besides acting, Gina Gershon has written two books: Camp Creepy Time and In Search of Cleo: How I Found My Pussy and Lost My Mind.
Gershon is also a talented musician who has played the Jew's Harp in the songs I Do It For Your Love, Chitlins and Gefiltefish, Maria, and other songs. She even released her album titled In Search of Cleo in 2007.
Currently, Gina Gershon keeps herself occupied with acting. Her recent acting role was in the 2022 film Emily the Criminal. She also has a role in the upcoming movie, Borderlands.
Gina Gershon's Height and Weight
Whether it was her rockstar-like style in Riverdale or her classy looks in House of Versace, Gina Gershon looked splendid in any clothing style. Her height is 5 feet 6 inches or 168 cm (1.68 m), and she weighs 58 kg or 128 pounds.
To stay fit, Gina Gershon consumes a lot of vegetables. Particularly, Gina ate meals in low quantities and exercised a lot to get ready for her role as Donatella Versace in the House of Versace.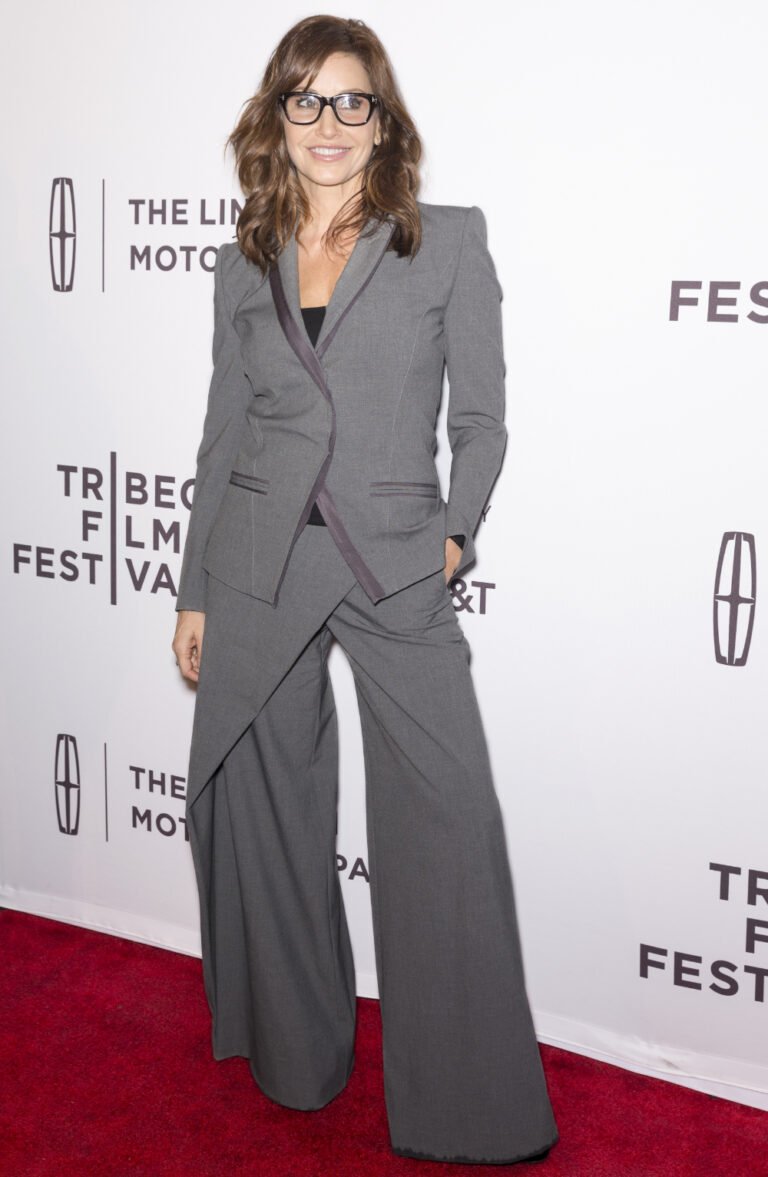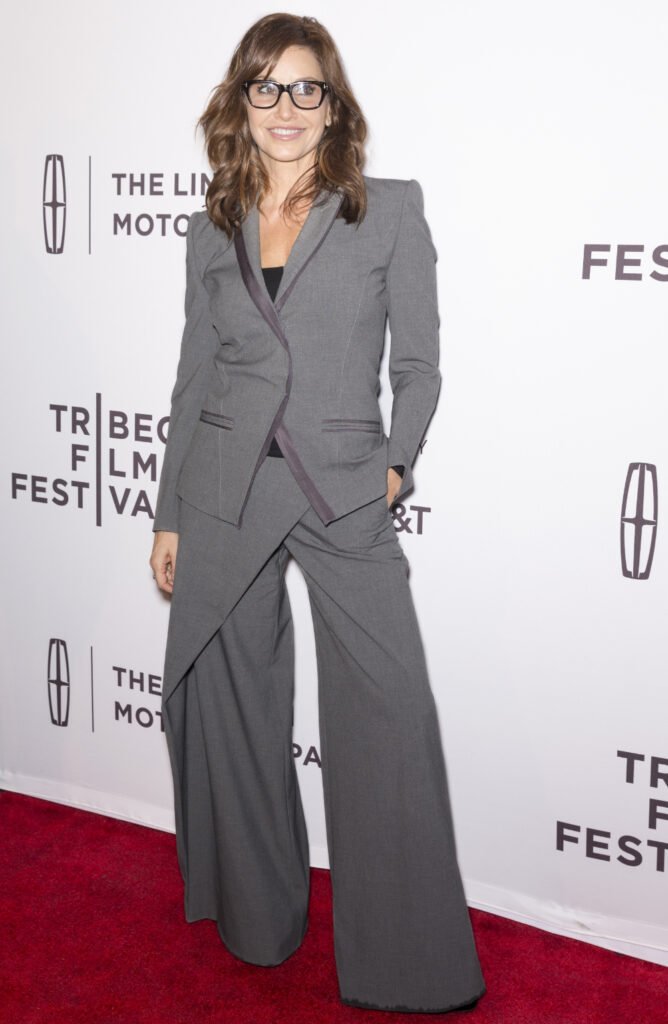 Gina Gershon's Dating History
Though Gina Gershon has opened up about dating in the past, she did not share many details about her life except for her relationship with Bobby Dekeyser.
Gina Gershon and Bobby Dekeyser began dating in 2015. With Bobby Dekeyser residing abroad, the couple had an on-and-off relationship. They lived in their shared apartment in Manhattan when he was in America. The pair eventually broke up in 2018.
Gina Gershon was also rumored to have dated Travis Fimmel after publicly displaying affection at a Montblanc and Cinema Society party.
Gina Gershon's current romantic whereabouts are unknown to fans as she seems to keep a low profile of her dating life.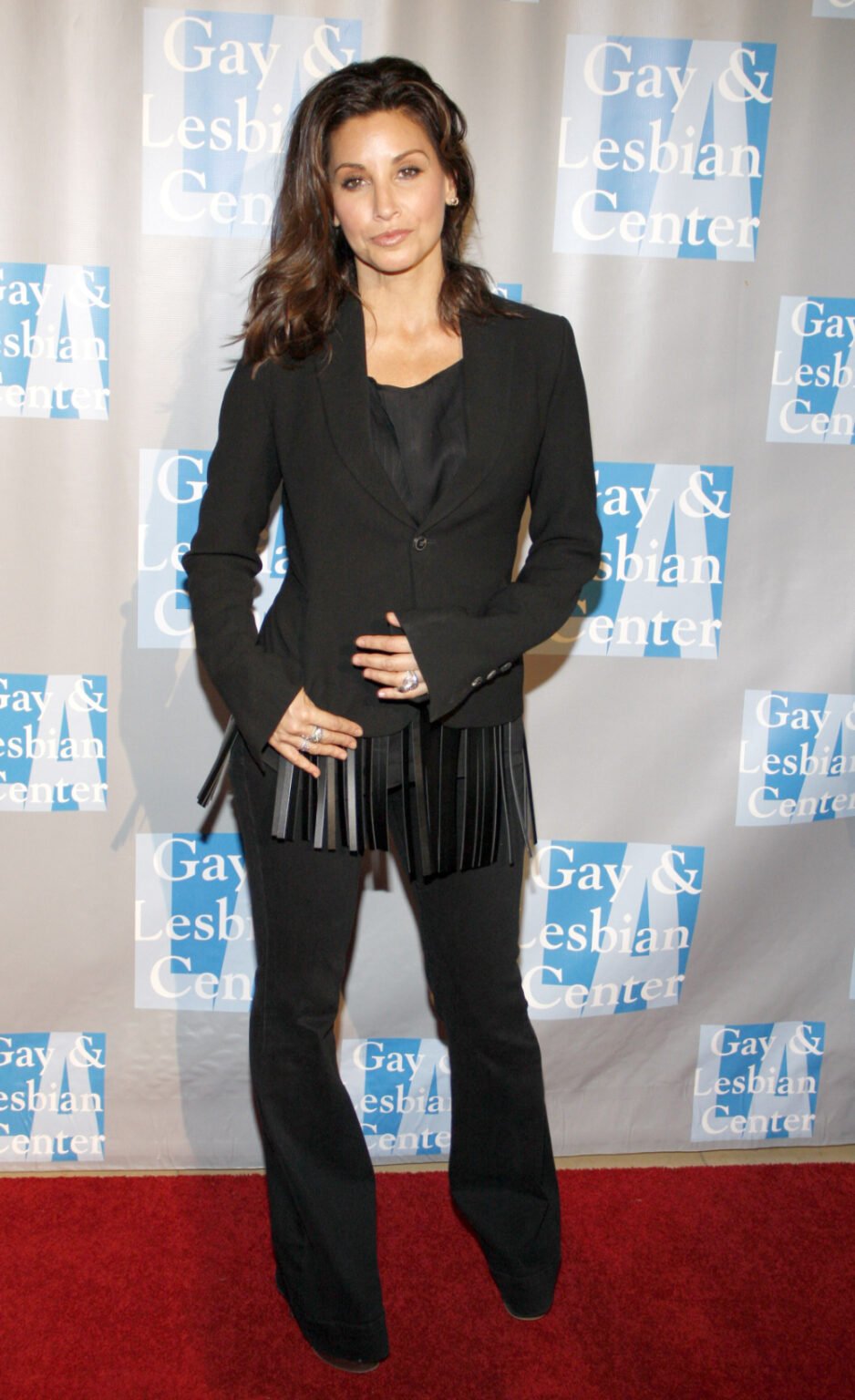 Full Born Name: Gina L. Gershon
Nickname: Gina
Occupation: Actress
Religion: Jewish
Date of Birth: 10 June 1962
Birthplace: San Fernando Valley, California, United States
Zodiac Sign: Gemini
Father Name: Stan Gershon
Mother Name: Mickey Gershon
Siblings' Names: Tracy Gershon and Dann Gershon
Spouse: None
Children: None
Gina Gershon's Body Measurements
Gina Gershon always looks fit, all thanks to her amazingly-proportioned figure. Her body measurements are 35-27-35 in or 89-69-89 cm.
In her late 50s, Gina Gershon stays in shape by doing yoga and going on hikes.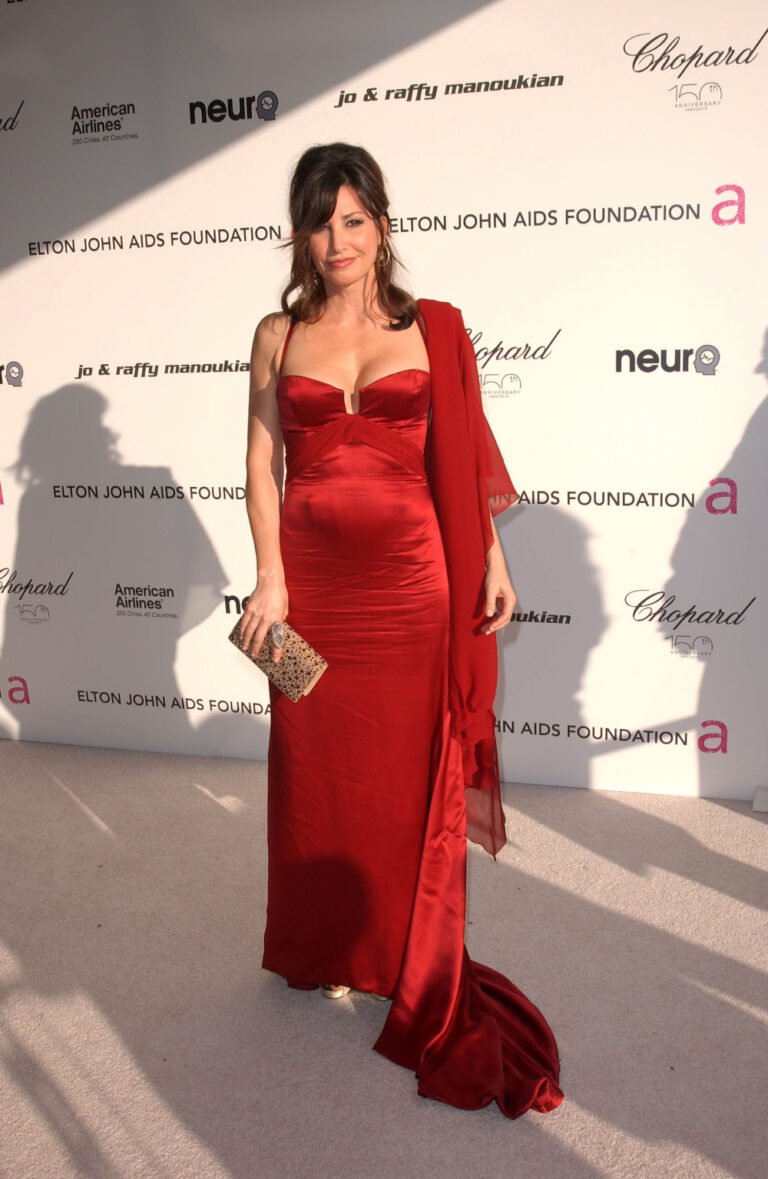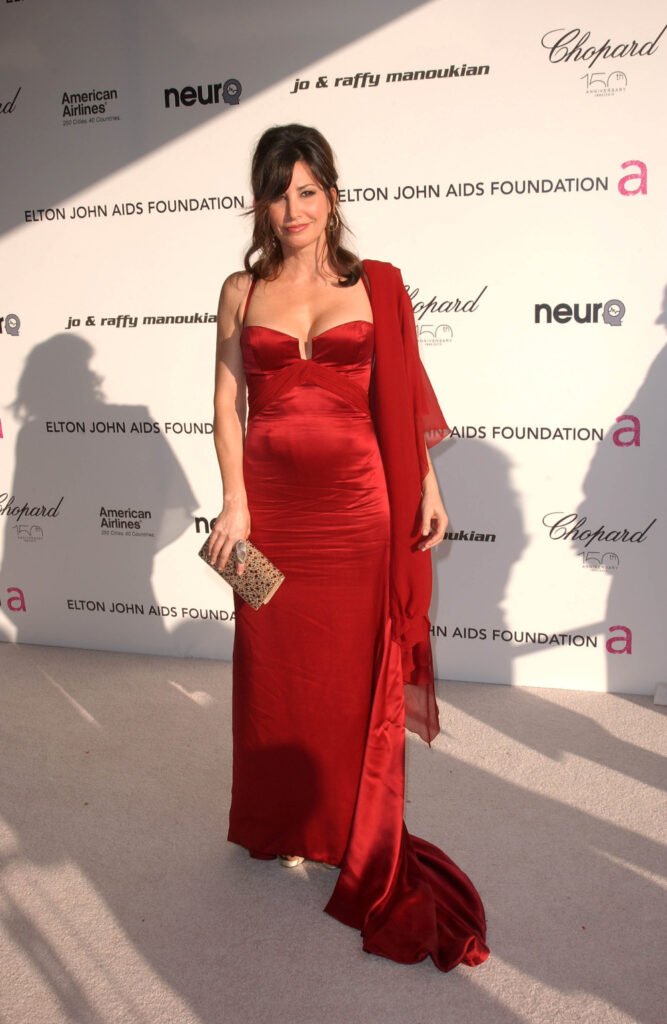 Gina Gershon's Ample Bosom
Gina Gershon's breast size is 35 inches, and Her bra size is 34B with a cup size of B. She has large breasts that make her look seductive effortlessly.
For instance, when Gina Gershon played a showgirl in the Showgirls, she looked sensual in almost every outfit she wore.
| | |
| --- | --- |
| Height | 5 feet 6 inches or 168 cm (1.68 m) |
| Weight | 58 kg or 128 pounds |
| Breast Size | 35 inches |
| Bra Size | 34B |
| Cup Size | B |
| Body Measurements | 35-27-35 in or 89-69-89 cm |
| Figure | Slim |
| Chest Size | 35 inches or 89 cm |
| Waist Size | 27 inches or 69 cm |
| Hips Size | 35 inches or 89 cm |
| Shoe Size | 7 (US) or 37.5 (EU) or 5.5 (UK) |
| Dress Size | 6 (US) or 38 (EU) or 10 (UK) |
| Eyes Color | Light Brown |
| Hair Color | Dark Brown |
| Natural breasts or implants | Natural |
Did Gina Gershon Have Any Plastic Surgeries?
Gina Gershon's prominent and unique facial features helped her land roles like Donatella Versace in House of Versace. At the same time, her narrow nose and plumpy lips have raised questions among netizens as to whether the actress had undergone plastic surgery to achieve her striking appearance.
Gina Gershon has not said anything about having had any cosmetic treatments done to her. This confirms that the Riverdale actress is a natural beauty and hasn't gone under the knife to modify her looks.
Besides, Gina Gershon inherited her definitive lip shape from her grandmother. Her youthful skin is also genetically gifted, and she drinks plenty of water.
Gina Gershon's Net Worth
Gina Gershon has been in the entertainment industry for about four decades. She shows no signs of stopping as she continues to bag roles. She has also written books, released a music album, played the Jew's harp, and appeared in music videos during her career.
Accumulating all her earnings from her work, Gina Gershon has an estimated net worth of $8 million as of 2022.
Gina Gershon's Most Loved Things
Favorite Designer: Zac Posen
Favorite Brands: Chanel, Isabel Marant, and Roger Vivier
Favorite Drink: Silver Tequila
Favorite Dessert: Dark Chocolate, Carrot Cake, Pumpkin Bread, Cookies, and Pumpkin Pie
Favorite Food: Burgers
Gina Gershon's Most Notable Awards And Nominations
Winter Award: Best Cast, People in Landscape, 2020
Toronto Film Critics Association Award: Best Supporting Actress, Killer Joe, 2012
20/20 Award: Best Actress, Bound, 2017 – Nominated
Prism Award: Performance in a TV Movie or Miniseries, House of Versace, 2014 – Nominated
Saturn Award: Best Supporting Actress, Killer Joe, 2013 – Nominated
International Cinephile Society Award: Best Supporting Actress, Killer Joe, 2013 – Nominated
North Carolina Film Critics Association Award: Best Supporting Actress, Killer Joe, 2013 – Nominated
Saturn Award: Best Actress, Bound, 1997 – Nominated
MTV Movie Award: Best Kiss, Bound, 1997 – Nominated
Razzie Award: Worst Supporting Actress, Showgirls, 1996 – Nominated
Fun Facts About Gina Gershon
Gina Gershon is considered a gay icon for her portrayal of LGBTQAI+ characters in Showgirls, Bound, and Prey for Rock & Roll.
Gina Gershon was supposed to be in the Netflix movie, Don't Look Up, but the scene was deleted.
Gina Gershon smoked excessively to prepare her voice for her portrayal of Donatella Versace in the House of Versace.
Gina Gershon's ideal world is one where there are no mirrors or age.
Gina Gershon is willing to play any role, including a MILF or a GILF.
What face shape does Gina Gershon have?
Gina Gershon has an oval-shaped face. She looks beautiful with side bangs.
What is Gina Gershon's hair color?
Gina Gershon has dark brown hair that looks attractive, either short or long.
What color eyes does Gina Gershon have?
Gina Gershon has light brown eyes that look captivating with her perfectly-shaped eyebrows.
Does Gina Gershon have tattoos?
Gina Gershon does not have any visible tattoos. However, her characters Corky in Bound and Gladys Jones in Riverdale sported tattoos.
Did Gina Gershon win an Emmy?
Gina Gershon has not won any Emmy awards yet. But Sinatra, the mini-series in which she acted, won two Emmys.
Is Gina Gershon in Z Nation?
Gina Gershon was in Z Nation. She appeared in three episodes as La Reina de la Muerte.
Where does Gina Gershon live?
Gina Gershon lives in New York, where she loves visiting art galleries.
Before getting her big break in movies and television series, Gina Gershon was a theater actress who performed in Broadway plays. Another actress who gets her acting origins from the theater is Jenna Fischer. She is known worldwide for playing Pam Beesly in The Office.