Felicity Jones is one of the most beautiful actresses of today. She has worked hard throughout her life to achieve a great status as a Hollywood star and has left no stone unturned in mastering her acting skills.
Felicity's beauty and wit are perfect enough to melt even the toughest of critics' hearts and make them love her. If you're unable to get enough of her insights in your life, follow along as we explore her exact body measurements, dating history, fitness routine, and more.
Felicity Jones' Success Story
Felicity Rose Hadley Jones was born on 17 October 1983 in Birmingham, United Kingdom. She grew up with her parents and older brother in Bournville, where her uncle, her acting influence, Michael Hadley, guided young Felicity towards her acting goals.
When she turned 11, Felicity got a role at Central Junior Television. This eventually led to her debut in the show The Worst Witch, which allowed her to gain more fame. This exposure helped her get more roles, including a few on BBC.
After completing her A-levels, Felicity Jones took a gap year to complete her role in Servants, a series on the BBC. During college, Jones continued acting and even appeared in several plays.
British actress Felicity Jones later appeared in the film Northanger Abbey, playing the lead role. The film may not have been the most successful at the time, but it did give Felicity the fame she needed to move on to more projects.
A prominent role that she played was in the series Doctor Who episode titled The Unicorn and the Wasp. Felicity started getting more fame thanks to this and was able to get more roles.
Felicity Jones played the role of Ethel Hallow in the television series Weirdsister College. She is also famous for her profound roles in the 'Brideshead Revisited,' 'The Tempest' and star wars films.
Hollywood Reporters have also presented a critical acclaim status to Felicity Jones for the initial success of her career. Jones also played Sienna Brooks in 'Inferno,' Margot Frank in 'The Diary of Anne Frank,' and Jyn Erso in Star Wars Story.
Felicity starred as Emma Grundy in the show The Archers on BBC, one of her longest-running roles. She also has experience in rom-com films, as seen with her performance in Chalet Girl, in which she starred opposite Anton Yelchin.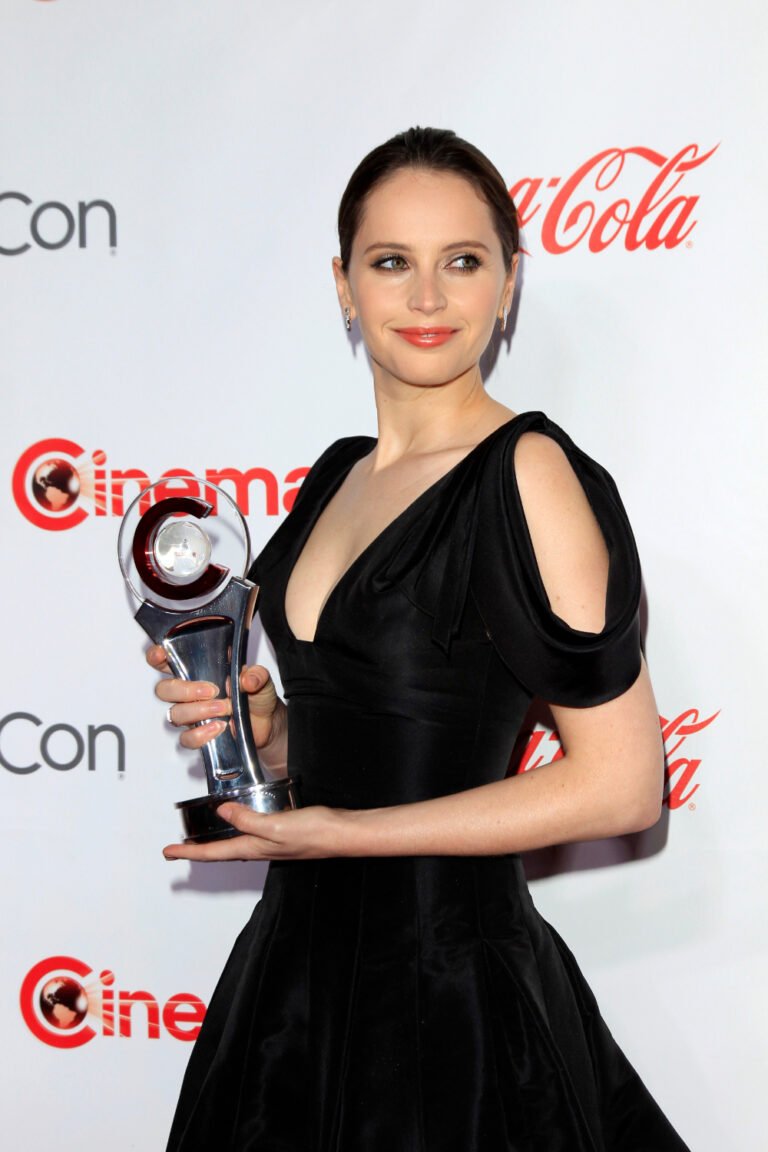 Her most prominent role to date is Jane Wilde Hawking in the film The Theory of Everything, an outstanding biopic of late physicist Stephen Hawking. She also played Felicia Hardy in The Amazing Spiderman 2 co-starring Andrew Garfield.
Felicity Jones and Nabhaan Rizwan recently promoted 'The Last Letter From Your Lover' – a British romantic drama film based on Jojo Moyes's novel, released earlier in 2021.
Since then, Felicia has been known as one of the best young actresses of today. She has worked hard to reach this standing in her career and keeps growing and improving her skills.
Felicity Jones' Height and Weight
Felicity Jones' height and weight ratio greatly complement her career roles. She has a statuesque physique as she stands tall at 5 feet 3 inches or 160 cm (1.6 m) and maintains her weight at 55 kg or 121 pounds.
Felicity Jones has reformed her diet to adapt to a healthy lifestyle, improving her overall status. She is a popular influencer on Instagram for her lifestyle and fitness tips.
Felicity tracks her calories and every nutrient she eats in a day. Her diet includes egg whites, vegetable sandwiches, low-fat milk, rice, grilled fish, filter coffee, dry fruits, fruits, and vegetables. She also drinks ample ounces of water which keeps her hydrated and brings a glow to her face.
Felicity Jones' Romances
Felicity Jones' experience with the relationships in her life has been very struggling. She likes to maintain her privacy; therefore, not all relationships of Felicity Jones are out in public.
The paparazzi has covered some major insights and personal information from her dating history, and we have brought to your attention some genuine relationships confirmed by the star.
Felicity Jones' first relationship started in 2003 when she met artist and sculptor Ed Fornieles at the Ruskin School of Art. The duo dated for almost ten years before separating for irreconcilable reasons.
Felicity Jones and ex-fiance Ed Fornieles were engaged and about to marry after finding comfort in each other's company.
Even though Felicity had spent a long time building a relationship with Ed, she had no regrets about going through an amicable breakup which resulted in helping her to focus on her career.
After separating from Ed, the Spiderman star Felicity Jones revealed that she finds going out on dates very awkward. Felicity revealed her hopeless romantic side while promoting the Oscar-winning movie 'The Theory of Everything' cast opposite Eddie Redmayne.
In 2014, Felicity started dating English writer and Director Charles Guard. Since then, the duo has made several appearances at award shows and movie premiers.
In 2018, Felicity Jones finally settled for her longtime boyfriend, Charles Guard. Since then, the couple has stayed together in a happy married life, and recently they were blessed with their first child.
Full Born Name: Felicity Rose Hadley Jones
Nick Names: Felicity
Occupation: Actress, Voice Actor, Film Producer
Religion: Catholic
Date of Birth: 17 October 1983
Birthplace: Birmingham, United Kingdom
Zodiac Sign: Libra
Father Name: Gareth Jones
Mother Name: Julia Jones
Siblings Names: None
Spouse: Charles Guard
Children: Not Disclosed
Felicity Jones' Body Measurements
Felicity Jones has a stellar physique as she looks stunning in body fit clothes. Her amazing body measurements of 33-27-34 inches or 83.82-68.58-86.36 cm make her look ravishing in every attire.
Felicity Jones is an avid fitness enthusiast renowned as a fashion model on social media. Her fitness tips have helped millions to achieve their dream physique and adapt to a quality lifestyle.
Felicity Jones' workout regime includes running, performing her stunts, swimming, bodyweight exercises, yoga, pilates, and hiking. She has also trained in Martial Arts for her role in 'Rogue One,' by Master Liang Yang, who has helped her maintain a perfect physique for action roles.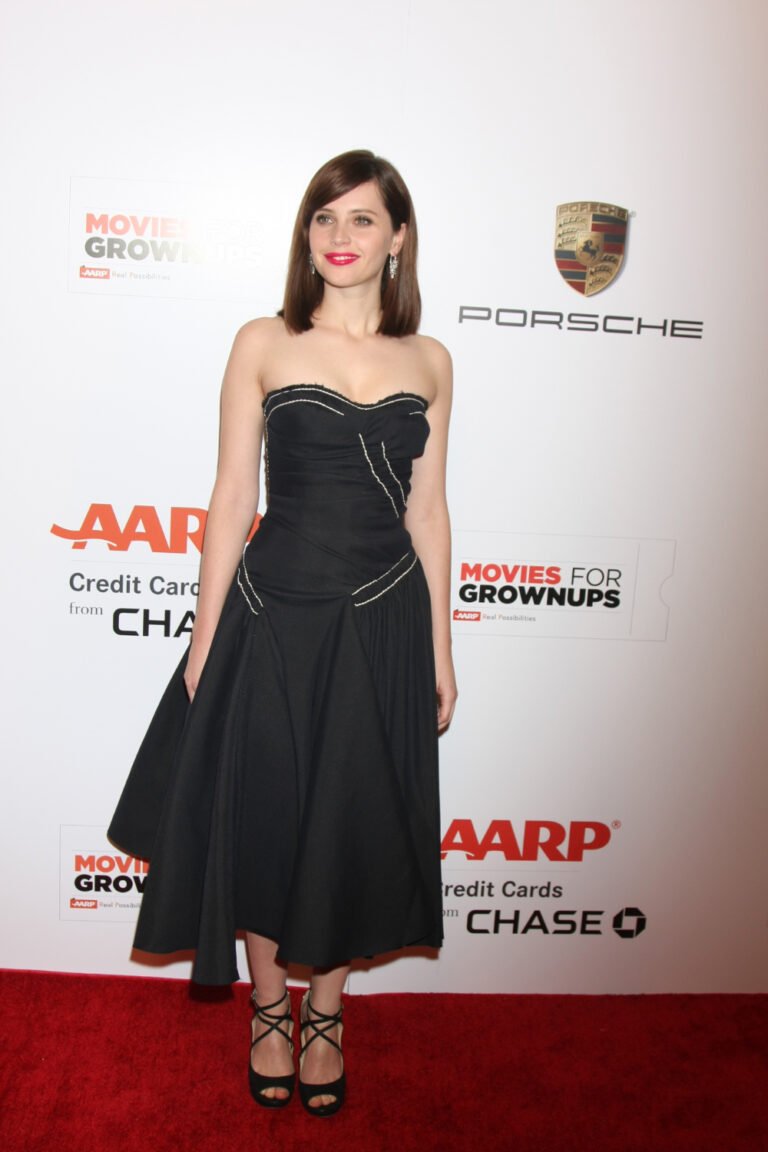 Felicity Jones' Perfect Assets
Felicity Jones has a stellar physique as she carries the perfect assets to be a world-class celebrity. She flaunts a breast size 33 inches in a bra size of 32A while wearing a cup size A, which brings her sensual appeal upfront.
Felicity Jones is known for her exotic appearances and heavenly assets, which has featured her among the world's most beautiful and sexiest women. She is seen on the covers of Harper's Bazaar, Glamour, Shape, Porter, and Vanity Fair.
| | |
| --- | --- |
| Height | 5 feet 3 inches or 160 cm (1.6 m) |
| Weight | 55 kg or 121 pounds |
| Breast Size | 33 inches |
| Bra Size | 32A |
| Cup Size | A |
| Body Measurements | 33-27-34 inches or 83.82-68.58-86.36 cm |
| Figure | Slim |
| Chest Size | 33 inches or 83.82 cm |
| Waist Size | 27 inches or 68.58 cm |
| Hips Size | 34 inches or 86.36 cm |
| Shoe Size | 8 (US) or 39 (EU) or 6 (UK) |
| Dress Size | 8 (US) or 40 (EU) or 12 (UK)) |
| Eyes Color | Green |
| Hair Color | Dark Brown |
| Natural breasts or implants | Implants |
Has Felicity Jones got Plastic Surgery?
Felicity Jones is a renowned celebrity who had faced her fair share of rumors getting under the knife. Dailymail UK has brought light to all the speculations which alleged that Felicity Jones had got cosmetic surgery to enhance her looks.
Recently, Felicity Jones went through cosmetic surgery and posted her erotic pictures in a noticeably larger cleavage, which confirmed the breast augmentation procedure.
Felicity Jones shared a naked picture on her social media, which showed how much her body has changed after giving birth to her son. She chose Botox, facial fillers, and a nose job to her rescue, preventing aging.
People have respected Felicity Jones' honesty to have shared the truth of getting under the knife. She looks flawless in the present and follows a strict diet and workout regime to look as beautiful as ever.
Felicity Jones' Net Worth
As of 2021, Felicity Jones' net worth is estimated at $6 Million, which she has earned through her prolific career in Hollywood. Felicity Jones became a worldwide star within a short period and has earned an affluent status as an Actress and Producer.
She earns significant revenue from showcasing her diverse talents in the mainstream media. She has endorsed Dolce & Gabbana, where she appeared in a print advertisement during 2012 for their Khol Collection for eyes and nails.
Felicity Jones is also the brand ambassador of Clé de Peau Beauté, a skincare lineup. She has endorsed their cosmetic products, which is a major source of revenue that contributes to her net worth.
Felicity Jones' Most Loved Things:
Favorite Foods: Peanut butter and Cucumber Sandwich, Coffee, Pasta, Banana and Almond milk Smoothies, Italian Cuisine
Favorite Products: Inca Black Padded Velvet Alice Headband, Clé de Peau Beauté The Serum
Favorite Hobby: Cooking
Favorite Colors: Black, Golden White
Awards Won By Felicity Jones
Gotham Awards: Breakthrough Actor, 2011
National Board of Review, USA: Best Breakthrough Performer, 2011
Hollywood Film Awards: New Hollywood Award, 2011
Empire Awards, UK: Best Female Newcomer, 2012
Women Film Critics Circle Awards: Invisible Woman Award, 2014
Santa Barbara International Film Festival: Cinema Vanguard Award, 2015
BAFTA/LA Britannia Awards: Britannia Award for British Artist of the Year, 2016
IMDb Awards: Fan Favorite, 2016
Empire Awards, UK: Best Actress, 2017
British Independent Film Awards: Variety Award, 2018
CinemaCon, USA: Excellence in Acting, 2018
Exciting Facts About Felicity Jones
Felicity Jones' name in Latin refers to Felicitas – a Roman Goddess of luck and good fortune.
Felicity Jones is a big fan of the Peaky Blinders TV show as she was born and raised in Birmingham, where the show is filmed.
Felicity Jones is known for her versatile acting talent and winning persona. In 2008, she was nominated as the Best Newcomer in the Evening Standard Theatre Awards.
What face shape does Felicity Jones have?
Felicity Jones has a triangular-shaped face that looks alluring because of her porcelain complexion.
What color eyes does Felicity Jones have?
Felicity Jones has mesmerizing green colored eyes that have made people fall for her.
What is Felicity Jones' hair color?
Felicity Jones has natural Dark Brown hair which she rocks in a long wavy hairstyle.
Does Felicity Jones speak Italian?
No, Felicity Jones does not speak Italian; even though she has inherited Italian descent from her ancestors, she is only fluent in English and Spanish.
Does Felicity Jones snowboard?
Felicity Jones is an excellent surfer who has helped her learn snowboarding after training for six hours a day for an entire month. She learned snowboarding to film some scenes in the 2011 movie 'Chalet Girl.'
Did Felicity Jones win an Oscar?
Felicity Jones has won about six Oscars for her excellent portrayals in highest grossing commercial films.
Was Felicity Jones in Game of Thrones?
No, Felicity Jones was not a part of the Game of Thrones cast. She never appeared on the show.
Where does Felicity Jones live?
Felicity Jones was born and raised in Birmingham, United Kingdom, and presently she lives in Bethnal Green, London.
Felicity Jones' charisma has spellbound the world as she has delineated magnificent performances and marked her name amongst the proficient actresses of today. Jennifer Lawrence is a renowned celebrity who has played profound roles and won the fans' hearts with her sensual appeal. Do check out the major insights from her amazing life story, dating history, and widely searched body measurements.