'I'm this little Canadian Jewish girl, and I'm living my dream!'
Well, Emmanuelle Chriqui really is living her dream! You may know her as Lana Lang from Superman and Lois or Sloan McQuewick from Entourage, but Emmanuelle has ground hard to turn her dream into reality, and now, she is soaring high!
Today, she is not only a successful performer but a strong advocate for plant-based diets and human rights! Clearly, the woman is on a mission to not just live her dreams but make this world a better place.
IN A GIST
Emmanuelle Chriqui is a stunner at 5 feet and 3 inches or 160 cm.
She weighs about 50 kg or 110 pounds and maintains it via plant-based diets, intense pilates, and transcendental meditation.
Chriqui celebrates her birthday on the 10th of December and is 47 years old. Continue reading to learn more exciting details of her life, body stats, fun facts, and more.
Emmanuelle Chriqui's Birthday and Age
Emmanuelle Chriqui celebrates her birthday on the 10th of December. The Canadian beauty, born in 1975 under the star sign Sagittarius, is 47 years old. But her zest for life makes her 20 at heart.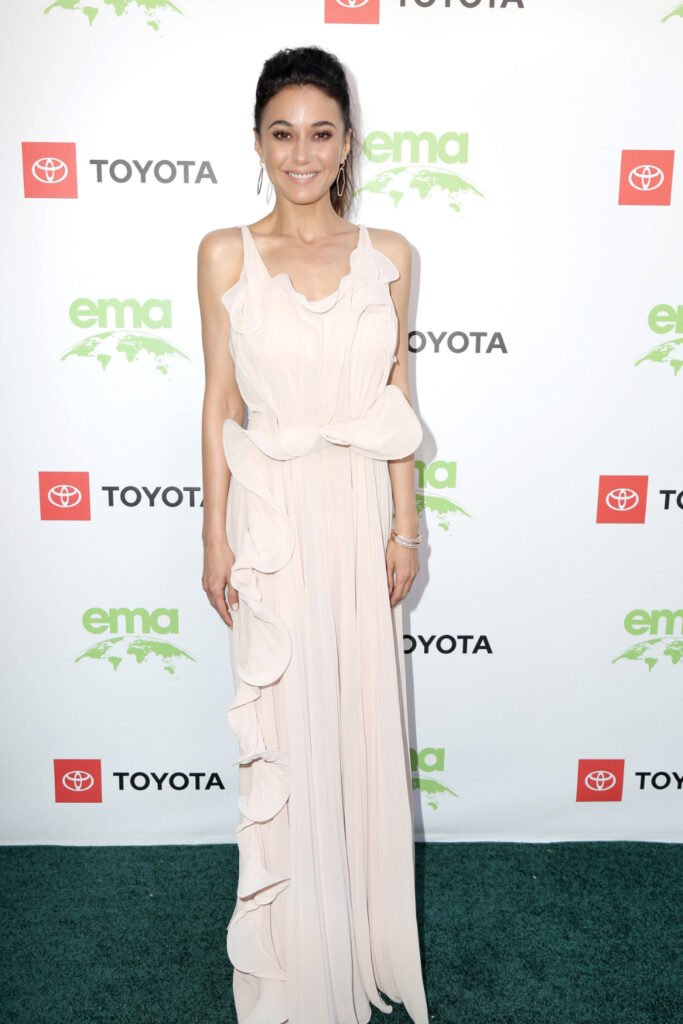 Emmanuelle Chriqui's Education
Emmanuelle knew she wanted to pursue acting at the tender age of 10. So, she attended Unionville High School, Ontario, to study drama.
Once she graduated, Chriqui focused all her energy on building a successful acting career. And look where it got her; she is a star!
Emmanuelle Chriqui's Family Background
Emmanuelle was born in Montreal, Quebec, Canada, but her family moved to Toronto, Ontario, when little Emma was only two years old.
She has a fascinating ancestry comprising Morrocon-Jewish lineage; her mother came from Casablanca, while her father was born in Rabat. Her family was inclined towards practicing orthodox Judaism, and to date, Emma has relatives in Israel.
Emmanuelle grew up in a loving family with parents and siblings who always supported her dreams. Her father was Emma's favorite person, as she often mentions in her Father's Day posts.
Her mother, an aesthetician, once told Emma she was born to be a star actress. Emma was only 16 and on her way to stardom when she lost her mother. But her words fueled Emma to chase her dream!
She is the youngest of three siblings. She has an older brother and sister who share a close bond with her. In fact, it was her brother who paid for Emmanuelle's acting lessons at school.
Her sister, Laurence, celebrated her 50th birthday on a cruise with Emmanuelle. She has also exhibited her pure love for her sister on her Instagram handle.
Emmanuelle Chriqui's Career Highlights
Emmanuelle's first acting job was for a McDonald's commercial when she was only ten! Her interest in acting started growing with time, and she moved to Vancouver to get more opportunities.
Chriqui guest-starred in several series, including Are You Afraid of the Dark and Once a Thief, in the early 90s before making her Hollywood debut in the 1999 teen comedy Detroit Rock City.
In 2000, Emma's performance as Claire Bonner in the comedy film Snow Day made waves in the industry. And her appearance as Sloan McQuewick in HBO's hit series Entourage exhibited her authentic acting skills, hinting that Emma means business!
You may have also noticed her in some hit movies like You Don't Mess With the Zohan, Super Troopers 2, etc. She also plays the young and beautiful Lana Lang in Superman & Lois. Now you know her!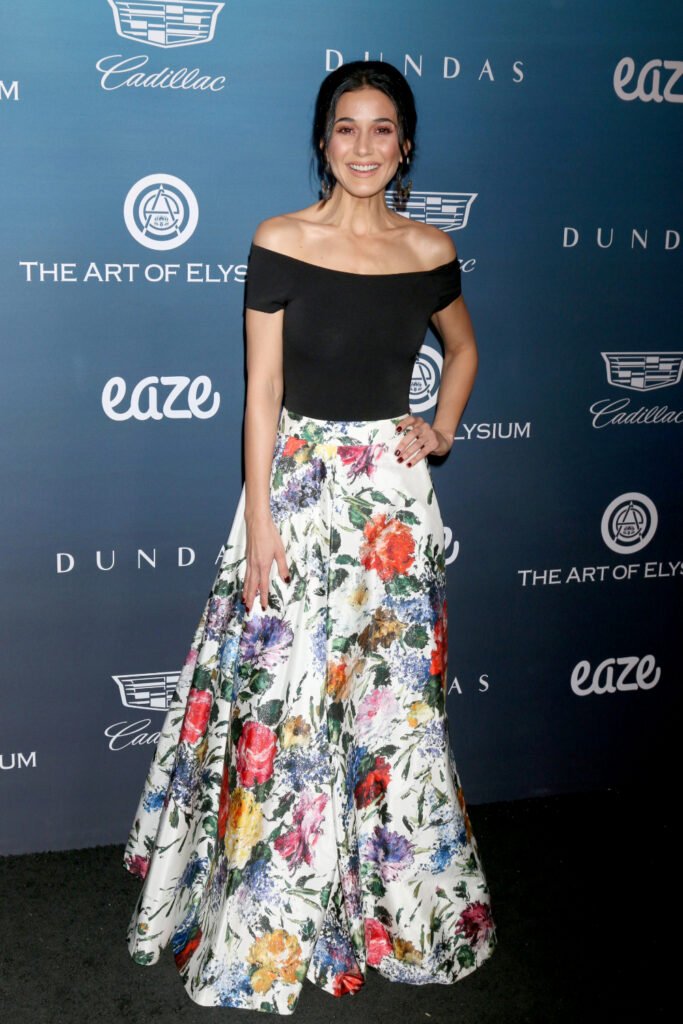 Full born name: Emmanuelle Sophie Anne Chriqui
Nicknames: Emmanuelle, Emma
Date of birth: 10 December 1975
Birthplace: Montreal, Quebec, Canada
Zodiac sign: Sagittarius
Father name: Albert Chriqui
Mother name: Liliane Benisty
Siblings' name: Laurence Chriqui (Older Sister); Serge Chriqui (Older Brother)
Emmanuelle Chriqui's Height and Weight
Emma stands beautifully at 5 feet 3 inches or 160 cm (1.6 m), and her weight is approximately 50 kg or 110 pounds. Emma is in her 40s, but at first glance, you may mistake her for a 30. That's how she glows, and it's all for her fans and admirers.
Emmanuelle Chriqui's Body Measurements and Physical Traits
Emma has a beautiful face and toned body, which calls for pure hard work and dedication! Her possible body measurements are 35-24-34 in or 89-60-86 cm, and she possibly wears a bra size 34C with a cup size C.
Emmanuelle has a stunning oval face that ticks all the boxes of beauty. And her sparkling brown eyes with long lashes make people fall in love with her within seconds.
Her dark brown hair should have a separate fan base because it is so mesmerizing to look at! She's truly blessed with extraordinary features that'll make you want to look at her for hours!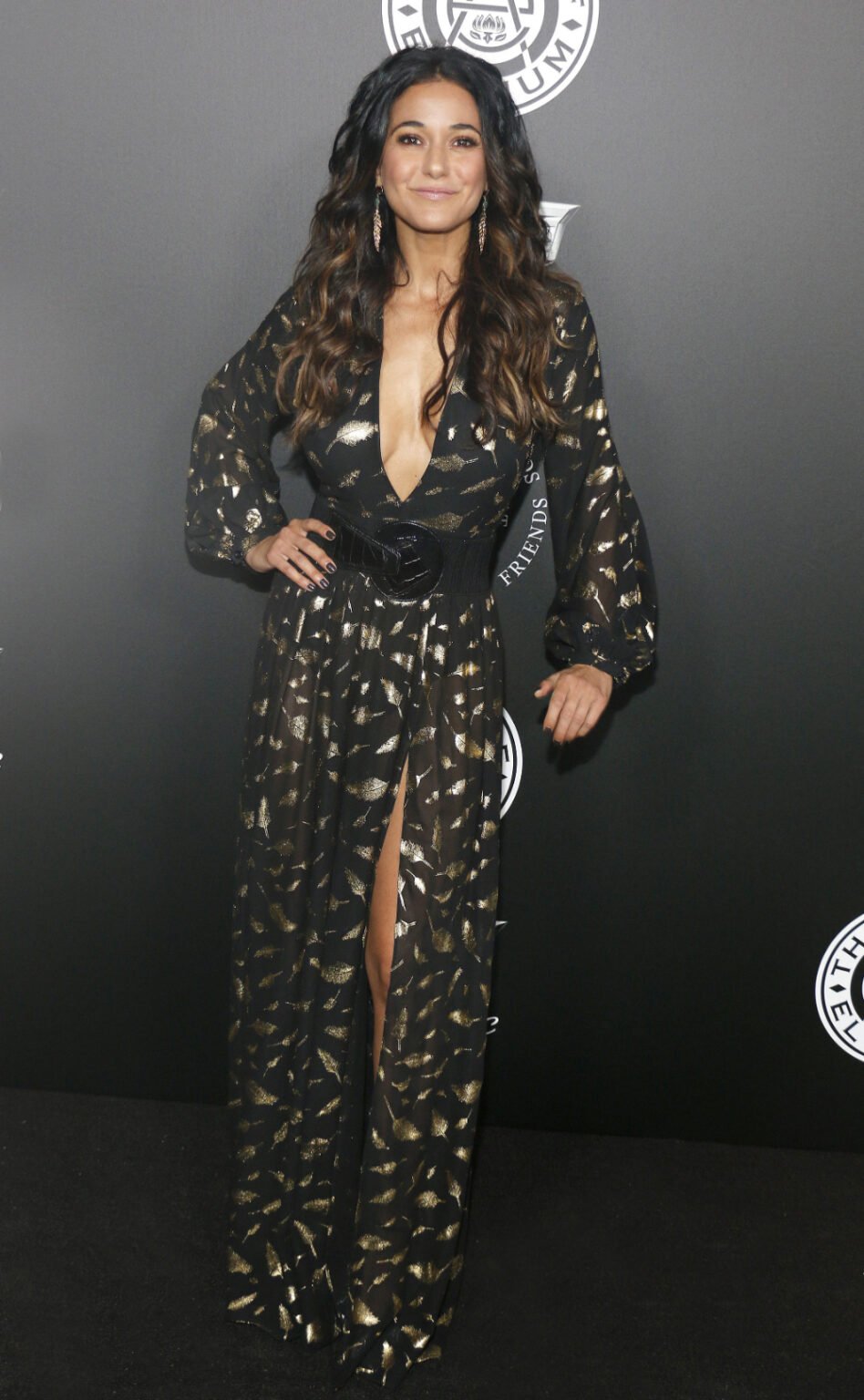 How Emmanuelle Keeps Her Body So Fit?
The great thing about Emmanuelle's workouts is that she keeps it real. In one of her workout videos, she leaves her Pilates training in the middle only to begin the next day!
Besides, she also enjoys getting out in nature. She is a water baby and indulges in activities like swimming to keep her body active!
But Emmanuelle cannot rely on exercise alone to maintain a body as stunning as hers. So, yes, she includes tons of veggies in her diet and mostly eats plant-based food. But she also believes every diet needs a reset from time to time, and one should follow what suits them.
| | |
| --- | --- |
| Height | 5 feet and 3 inches or 160 cm (1.6 m) |
| Weight | 50 kg or 110 pounds |
| Face Shape | Oval |
| Bra Size | 34C |
| Cup Size | C |
| Figure | Slim |
| Body Measurements | 35-24-34 in or 89-60-86 cm |
| Shoe Size | 7 (US) or 37.5 (EU) or 4.5 (UK) |
| Dress Size | 4 (US) or 36 (EU) or 8 (UK) |
| Eyes Color | Dark Brown |
| Hair Color | Dark Brown |
Disclaimer
Emmanuelle's Social Media Following
Emmanuelle is a positive influence on people, which inspires them to follow her on social media. They love to learn about her workouts, diet plans, and overall lifestyle; thus, she has a huge fan following!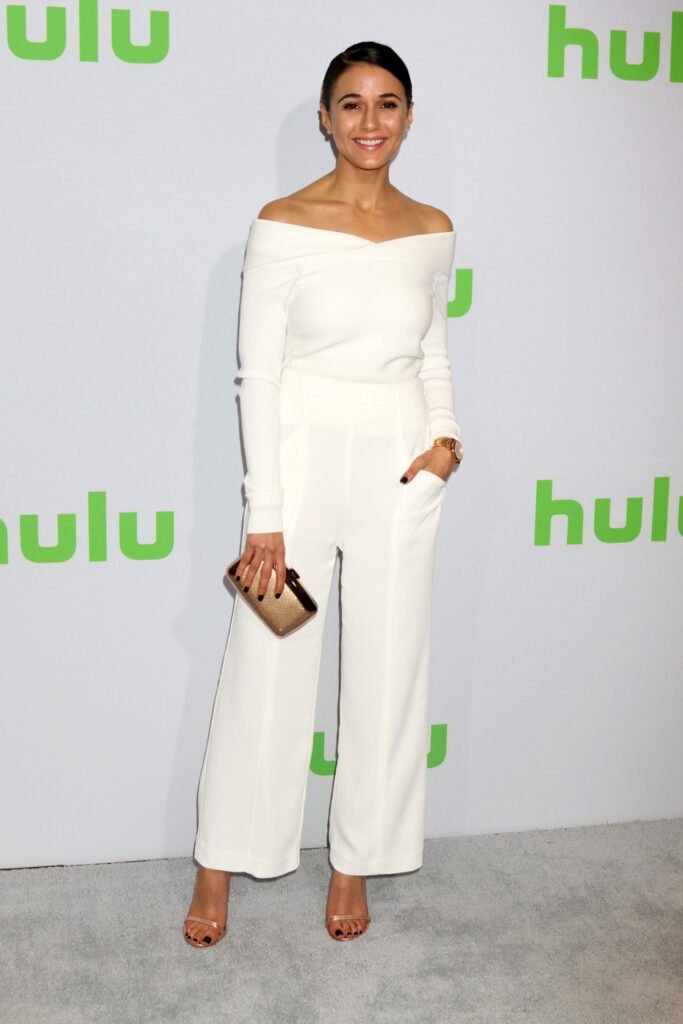 Emmanuelle Chriqui's Net Worth
Emmanuelle has been a part of the film industry for a long time. She has appeared in more than 30 films and TV shows and is still going strong!
Emma also endorses popular brands like Petco Love and Michelob ULTRA on her social media and has an estimated net worth of $9 million as of 2023.
Emmanuelle Chriqui's Favorite Things
Favorite Book: Between Two Kingdoms by Suleika Jaouad
Favorite Flower: Red Rose
Favorite Place: Santorini, Greece
Favorite Quote: This is the beginning of anything you want
Fun Facts About Emmanuelle's Life
Emmanuelle was AskMen.com's Most Desirable Woman of 2010.
Emmanuelle was the voice of Cheetara in the 2011 animated series, ThunderCats.
She is fluent in English and French; a beauty with brains for real!
She is sensitive to energies and can tell if someone is not in alignment.
Chriqui encourages a plant-based diet and urges people to try it.
Emmanuelle is also into Transcendental Meditation.
What face shape does Emmanuelle Chriqui have? 
Emmanuelle has an oval-shaped face which compliments the symmetry of her cute face. 
What is Emmanuelle Chriqui's hair color?  
Emmanuelle has shoulder-length dark brown hair, which really suits her skin complexion. 
What color eyes does Emmanuelle Chriqui have? 
Emmanuelle's beautiful dark brown eyes are to die for, and most of her fans will agree.
Was Emmanuelle Chriqui in vampire diaries?
Emmanuelle has never appeared in any episode of Vampire Diaries, but she shares an uncanny physical resemblance to the show's female lead, Nina Dobrev.
Did Emmanuelle Chriqui go to college?     
Emmanuelle studied drama at Unionville High School, Ontario. Once she graduated from high school, she immediately started working as an actress. 
Where does Emmanuelle Chriqui live?  
Emmanuelle currently resides in Los Angeles, California, USA. 
Emmanuelle's journey was not easy, but she had the will to live the life of her dreams, and she did. Her inspiring journey reminds us of the story of American actress Vera Farmiga.