A bubbly YouTuber rocking the internet with her wittily humorous vlogs, that's Emma Chamberlain. The young influencer has collaborated with huge brands like Calvin Klein and has even launched her coffee brand. Emma's truly an idol for aspiring influencers!
IN A GIST
Emma Chamberlain is 5 feet 4 inches or 162 cm tall.
Emma has a stunning slim figure and weighs approximately 50 kg or 110 pounds.
Emma Chamberlain's birthday is on 22nd May. She is just 21. Hooked, right? So, read along to find more exciting details about Emma's career, family, fitness, and more!
Emma Chamberlain's Age and Birthday
Social media personality Emma Chamberlain is 21 years old. She was born in California on the 22nd of May, 2001, and is a Gemini.
Emma Chamberlain's Education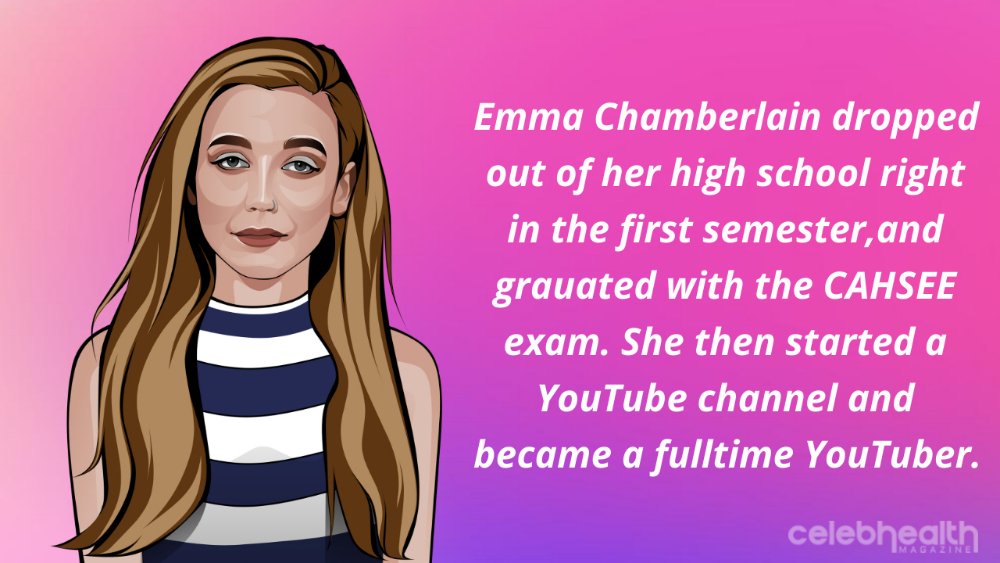 Chamberlain is one of those celebrities who followed her guts and prioritized her talent over education. And it seems to have worked pretty well!
She completed her elementary education at Central Middle School in San Carlos. After that, she went to Notre Dame High School, Belmont, where she was a cheerleader for about five years.
But, unhappy with her high school experience, Emma only dropped out in her first year. Later she passed the California High School Exit Exam and finally graduated.
Emma Chamberlain's Family
Chamberlain is the only child of Sophia Pinetree Chamberlain and Michael John Chamberlain. Her parents separated when she was just five.
Emma's parents have always been supportive of her choosing an off-school career. And she has a strong and loving connection with them. The content creator also delights her fans with hilarious videos with her mother.
A Quick Overview of Emma Chamberlain's Career
Emma Chamberlain's social media adventure began when she decided to drop out of school and launch her YouTube channel. Her first step was collaborating with other YouTubers to form Sister Squad after moving to Los Angeles.
Many doors opened for Emma after that. She got an opportunity to collaborate with Snapchat to create a creator show and with Vogue to host a Teen Vogue event.
Emma is also a talented designer. She teamed with Crap Eyewear on the design of their glasses, as well as with the shopping app Dote, which launched her designed clothing series, Low Key/High Key, by Emma.
After that, her popularity has only been soaring high! The YouTube sensation has landed on the covers of Cosmopolitan, Harper's Bazaar, Allure, etc.
Emma also started her podcast, Anything Goes, in 2019, which is a huge hit among teenagers. She also runs her coffee brand, Chamberlain Coffee, founded in 2019.
Full Born Name: Emma Frances Chamberlain
Nickname: Emma
Occupation: YouTuber, Internet Personality, Influencer, Model, Podcaster
Date of Birth: 22 May 2001
Birthplace: San Bruno, California
Education: Central Middle School; Notre Dame High School; (Passed California High School Exit Exam)
Zodiac Sign: Gemini
Father Name: Michael John Chamberlain
Mother Name: Sophia Pinetree Chamberlain
Siblings' Names: None
Emma Chamberlain's Height and Weight
Famous social media personality Emma Chamberlain has a good height of 5 feet 4 inches or 162 cm (1.62 m) and weighs around 50 kg or 110 pounds. Chamberlain is seen flaunting her petite figure in quirky attire on the Gram!
Emma Chamberlain's Body Measurements & Physical Traits
Chamberlain looks iconic, thanks to her unique fashion sense and perfect stature. Judging from her Gram, Emma's estimated body measurements are 31-24-32 inches or 79-61-82 cm, and she possibly wears a bra size 30A with a cup size A.
Besides her oh-so-perfect figure, Emma's enticing features are on-point too! Her new short blonde hairdo goes really well with her choice of attire. But she looks no less amazing in brown hair too.
It's Emma's gorgeous heart-shaped face and dreamy blue eyes that she sports different hair colors so effortlessly, looking just gorgeous!
What's Emma Chamberlain's Fitness Secret?
Well, it won't be an exaggeration to say Emma Chamberlain is blessed with good genes and a metabolism. I mean, looking at the delicious pictures of burgers, wraps, french fries, and pasta, her love for food is pretty obvious!
But that's not just it! Emma is vegetarian. And she consumes healthy, fiber-rich foods like green vegetables, fruits, and other nutritious foods.
Besides, Emma is a nature lover and enjoys activities like running and swimming. She also ensures enough vitamin D by soaking in the sun every morning for about an hour. And it all seems to work well for her!
| | |
| --- | --- |
| Height | 5 feet 4 inches or 162 cm (1.62 m) |
| Weight | 50 kg or 110 pounds |
| Face Shape | Heart |
| Bra Size | 30A |
| Cup Size | A |
| Body Measurements | 31-24-32 inches or 79-61-82 cm |
| Figure | Slim |
| Shoe Size | 6 (US) or 37 (EU) or 4 (UK) |
| Dress Size | 4 (US) or 34 (EU) or 6 (UK) |
| Eyes Color | Blue |
| Hair Color | Brown |
Disclaimer
Emma Chamberlain's Tattoos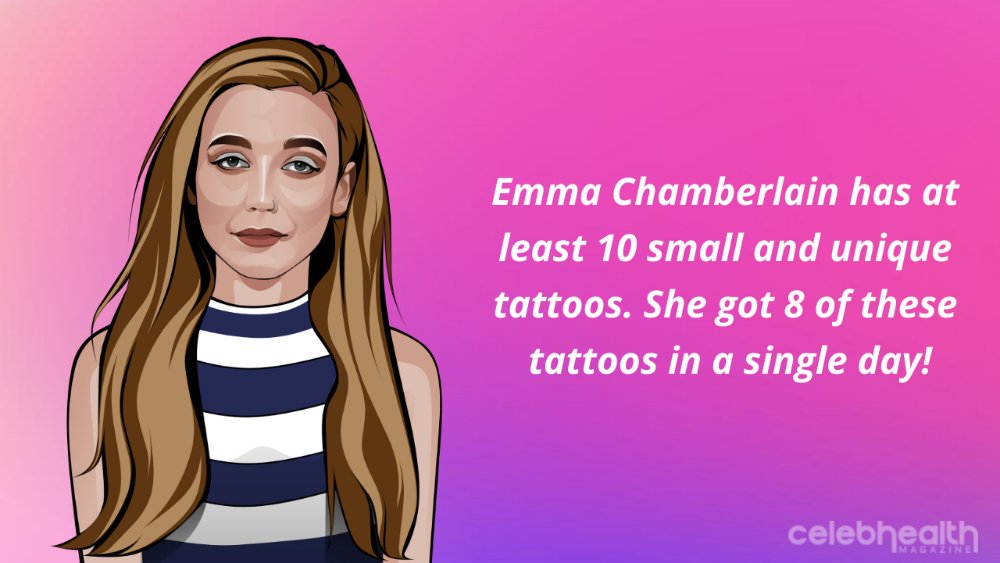 Emma Chamberlain sports at least 10 small tattoos, 8 of which she got all in a single day. Such an adventurous soul she is!
These tattoos include a car, two paint brushes, a lighthouse, a small pyramid shape, and a number 11 on her right hand and an illustration of a girl holding a head, a soft toy, a pine tree with a horseshoe stamp, the head of a squirrel, and on her left hand.
Emma Chamberlain's Fan Following
Emma Chamberlain's popularity is just insane! At the age of just 21, she enjoys a fan base of millions, who adore her for her fashion sense and enchanting personality. But Emma is currently reachable only on two platforms.
Though Emma is quite active on Gram, the young celebrity thinks that social media has both positive and negative impacts on people.
And so she released a podcast named Social Media on Anything Goes to share her experiences of social media negativity and help people deal with it!
Emma Chamberlain's Net Worth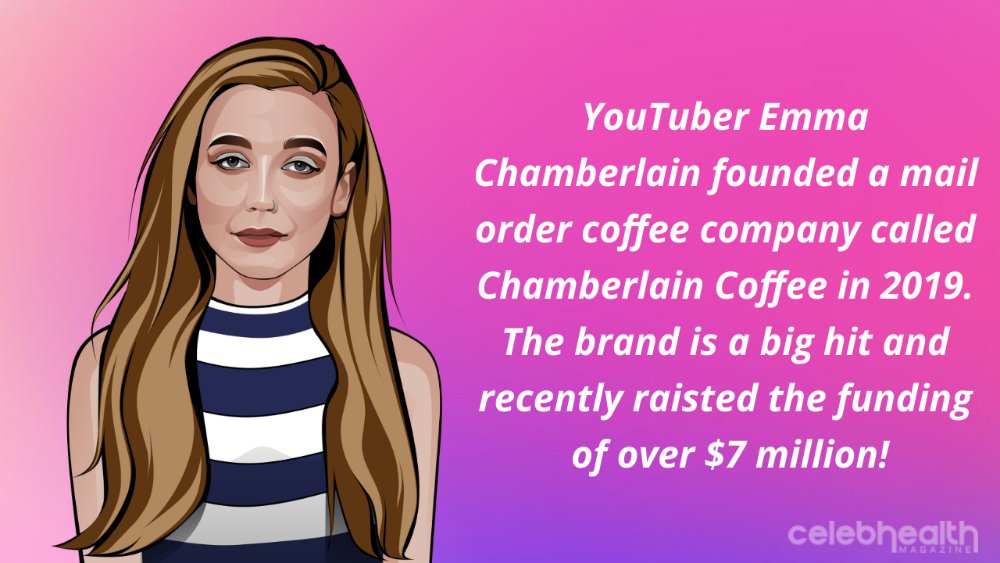 Chamberlain is quite a popular YouTuber with millions of followers. And the grand success of her uniquely entertaining videos is one of the major contributors to her being a millionaire in her 20s.
Besides her YouTube success and brand endorsements, Emma's coffee company, Chamberlain Coffee, is yet another feather to her cap. Combining all her ventures, it's not a surprise that Emma has an estimated net worth of around $15 million as of 2022.
Emma Chamberlain's Hot Favorites
Favorite Hobby: Reading, Traveling
Favorite Animal: Cats
Favorite Vegetable: Kale
Favorite Fruit: Avocado
Exciting Facts About Emma Chamberlain
Emma wanted to be an anesthesiologist as a kid.
Growing up, Chamberlain struggled with eating disorders and body dysmorphia.
Emma won a Shorty Award for Best Podcaster in 2020. She also has two People's Choice Awards, one Teen Choice Award, and three Streamy Awards.
In 2019, Emma was included in Time's list of The Most Influential People on the Internet.
Emma also secured her place in Forbes' 30 Under 30 list for social media.
What is Emma Chamberlain's face shape?
Emma Chamberlain has an adorable heart-shaped face. Her short hairstyle strikes out perfectly due to her facial features.
What is Emma Chamberlain's hair color?
Emma's hair color is brown, but she keeps switching between blonde and brown, looking amazing in both!
What color are Emma Chamberlain's eyes?
Emma Chamberlain has gorgeous, dreamy blue eyes that give her a unique charm!
Does Emma Chamberlain have tattoos?
Yes, Emma Chamberlain has at least 10 visible tattoos on her body.
Is Emma Chamberlain vegan?
YouTuber Emma Chamberlain is a vegetarian. But she isn't a vegan; she eats cheese and other dairy products.
Where does Emma Chamberlain live?
Emma Chamberlain lives in Los Angeles.
Emma Chamberlain is one of the most popular YouTubers of today! Her engaging and entertaining content on YouTube is garnering much attention from all around the world. Like Emma, another YouTuber and streamer ruling the internet is Pokimane. Join us to learn more about her now!