Everyone's teenage crush from I am Number 4, Dianna Agron, is an outstanding actress who has worked hard to rise to the top of cinema. Thanks to her dedication to her craft, you can see her skills improve and reach perfection in her breakthrough films.
Dianna is a stunning actress who has broken millions of hearts with just a glance over the years. If you are also one of her biggest fans, then follow along as we go over her body measurements, dating history, fitness routine, and more.
Dianna Agron's Story of Success
Dianna Agron was born on 30 April 1986 in Savannah, Georgia. She was raised by Mary and Ronald Agron, who worked as a seamstress and a general manager at Hyatt hotels. She was raised in a Jewish household and described herself as half Russian because of her heritage.
Dianna got interested in acting during her high school years when she took part in the school theatre and performed in plays like Vanities and Grease. Along with acting, she also helped out with the set design, costumes, and painting.
After high school, Dianna moved to Los Angeles to audition for a dance agency. She was signed and used the new network to get auditions for music videos. These auditions helped her get a role in Robin Thicke's Wanna Love You Girl music video, but her part was later cut out when Pharrell Williams joined the project and changed the concept.
She soon found an acting agent who helped her get considered for musicals, but she was also told that they were quite outdated and she'd have more initial success on TV.
As a result, Dianna started working on various TV shows like Drake & Josh and CSI: New York. This helped her get some exposure, and she started getting more roles soon after. But unfortunately, most of the roles she got early on in her career involved either horror films or nudity, and she turned them all down.
But soon after, Dianna got a prominent role in the show Heroes as Debbie Marshall during its second season. The sci-fi show's popularity helped her get more fame in the scene and, eventually, more offers.
Dianna got her breakthrough role in the teen film, I am Number 4, as the female lead character, Sarah Hart. She got enormous fame via the show and was also working in the cast of Glee which helped her Skyrocket her career into the spotlight.
Since then, Dianna has pursued independent films and has also transitioned into directing films. Her acting career also brings her enormous success and speaks volumes about her hard work over the years.
Dianna Agron's Height and Weight
Dianna Agron has an impressive height that makes her easily noticeable in a crowd or on stage in her concerts. She stands 5 ft 5 inches or 166 cm ( 1.66 m) tall, and her weight is only 58 kg or 128 pounds.
Dianna has maintained her ideal height and weight balance over the years without sweating the small stuff in her diet. She is a vegetarian and only ensures good health by cooking her meals at home. This allows her to use the freshest ingredients and mind the macros.
Her diet has never made her feel like she's missing out on any nutrition and also helps her stay ready when her career starts getting demanding. Dianna is also a regular at her local juice bar and enjoys visiting Whole Foods.
Dianna Agron's Dating History
Dianna Agron has proved to succeed with diverse talents through consistent hard work. So while pursuing a prolific career in the entertainment industry, she has encountered several great men with whom she has shared a fair share of her past.
Dianna Agron's first relationship started in 2008 with renowned American actor Dave Franco. They both shared mutual feelings of affection for each other since they were co-stars in the short film 'A Fuchsia Elephant.' They were romantically involved for almost two years before they finally separated in 2009 due to personal reasons.
In 2010, Dianna Agron dated English actor and model Alex Pettyfer when they were co-stars in the movie 'I am number 4.' Dianna and Alex's relationship was short-lived as it ended within the same year after they completed filming for the movie.
Sebastian Stan is a well-renowned name in Hollywood who has been a part of Dianna Agron's life from 2010 to 2011. After her breakup with Alex Pettyfer, Dianna got emotionally attached to Romanian actor Sebastian Stan.
Though their association was marked as a rebound relationship for Dianna to be happy, Sebastian made different career choices. The couple decided to call it quits to focus on their careers.
Since then, Diana has been linked with celebrities like Henry Joost, Christian Cooke, Nick Mathers, Thomas Cocquerel, Jack Street, Luke Bracey, and Nicholas Hoult at different instances from 2012 to 2015. But none of these relationships could work out in its due course of time.
Dianna Agron's last known relationship was with 'Mumford & Sons' guitarist Winston Marshall. The duo had started dating in 2015 and decided to tie the knot in Morocco in 2016.
The duo had kept the relationship a secret for an entire year and stayed away from the media's limelight until their wedding.
Dianna Agron wore the most expensive Valentino Fall 2016 off-the-runaway dress for her wedding with Winston Marshall. After three years of marriage, the couple announced that they were separating and filed for a divorce finalized in 2020.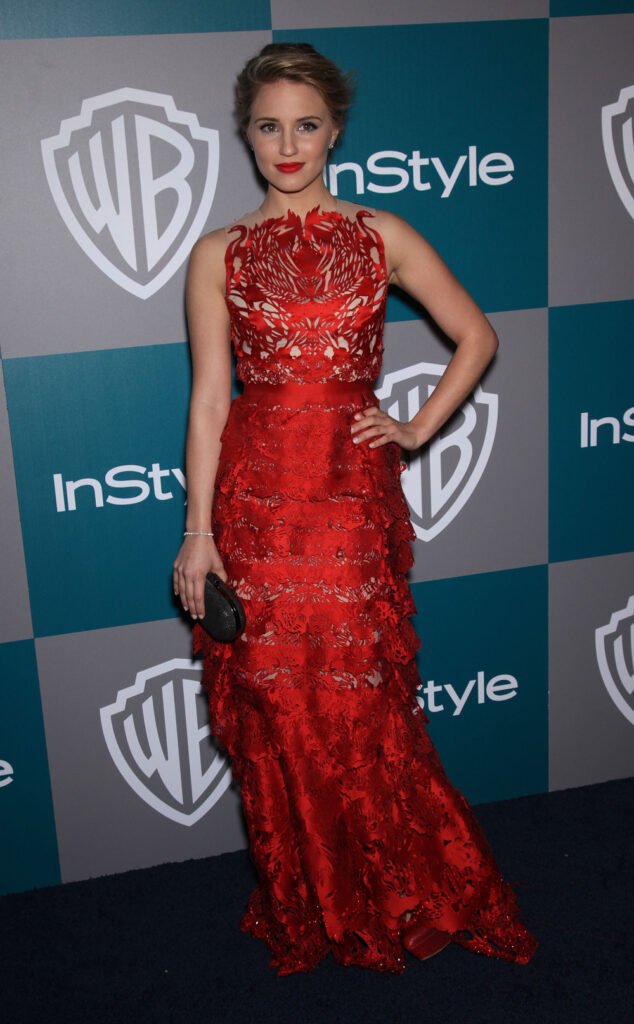 Full Born Name: Dianna Elise Agron
Nickname: Lady Di, Kitty, Lamb, Charlie, Di, Weirdo Hipster
Occupation: Actress, Film Producer, Model, Screenwriter, Singer, Dancer, Television Director, Film Director, Blogger
Religion: Jewish
Date of Birth: 30 April 1986
Birthplace: Savannah. Georgia, United States
Zodiac Sign: Taurus
Father Name: Ronald S. Agron
Mother Name: Mary Agron
Siblings Names: Jason Agron
Spouse: Winston Marshall (m. 2016 – div. 2020)
Children: None
Dianna Agron's Body Measurements
Dianna Agron's impressively fit figure has made her one of the most desirable women of the decade. Her body measurements are 34-28-35 in or 86.36-71.12-88.9 cm.
Dianna maintains her measurements with her daily workouts. Having been dancing from the age of 3, she's always been an active woman when staying healthy and burning calories.
She also loves heading outdoors for her workouts and rarely spends time on the couch. This way, she doesn't need to worry about going to the gym as her calories get balanced with her lifestyle alone. However, Dianna had run a marathon when she participated in the Red Cross Japan disaster relief fund race.
Dianna Agron's Ample Bosom
Dianna Agron has perfect assets that are fancied by her fans all across the globe. Her breast size is 34 inches, and her bra size is 34B with cup size B.
While Dianna has said no to most roles that involved nudity during her career, this didn't save her from a wardrobe malfunction at the Alexander McQueen Gala. She wore a low-cut dress that ended up revealing her breasts more than the actress had intended, but she handled the matter with confidence and grace.
| | |
| --- | --- |
| Height | 5 ft 5 inches or 166 cm ( 1.66 m) |
| Weight | 58 kg or 128 pounds |
| Breast Size | 34 inches |
| Bra Size | 34B |
| Cup Size | B |
| Body Measurements | 34-28-35 in or 86.36-71.12-88.9 cm |
| Figure | Slim |
| Chest Size | 34 inches or 86.36 cm |
| Waist Size | 28 inches or 71.12 cm |
| Hips Size | 35 inches or 88.9 cm |
| Shoe Size | 7 (US) or 37.5 (EU) or 5 (UK) |
| Dress Size | 6 (US) or 38 (EU) or 10 (UK) |
| Eyes Color | Hazel |
| Hair Color | Dark Brown |
| Natural breasts or implants | Natural |
Did Dianna Agron Go Under the Knife?
Even in a world that seems to practice love and tolerance, several haters have made it quite hard for celebrities to reveal the truth about their plastic surgeries. As a result, many celebs tend to hide this fact, but Dianna Agron is not one of them.
While the actress didn't undergo any surgery to enhance features on her face, she did undergo rhinoplasty after breaking her nose the second time. The first time happened in high school, and Dianna just walked it off, but the second time was on tour with Glee.
She got it fixed as she didn't have much time to let it heal naturally between the tour concerts and, therefore, just went for the surgery on her day off. We respect her for being honest about this with her fans despite the potential for judgment from haters.
Dianna Agron's Net Worth
Dianna Agron has earned her success over the years thanks to her unending dedication towards improving and leveling up her acting skills. As of 2022, she has an estimated net worth of $4 million.
A large share of her net worth comes from her work in the show Glee, with several tours included with the cast. The show involved a ton of singing, and Dianna rose to the challenge each time.
Dianna Agron's Most Loved Things:
Favorite Food: Chinese Food
Favorite Hobby: Acting, Dancing, Reading
Favorite Color: Pink, Purple
Favorite Products: Diorskin Nude Fluid Foundation, Dior Skin flash Radiance Booster, Dior Brow Styler, Dior 5-Colour Eyeshadow in Amber Design and Mystic Smoky, Dior Contour Lip Liner Pencil in Heather Rose
Favorite Perfume: Hanae Mori Magic Moon
Favorite Book: The Lion, the Witch, and the Wardrobe, Alice in Wonderland
Notable Awards and Nominations Won by Dianna Agron
Screen Actors Guild Awards: Outstanding Performance by an Ensemble in a Comedy Series, 2010
Gold Derby Awards: Ensemble of the Year, 2010
Teen Choice Awards: Choice TV: Female Scene Stealer, 2012
A Few Fun Facts About Dianna Agron
Dianna Agron has been an active participant in the dance and fitness regimes. Since the age of three, she has been training in several dance forms like Jazz, Ballet, and Hip-Hop. As a teenager, she used to give dance lessons to other kids.
Dianna Agron's original surname is Agronsky which was altered when her father immigrated from Russia to the United States. Dianna Agron has inherited her father's culture and heritage and was raised as a Jewish in San Francisco.
What face shape does Dianna Agron have?
Dianna Agron has a heart-shaped face with a vivid charm and porcelain complexion making her look lively.
What is Dianna Agron's hair color?
Dianna Agron's natural hair color is Dark Brown, but she has appeared in long, loose wavy hair lengths and ponytails in Blonde shade.
What color eyes does Dianna Agron have?
Dianna Agron's natural eye color is Hazel which looks gorgeous when smokey eye makeup.
Does Dianna Agron have a tattoo?
Dianna Agron has a visible tattoo on the left side of her ribcage written 'Mary had a little lamb' in a typewriter font.
Is Dianna Agron British?
No, Dianna Agron is not British, born in Savannah. Georgia, the United States.
Did Dianna Agron go to college?
Dianna Agron has attended former education from Burlingame High School in California, the United States.
Does Dianna Agron have Snapchat?
Yes, Dianna Agron is on most social media platforms, including Snapchat, with the official username Dianna Agron.
Where does Dianna Agron live?
Presently, Dianna Agron lives in San Francisco, California, the United States.
Dianna Agron brings upfront all the right curves and assets, which has made most of the world go crazy about her. This reminds us of the multitalented star Janel Parrish, whose career transformation has been glorious. So check out her exemplary work and fitness ethic and ample bosom figure.