Best known for her iconic role as Monica Geller on the legendary sitcom Friends, Courteney Cox has proven herself as a captivating force in the world of showbiz. Her range of acting definitely makes her one of the most talented actresses in Hollywood history.
With her undeniable talent and versatility, Cox has carved her name in both comedic and dramatic roles. And there's nothing stopping this fierce and bold actress from achieving more and more!
IN A GIST
American diva Courteney Cox stands 5 feet 5 inches or 165 cm (1.65 m) tall.
Courteney is knowns for her toned and lean figure, which she maintains at around 59 kg or 130 pounds.
Cox celebrates her birthday on the 15th of June under the sun sign of Gemini. If you love this FRIENDS actress, read along to explore her career, measurements, dating history, and more!
How Old Is Courteney Cox?
Known for her charismatic role as Monica Geller, Courteney Cox is rocking her successful life at 59. Cox was born on June 15, 1964, and has been blessing the entertainment industry since her early 20s, with no change whatsoever!
Courteney's Rise to Fame
Courteney started her career in New York with the Ford Modeling Agency. This also allowed her to attend acting classes and get a role in an episode of As The World Turns. She got her big break in the Dancing in the Dark video.
In 1994, she got cast in Ace Ventura: Pet Detective and also as Monica Geller on Friends. This was her most famous role to date and lasted for ten whole seasons. She reprised the role in the 2021 Friends Reunion show, apart from playing the lead role in Shining Vale.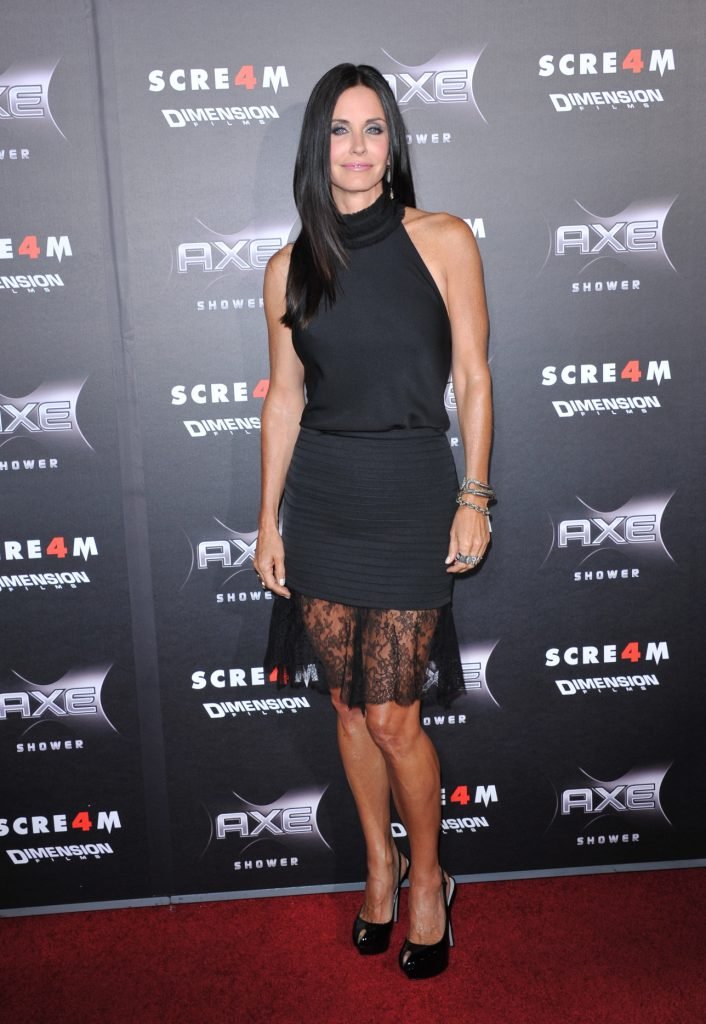 Courteney Cox's Relationships
Courteney isn't an open book when it comes to her dating life. However, she does grace us with a few details from time to time. Cox's earliest known boyfriend was Ian Copeland, and they dated in the '80s before Cox even rose to fame.
She dated Paul Brown around the year 1987, and their relationship lasted for about a year before she met Michael Keaton in 1989.
Cox found love with David Arquette in 1996, and they got married three years later. After being married for about ten years, they announced their separation, divorcing in 2013. They also have a daughter together.
Cox got engaged to Johnny McDaid in 2014 but called it off after a year and a half. However, six months after this, they got back together.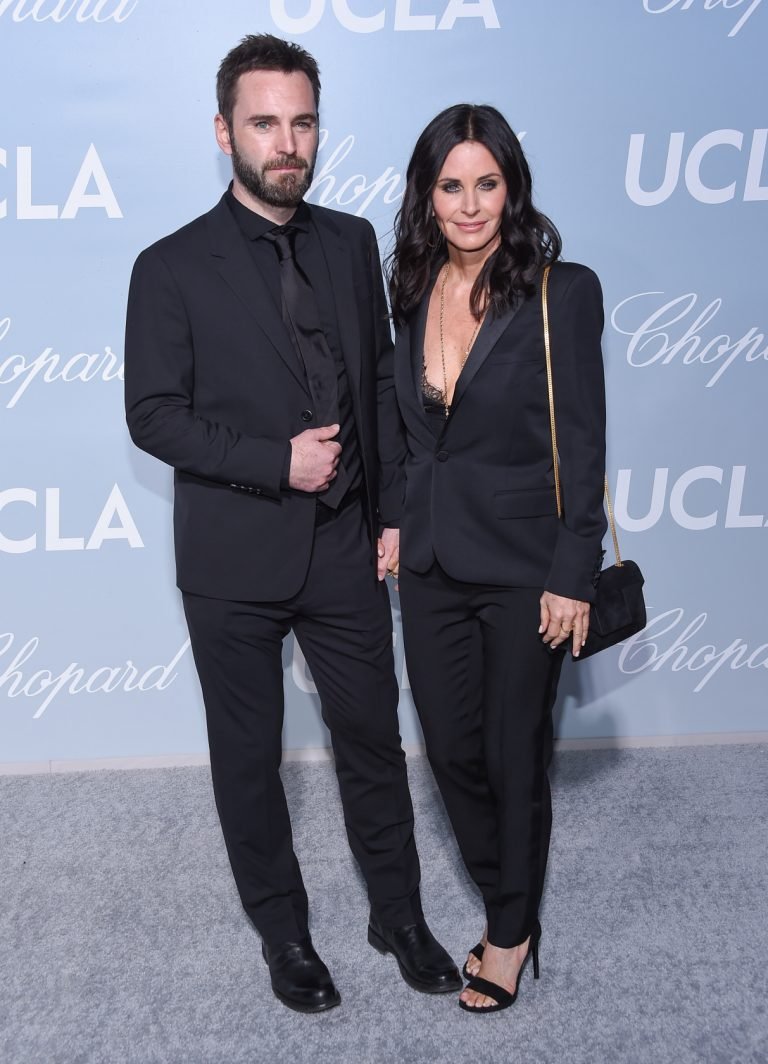 Full Born Name: Courteney Bass Cox
Nicknames: Courteney
Occupation: Actress, Producer, Director
Religion: Episcopalian
Date of Birth: June 15, 1964
Birthplace: Birmingham, Alabama, USA
Zodiac Sign: Gemini
Father Name: Richard Lewis
Mother Name: Courteney Bass
Siblings' Names: Richard Cox Jr., Jennifer Russo, Virginia Cox, Lee Mullins, Dottie Cox, Cheryl Cox
Spouse: David Arquette (m. 1999-2013)
Children: Coco Arquette
Courteney Cox's Height and Weight
Courteney Cox has an impressive height of 5 feet 5 inches or 165 cm (1.65 m), which helps her stand out in all her on-screen appearances. Whether it's adorable Monica Geller or bold Pat Phelps, her stature is the icing on the cake for each of her roles. 
Courteney Cox has gracefully conquered her 50s and is soon to step into her 60s. But you just can't tell that by looking at her timeless figure that weighs only around 59 kg or 130 pounds.
According to a post by PopSugar, Courteney is a big fan of eating according to her blood type. She also follows a diet with low amounts of carbohydrates, no caffeine, and a ton of coconut water. It is easy to see that the diet has been working well for her.
Moreover, Cox loves working out with her trainer thanks to how she challenges her from time to time. She works out for an average of an hour and a half each day, including occasional boxing and playing tennis on the weekends.
Courteney Cox's Body Measurements and Mesmerizing Attributes
The Friends star's sculpted physique has always added an impressive touch to her acting throughout the years. And Cox knows how to display her desirable body measurements of 34-24-34 inches or 86-61-86 cm and sweep her fans right off their feet! 
Besides, Courteney's vibrant oblong face with highlighted cheekbones, sparkling blue eyes, and luscious dark brown hair is enough to get her fans hooked on the screens.
Courteney Cox's Ample Bosom
The Golden Globe-nominated actress really has the perfect curves to give the occasional sensual twist to her characters. With a breast size of 34 inches, Courteney Cox's possible bra size is 34C with a cup size C.
Recently while talking to US Magazine, Courteney mentioned that she wanted to show off more of her breasts on screen in the show Cougar Town. She joked that as she ages, she wants to remove the focus from her face and bring it to her breasts instead.
| | |
| --- | --- |
| Height | 5 feet 5 inches or 165 cm (1.65 m) |
| Weight | 59 kg or 130 pounds |
| Face Shape | Oblong |
| Breast Size | 34 inches |
| Bra Size | 34C |
| Cup Size | C |
| Body Measurements | 34-24-34 inches or 86-61-86 cm |
| Figure | Hourglass |
| Dress Size | 2 (US) or 34 (EU) or 6 (UK) |
| Shoe Size | 7 (US) or 38 (EU) or 5 (UK) |
| Eyes Color | Blue |
| Hair Color | Dark Brown |
Disclaimer
Courteney Cox's Net Worth
To call Courteney Cox super successful would be an understatement. Having worked in all-time hit shows like Friends and Cougar Town, Courteney has established herself as a versatile actress, amassing a massive net worth of around $150 million as of 2023. 
Interestingly, around $88 million of her fortune came from working on Friends alone. She has made an amazing career out of her talent, and we love her for it.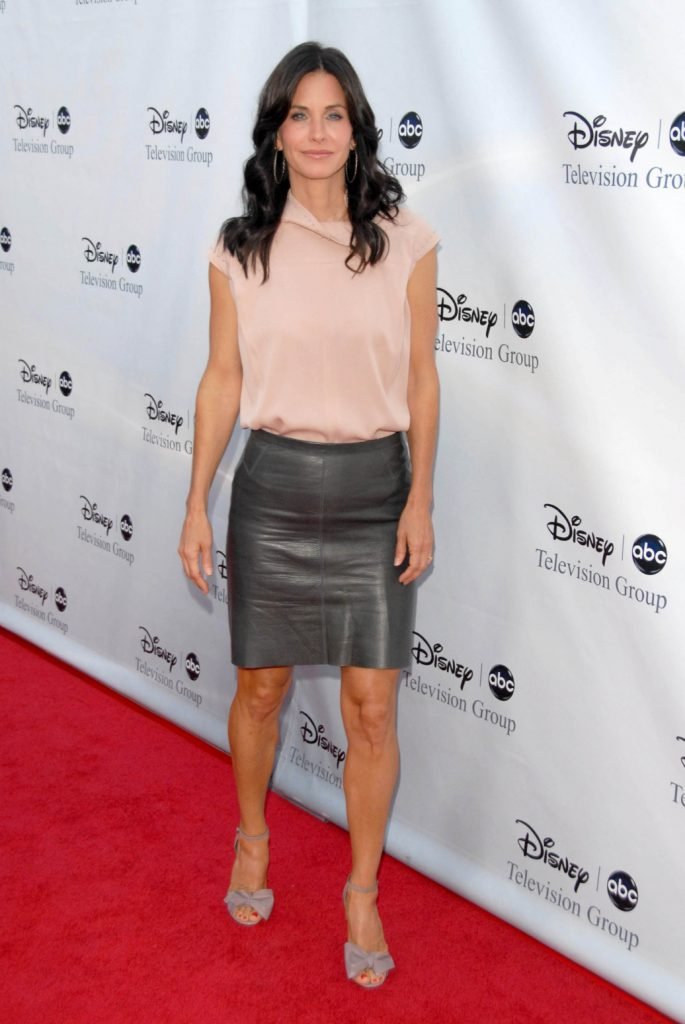 Courteney's List of Favorites
Favorite Food: Pizza, Ribeye Steaks, Hamburger soup
Favorite Animal: Dog
Favorite Chef: Kevin Lee
Favorite Hobbies: Cooking, Dancing, Reading
Favorite Sports: Tennis, Basketball, Pool
What's Courteney Cox's Face Shape?
Courteney Cox has an oblong-shaped face, and cheekbones draw attention to her face and adorable smile.
What is Courteney Cox's hair color?
Courteney's natural hair color is dark brown, and she likes to sport her real or close-to-real hair color most of the time.
What Color are Courteney Cox's Eyes?
Courteney Cox has beautiful blue eyes.
Does Courteney Cox have tattoos?
Yes, Cox has a "go long" tattoo on her arm and another small tattoo on her wrist.
Did Courteney Cox win a Golden Globe?
Courteney Cox was nominated for a Golden Globe Award for her stunning performance in the show Cougar Town, but she didn't win it.
What is Courteney Cox's real name?
Courteney's real name is Courteney Bass Cox, but she changed it to Courteney Cox Arquette after marrying David Arquette in 1999. But after their divorce in 2013, she doesn't use the latter name.
Can Courteney Cox play drums?
Courteney can reportedly play the drums quite well.
Did Courteney Cox play in Grey's Anatomy?
Courteney didn't play any specific role in Grey's Anatomy.
Did Courteney Cox go to college?
Courteney Cox attended Mount Vernon College in Washington, D.C., to study architecture but eventually dropped out to follow her dream of becoming an actress.
Where does Courteney Cox live?
Courteney Cox currently lives in Malibu.
Courteney wasn't born into a famous family and was a child of divorce. But she never let any of these hurdles stop her from becoming super successful as an actress and making an impact on millions with her show. Much like Cox, her co-star Jennifer Aniston also deserves every bit of the fame she has, and we wish her the best for her future.