Christie Brinkley is perhaps one of the most famous supermodels of today. Her fame and beauty are well known across the world thanks to the many magazines that she has appeared in.
Christie has also established successful businesses over the years that have flourished among her fans. If you're also interested in learning more about this beautiful model, then follow along as we go over her body measurements, dating history, fitness routine, and more.
Christie Brinkley's Story of Success
Christie Brinkley was born on 2 February 1954 in Monroe, Michigan. When she was young, Christie and her mother moved to Los Angeles, where her mother married the TV producer, Donald Brinkley.
After graduating from high school, Christie wanted to study art in Paris. There, she was discovered by Errol Sawyer, an American photographer who took her pictures and introduced her to Elite Model Management.
By the time Christie returned to the US, she had already booked three national commercial gigs. This eventually led to even more fame as Christie was making various appearances for magazines, including Glamour.
Her career went to the next level when Christie was signed with CoverGirl for a 25-year contract to be the face of their brand. Soon after this contract, she started doing photoshoots for Sports Illustrated and was on the cover of their Swimsuit Issue for three years in a row.
Christie has also appeared in film and television roles over the years, with her debut being in National Lampoon's Vacation. She ended up getting the iconic role of an unnamed girl in a red Ferrari, and she even reprised the role several times.
Eventually, Christie even had her theatrical debut by playing Roxie Hart, the lead character in Chicago, and the role was even performed on Broadway. The play included a massive 182 performances with Christie, and every one of them was successful.
Since then, Christie has worked on various other endeavors as well. Her brands, including Christie Brinkley Authentic Skin Care, are all quite successful and have been wowing customers since their launch. As such, Christie has established a successful career for herself, and it continues to grow at a rapid pace.
Christie Brinkley's Height and Weight
Christie Brinkley has an impressive height, and she towers over her competition each time. She stands 5 ft 9 inches or 175 cm (1.75 m) tall, and her weight is only 64 kg or 141 pounds.
Christie stays lean and healthy by keenly focusing on her diet. She had relinquished meat at the age of 12 and has since been quite successful in maintaining a balanced vegetarian diet.
Christie's day starts with a breakfast of oatmeal, which she enjoys raw with berries and flaxseeds. She follows this up with a mixed and balanced lunch that includes vegetables of every color. This balanced diet allows her to get every vital nutrient in just the right amount for her health and wellbeing.
Christie Brinkley's Dating History
Christie Brinkley is an eminent personality in Hollywood who has lived an astounding career being in the media's limelight for her stellar appearance and charm. She has made headlines for her public romances and her distinct selection criterion for her love partners.
Christie Brinkley's earliest known relationship with French artist Jean-François Allaux started in 1973. The duo had fantastic ongoing chemistry, which resulted in their marriage in the same year. But unfortunately, their relationship lost its charm by 1981, and they separated on mutual terms.
After separating from Jean-François, Christie started dating Olivier Chandon De Brailles, a French race car driver she met at a nightclub named 'Studio 54' in New York. The duo got engaged in 1982, but Olivier died in a tragic car racing accident in 1983, which made Christie Brinkley break down.
In 1983, Christie Brinkley started dating Billy Joel, a singer-songwriter, pianist, and composer who she met at St. Barts Islands. The duo had a nine years long marriage from 1985 to 1994, during which they were blessed with a child named 'Alexa Ray Joel.'
In 1994, Christie Brinkley married the real-estate developer and businessman Richard Taubman. The duo got married in Telluride, Colorado, but their marriage lasted for only a year while they were blessed with a child named 'Jack Brinkley-Cook.'
Another long-term relationship from Christie's life is her association with architect Peter Cook who she met in 1979. The duo was reintroduced in 1996 when they started dating and got married at Bridgehampton, New York, within the same year.
Unfortunately, the duo called it quits in 2008 as Peter Cook was found cheating on her. The couple has a child named 'Sailor Brinkley Cook' through this marriage, who fortunately has good relationships with her parents even after their separation.
In 2015, Christie Brinkley started dating musician and actor John Mellencamp, and they were planning to get married. But their busy schedules took a toll on this relationship leading to their separation on mutual terms, and they are still great friends.
In 2017, Christie was spotted with musician David Foster at exclusive NYC Eatery at dinner dates, which led to relationship rumors. They were even photographed together at Apollo in 2016 while attending the Hamptons party at The Creeks in East Hampton, but they never publicly confirmed their relationship.
Presently, Christie Brinkley is single, and she is enjoying her life to the fullest after fulfilling her quota of dating celebrities from different fields during her prime.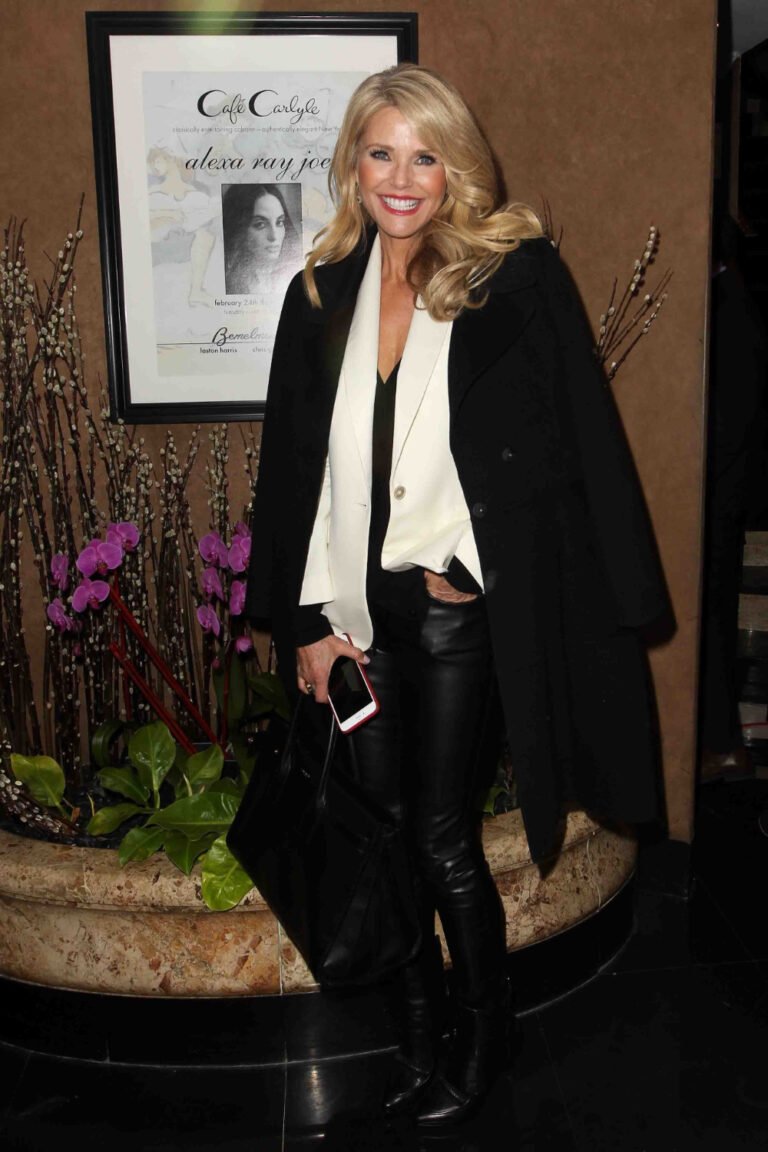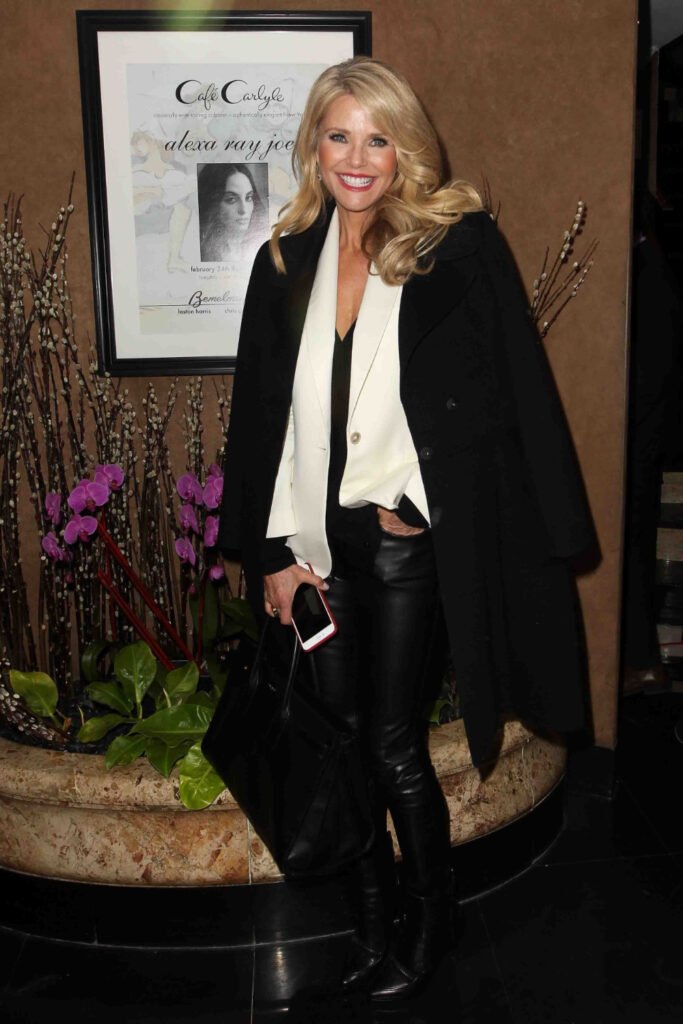 Full Born Name: Christie Lee Hudson
Nickname: Christie Brinkley
Occupation: Actress, Supermodel, Photographer, Writer, Pin-up Girl, Designer, Businessperson, Fashion Model, Philanthropist, Environmentalist
Religion: Agnostic
Date of Birth: 2 February 1954
Birthplace: Monroe, Michigan, United States
Zodiac Sign: Aquarius
Father Name: Herbert Hudson
Mother Name: Marge Brinkley
Siblings Names: Greg Brinkley
Spouse: François Allaux (m. 1973 – div. 1981), Billy Joel (m. 1985 – div. 1994), Richard Taubman (m. 1994 – div. 1995), Peter Cook (m. 1996 – div. 2008)
Children: Alexa Ray Joel, Jack Paris Brinkley Cook, Sailor Lee Brinkley-Cook
Christie Brinkley's Body Measurements
Christie Brinkley has an impressive figure that has graced magazine covers for decades. Her body measurements are 37-25-35 in or 93.98-63.5-88.9 cm.
Christie has been committed to her workouts since the very beginning of her career. In fact, she works out throughout the day in smaller sessions instead of putting in one workout and calling it a day.
Christie believes that every activity is essential for her health, and the best example of this is her way of brushing her teeth while simultaneously doing leg lifts. Apart from this, she has also been a firm believer in the effectiveness of yoga.
Christie Brinkley's Ample Bosom
Christie Brinkley has amazing assets that no one can resist. Her breast size is 37 inches, and her bra size is 34C with cup size C.
Christie is an amazingly confident woman who just doesn't back down. She was the first model to appear on the cover of Sports Illustrated Magazine's Swimsuit Edition for three consecutive years and is still one of the hottest women out there.
| | |
| --- | --- |
| Height | 5 ft 9 inches or 175 cm (1.75 m) |
| Weight | 64 kg or 141 pounds |
| Breast Size | 37 inches |
| Bra Size | 34C |
| Cup Size | C |
| Body Measurements | 37-25-35 in or 93.98-63.5-88.9 cm |
| Figure | Voluptuous |
| Chest Size | 37 inches or 93.98 cm |
| Waist Size | 25 inches or 63.5 cm |
| Hips Size | 35 inches or 88.9 cm |
| Shoe Size | 8 (US) or 39 (EU) or 6 (UK) |
| Dress Size | 6 (US) or 38 (EU) or 10 (UK) |
| Eyes Color | Blue |
| Hair Color | Blonde |
| Natural breasts or implants | Natural |
The Truth About Christie Brinkley's Anti-Aging
Christie Brinkley is one of the few actresses proud enough to talk about the treatments they have undergone to combat the effects of aging. This comes as one of the bravest moves shown by an actress today, as, despite the years, Hollywood's still a judgemental place.
Christie has undergone anti-aging treatments that aren't exactly surgical in nature. Therefore, they cannot be called plastic surgery. However, when the actress realized that she needed a little extra, she chose to undergo Xeomin and Ultherapy for a slight boost in her looks, and we're glad that she's happy with it.
Christie Brinkley's Net Worth
Christie Brinkley has worked hard as an actress over the course of her career and has earned the love of millions of fans worldwide. As of 2022, she has an estimated net worth of $100 million.
Christie Brinkley's Most Loved Things:
Favorite Products: Beautyblender Original Makeup Sponge, SBLA's Neck, Chin & Jawline Sculpting Wand, Complete Clarity Daily Facial Exfoliating Polish
Favorite Places: Parrot Cay in the Turks and Caicos
Favorite Colors: Pink, Red, Black
Favorite Food: Mozzarella Cheese
Notable Awards Won by Christie Brinkley
USO-The United Service Organizations Inc: Merit Award, 2001
The Women's Division, Albert Einstein College of Medicine, Yeshiva, University: Spirit of Achievement Award, 2003
American Heart Association: Humanitarian Heart Award, Gala Honoree, 2008
The National Mothers Day Committee: Mother of the Year
Make-A-Wish Foundation: Merit Award
America's Mothers and Shakers, Redbook Magazine: STAR – Standing for Truth About Radiation
HBA Global Expo: Positively Beautiful Award
Love Our Children USA: Mothers Who Make A Difference Award, 2011
Broadway Beacon Award, 2012
Pet Philanthropy Circle: Humanitarian of the Year, Pet Hero Award, 2013
FN Style: Influencer of the Year Award, 2018
A Few Fun Facts About Christie Brinkley
In 1997, Christie Brinkley filed a $42 million lawsuit for defamation against the National Enquirer and her personal assistant Beth La Face as the contact for the tabloid.
In 2000, Christie Brinkley acted as a New York state democratic delegate for Al Gore at the Democratic Convention in Los Angeles.
In 1994, Christie Brinkley and her ex-husband Richard Taubman survived a helicopter crash near Telluride, Colorado. They paid their last respects to their friends by marrying near the spot of the crash.
In 2007, Christie Brinkley had gone under a major back surgery after getting injured on the ski trip with her family.
What face shape does Christie Brinkley have?
Christie Brinkley has a square-shaped face with a wide jaw and a fair complexion. She looks admirable in her on-screen roles because of her facial expressions.
What is Christie Brinkley's hair color?
Christie Brinkley's natural hair color is Blonde, and she is world-famous for her long layers of golden locks in side-swept hairstyles.
Does Christie Brinkley wear hair extensions?
Christie Brinkley is the owner of the Hair2Wear collection, and she has revealed that she wears a 16-inch clip-in hair extension to add volume and highlights to her golden locks.
What color eyes does Christie Brinkley have?
Christie Brinkley's natural eye color is Blue, and she has made several people fall in love with her appealing charm.
Does Christie Brinkley have tattoos?
No, Christie Brinkley does not have any visible tattoos on her body, but she is not also against it. Recently, her daughter Sailor shared a picture of her new tattoo, which read 'I decide' that got approved by Christie.
Did Christie Brinkley win an Oscar?
Though Christie Brinkley has several accolades to herself, she has not yet won the Oscar award in her career.
Can Christie Brinkley sing?
No, Christie Brinkley cannot sing professionally, and she was miscast in the 2002 longest-running American musical – 'Chicago the Musical.'
Does Christie Brinkley speak French?
In an interview with the Pie Media Group, Christie Brinkley revealed that she is a fluent French speaker.
Where does Christie Brinkley live?
Presently, Christie Brinkley lives in Monroe, Michigan, the United States.
Christie Brinkley has lived an incredible career in the fashion industry since her youth. She possesses immense talents and has a stellar appearance making her a top-class model. She reminds us of the diva Kara Del Toro, another trending celebrity who has made it big in life. So do check out Kara's success story, transformational journey, and ample bosom figure.