Christian Serratos is a beautiful actress whose talents are numerous in themselves. She is not only an award-winning actress but also a figure skater and model. Thanks to her early introduction to entertainment, Christian knows just how to steal hearts.
Christian has breathtaking beauty that can make any onlooker's heart flutter. If you just can't get enough of her anywhere else, you've come to the right place as we have collected a ton of information about Christian Serratos' body measurements, dating history, fitness routine, and more.
Christian Serratos' Success Story
Christian Serratos was born on 21 September 1990 in Pasadena, California. She was raised by a jewelry designer mother and construction worker father in Burbank. At the age of 3, Christian started figure skating, and it helped her build confidence to perform in front of an audience.
This confidence was further developed when she signed a deal with the Ford Modeling Agency at 7. Her fame from modeling helped her get noticed by directors, and she was soon cast in several shows and films.
Actress Christian Serratos' debut role in television was with a tv show on Nickelodeon. She played the role of Suzie Crabgrass in Ned's Declassified School Survival Guide. The show ran from 2004 till 2007, making Serratos' child actor career grow even more.
She soon got her film debut in the Twilight Saga series as Angela Weber. Fans loved her acting, and she got to reprise her role in two of the movie's sequels, namely, New Moon and Eclipse.
Christian's prominent role in her career was Rosita Espinosa, a character in The Walking Dead. While her character was introduced as a seasonal character in the 4th season, she reprised her role in all following seasons and was even given a place in the main credits of the hit show.
Since then, she has starred on the Netflix series Selena: The Series as Selena Quintanilla. Her career continues to grow with each step and has helped her gain a huge following online.
Christian also works as an activist for organizations like PETA. She promotes veganism and has also posted campaigns to support it, and thanks to her influence, people have been rallying in support of her campaigns.
Christian Serratos' Height and Weight
Christian Serratos has an impressive height that makes her look tall while playing badass action heroes like Rosita Espinosa. She stands 5 feet 7 inches or 170 cm (1.7 m) tall, and her weight is only 52 kg or 115 pounds.
Christian is very committed to her diet. She eats three meals a day and avoids putting junk food in her body. She also drinks a lot of water and enjoys many raw and organic foods in her vegetarian diet.
However, her diet wasn't always this spectacular, as Christian herself has recalled. She used to eat only tacos for breakfast, lunch, and dinner, which took a toll on her body, mental wellbeing, and energy levels.
Christian Serratos' Romances
Christian Marie Serratos possesses immense beauty and talents, which has left the world astounded. She has a heavenly aura, and she looks gorgeous everywhere, which has made people fancy her even more.
Christian Serratos' relationships are out in the open as she has a confident personality and has kept everything open in public. We have covered all the insightful personal information from her real-life romance.
Presently, Christian is married to Danish-American Singer David Boyd, who she started dating while pursuing her acting career. She fell for David's honest nature and charismatic personality.
David Boyd is the lead singer in the rock band 'New Politics,' who grew up in Denmark and moved to America to pursue his music career. He met the diva Christian Serratos on his journey and bonded strongly with her.
Christian Serratos and David Boyd finally tied the knot in 2014, which gathered a lot of attention from the media. They made headlines on their marriage, as they looked adorable together.
The couple makes frequent appearances at award shows and movie premieres. In 2017, they were blessed with a daughter they named Wolfgang Serratos Boyd.
Christain had explained that she wanted her daughter to be strong, so they chose the name Wolfgang, in short Wolfie, for her.
The duo has shared several PDA pictures on their social media, which has left their fans in awe. Since the birth of their daughter, their lives have been entangled around taking care of each other. The family of three lives a happy and fulfilling life.
Full Born Name: Christian Marie Bernardi
Nick Names: Kish
Religion: Undisclosed
Date of Birth: 21 September 1990
Birthplace: Pasadena, California, United States
Zodiac Sign: Virgo
Father Name: Not Known
Mother Name: Alicia Serratos
Siblings Names: None
Spouse: David Boyd
Children: Wolfgang Serratos Boyd
Christian Serratos' Body Measurements
Christain Serratos has a beautiful body with a flawless physique. Her body measurements are 33-24-35 inches or 83.82-60.96-88.9 cm.
Christian Serratos has often said that she's not great at working out, but we beg to differ. It's clear by seeing her perfectly toned physique that she loves to work out, and she has confessed to trying different fitness routines over the years.
Most of Christian's workouts consist of trying out fun classes that involve moving a lot at a fast pace. These can include ballet, pole dancing, Cirque fitness, and other dance classes that keep her heart rate racing.
Christian Serratos' Ample Bosom
Christian Serratos has perfect assets that she can be proud of. Her breast size is 33 inches, and she wears a bra of size 32B with a cup size B.
Christian Serratos is another actress who supports breastfeeding in public when necessary. After posting a picture of herself breastfeeding her baby, trolls commented mean things. Christian didn't stand back and take the hate. Instead, she fought back by posting another picture.
| | |
| --- | --- |
| Height | 5 feet 7 inches or 170 cm (1.7 m) |
| Weight | 52 kg or 115 pounds |
| Breast Size | 33 inches |
| Bra Size | 32B |
| Cup Size | B |
| Body Measurements | 33-24-35 inches or 83.82-60.96-88.9 cm |
| Figure | Slim |
| Chest Size | 33 inches or 83.82 cm |
| Waist Size | 24 inches or 60.96 cm |
| Hips Size | 35 inches or 88.9 cm |
| Shoe Size | 8.5 (US) or 39.5 (EU) or 6.5 (UK) |
| Dress Size | 2 (US) or 34 (EU) or 6 (UK) |
| Eyes Color | Dark Brown |
| Hair Color | Dark Brown |
| Natural breasts or implants | Natural |
Has Christian Serratos got Plastic Surgery?
It's no surprise that rumors tend to start about famous people. But, unfortunately, the truth is that it is the only weapon haters can use to belittle someone they don't like. Christian Serratos is no exception to this fact.
The young actress has been attracting several accusations about her undergoing plastic surgery. These come as a result of her face changing over the years since her first debut in cinema.
The haters don't consider the fact that Christian was still a child when she entered the industry, and her face is bound to change thanks to natural aging as she's now an adult.
Christian has also been quite vocal about her fear of knives, due to which she has not bought any food that needs cutting in several years. Therefore, it is very safe to assume that she has not undergone plastic surgery and is a completely natural beauty.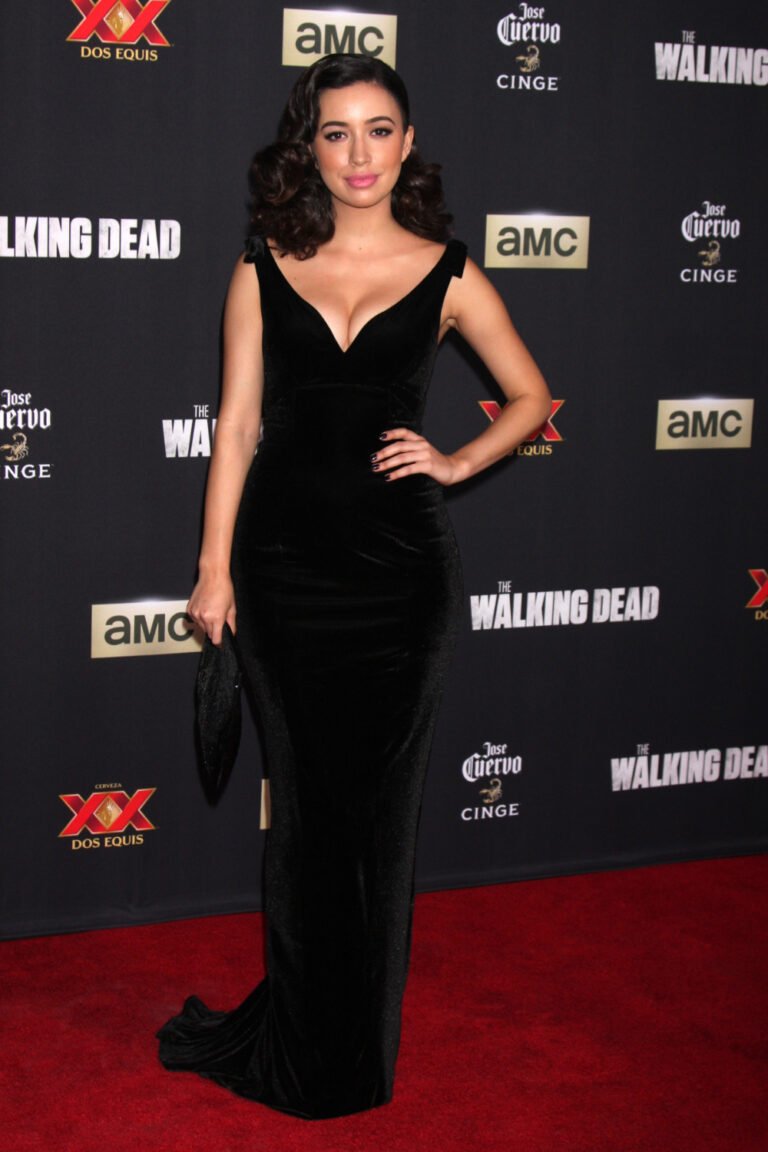 Christian Serratos' Net Worth
Christian Serratos has worked hard as an actress and model throughout her career. While her career may have only just begun, it has helped the young actress accumulate quite a fortune for herself.
As of 2022, Christian's estimated net worth stands at $2 Million. She has earned this fortune with hit shows like The Walking Dead. In addition, she has endorsed brands like H&M, Louis Vuitton, Adidas Women, and Marc Jacobs, which has generated a major share of revenue to contribute to her ever-growing net worth.
Christian Serratos' Most Loved Things:
Favorite Foods: Pasta, Pizza
Favorite Products: Vitamin C Perfecting Serum, Dior's Forever Skin Glow Foundation and Concealer, Facestudio Makeup Finishing Spray, Dior Beauty
Favorite Colors: Blue
Awards Won By Christian Serratos
CinEuphoria Awards: Merit – Honorary Award, 2020
Young Artist Awards: Best Performance in a Feature Film – Supporting Young Actress, 2009
Exciting Facts About Christian Serratos
Christian Serratos is a phenomenal star whose professional career began with modeling. She has received several acting and commercial roles since she turned eight years old.
Christian Serratos loves animals and has several pets named 'Johnny Cash,' 'Gigi,' 'Polar,' 'Gibson,' 'Uffie,' and 'Gorrilla.'
What face shape does Christian Serratos have?
Christian Serratos has a Heart-shaped face that looks tempting with her alluring facial expressions.
What is Christian Serratos' hair color?
Christian Serratos' natural hair color is Dark Brown, and she has experimented with her hair for rocking long and short layered lengths.
What color eyes does Christian Serratos have?
Christian Serratos' natural eye color is Dark Brown, which looks captivating and has made people fall in love with them.
Does Christian Serratos speak Spanish?
Yes, Christian Serratos is fluent in Spanish, even though her first language is English.
Can Christian Serratos sing?
Yes, Christian Serratos can sing, as seen in the Netflix special 'Selena: The Series.'
Is Christian Serratos Latina?
Christian Serratos inherited Mexican descent from her mother, Alicia Serratos.
Is Christian Serratos vegan?
Since her teenage years, Christian Serratos has been a vegetarian, and recently she has turned into a Vegan.
Christian Serratos had lived a prolific career in Hollywood by showcasing her acting and modeling talent to the world. She possesses angelic beauty, and her dedication to achieving success is commendable. Gabrielle Union is another trending celebrity who has reached such height within a short period. Check her inspiring story, body measurements, and insightful fitness and diet secrets.