Cheryl Ladd began her long-lasting acting career in the 1970s. Back then, she acted in young roles, as seen in Charlie's Angels, and now she has played a grandmother in A Cowgirl's Song. Ladd has done justice to her age-appropriate roles and has vowed fans with her performances. Yet, the 70-year-old actress looks no more than in her 40s.
Continue reading as we reveal Cheryl Ladd's exciting personal information, career details, height, diet plans, workout routine, net worth, favorite things, and much more.
Cheryl Ladd's Career
Cheryl Ladd was born Cheryl Jean Stoppelmoor in Huron, South Dakota. Following her high school graduation, she played for The Music Shop's music band and toured with them across the United States Midwest.
Cheryl Ladd initially entered the entertainment industry as a musician. First, she performed for the animated version of Josie and the Pussycats under the pen name Cherie Moor. Then she began modeling for advertisements.
Ladd's music career also included four studio albums: Cheryl Ladd, Dance Forever, Take a Chance, and You Make It Beautiful. All of which were produced under Capitol Records.
Ladd made her first onscreen debut in the 1971 film, Chrome, and Hot Leather, in which she played Kathy. Since then, she has acted in many other hit movies such as Purple Hearts, Poison Ivy, Santa Paws 2: The Santa Pups, Camera Store, The Perfect Wave, A Cowgirl's Song, and more.
In 1972, Cheryl Ladd had a cameo in The Rookies episode, The Good Die Young. It marked her first onscreen television role. She also made guest appearances in series like Alexander Zwo, Ironside, The Streets of San Francisco, Police Story, The Muppet Show, Ink, CSI: Miami, NCIS, and Ballers.
Cheryl Ladd's first leading role in a television series was in Charlie's Angels. After Farrah Fawcett left Charlie's Angels in the second season, she joined the cast as Kris Munroe, an angel. Her other central role was Dawn 'Holli' Holliday, M.E in One West Waikiki.
Ladd is also known for her recurring roles in the popular comedy series Las Vegas and the crime drama, The People v. O. J. Simpson: American Crime Story.
She has acted in several television films such as Kentucky Woman, Romance on the Orient Express, Dead Before Dawn, The Haunting of Lisa, Every Mother's Worst Fear, Michael Landon, Love's Everlasting Courage, Royal New Year's Eve, Christmas Unwrapped, and many others.
Cheryl Ladd's latest acting role was in the 2021 theatrical A Cowgirl's Song, in which she played Erin Mays. She also exhibited her vocal talents by performing the songs, You Remind Me, Miles To Go, and Party Time in the original soundtrack released in April 2022.
Cheryl Ladd's Height and Weight
Cheryl Ladd had fans whipped for her stunning looks in Charlie's Angels or any other role she played. Her height is 5 feet 4 inches or 163 cm (1.63 m), and she weighs 52 kg or 115 pounds.
Charlie's Angels may have been over in 1981, but Cheryl Ladd still maintains her angelic body. She pays attention to her portions. She also balances out her quantities by eating a small dinner if she had a heavy lunch or vice versa. Besides, her snacking options include healthy food like almonds.
Cheryl Ladd's Dating History
First, Cheryl Ladd was married to David Ladd from 1973 to 1980. During that time, she was at the peak of her career for her role as an angel in Charlie's Angels. Her fame, however, harmed her marriage, thus leading to the couple's divorce.
After the marriage, Cheryl Ladd, who took David Ladd's surname, continued to keep the surname even after their separation. Ladd has a daughter with David Ladd, whose name is Jordan Ladd. Jordan Ladd is often compared to Cheryl Ladd for her striking similarities to her mother.
Cheryl Ladd met her next husband, Brian Russell, through David Ladd. They waited until Cheryl Ladd's divorce was finalized before they could start dating.
Ladd married Brian Russell in 1981, and he helped her reach excellent emotional stability as her previous divorce affected her mental health. She saw herself as a failure for not sustaining her marriage like her parents, who had been together for more than three decades.
With Cheryl Ladd's marriage to Brian Russell going strong to date, she got the lovely family she wished for, seeing her parents.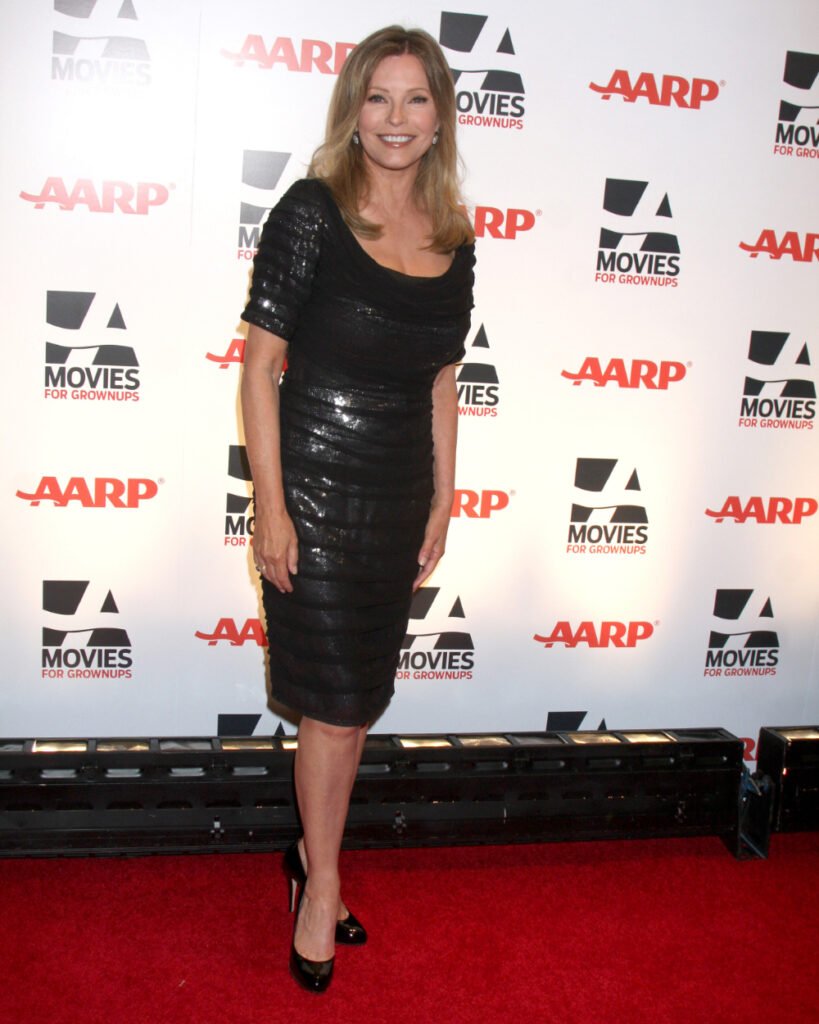 Full Born Name: Cheryl Jean Stoppelmoor
Nickname: Cherie Moor
Occupation: Actress
Religion: Christian
Date of Birth: 12 July 1951
Birthplace: Huron, South Dakota, United States
Zodiac Sign: Cancer
Father Name: Marion Stoppelmoor
Mother Name: Dolores Katz Stoppelmoor
Siblings' Names: Mary Ann Eichman and Seth Stoppelmoor
Spouse: Brian Russell (m. 1981) and David Ladd (m. 1973–1980)
Children: Jordan Ladd
Cheryl Ladd's Body Measurements
Cheryl Ladd's body measurements are 35-23-34 in or 89-58-86 cm. She has a tiny waist that gives her a curvy and titillating appearance.
Cheryl Ladd's fit figure is a result of her regular workouts. She does a ten-minute weight training session with her trainer. The intense reps help burn fat and keep her healthy in her 70s. Apart from that, she also walks daily.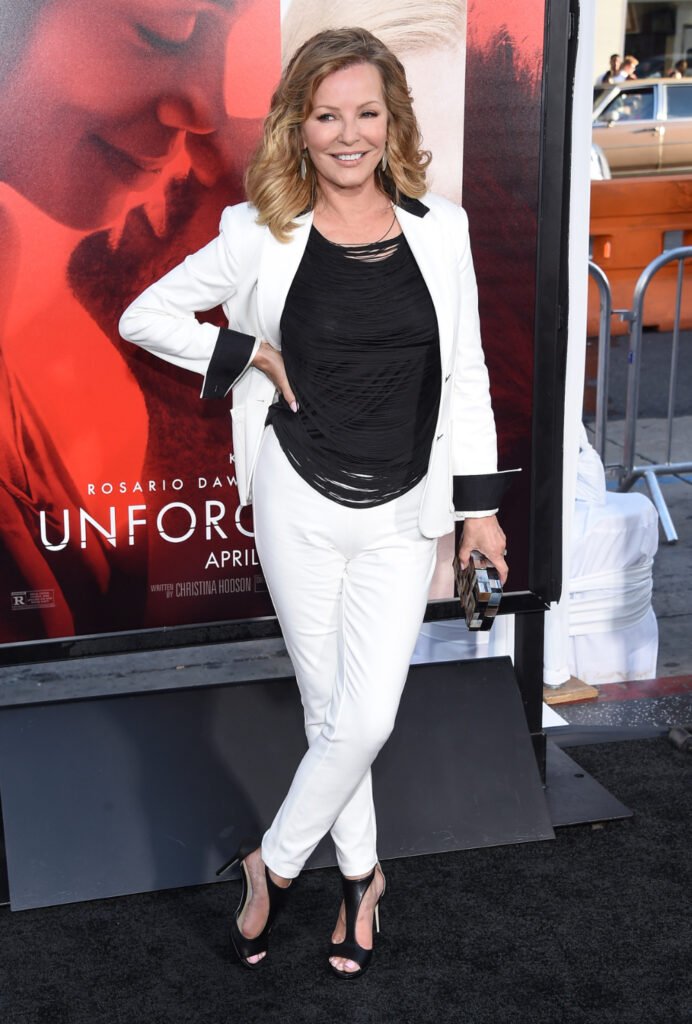 Cheryl Ladd's Ample Bosom
Cheryl Ladd has always caught the attention of her audience with her jaw-dropping physique. Her ample bosom gives her a seductive look. Her breast size is 35 inches, and her bra size is 32C with a cup size of C.
Ladd is seen wearing a cowgirl costume on her Twitter banner photo. She looks gorgeous as the tight corset elevates her breasts and adds to her sultry beauty.
| | |
| --- | --- |
| Height | 5 feet 4 inches or 163 cm (1.63 m) |
| Weight | 52 kg or 115 pounds |
| Breast Size | 35 inches |
| Bra Size | 32C |
| Cup Size | C |
| Body Measurements | 35-23-34 in or 89-58-86 cm |
| Figure | Slim |
| Chest Size | 35 inches or 89 cm |
| Waist Size | 23 inches or 58 cm |
| Hips Size | 34 inches or 86 cm |
| Shoe Size | 7 (US) or 37.5 (EU) or 4.5 (UK) |
| Dress Size | 4 (US) or 36 (EU) or 8 (UK) |
| Eyes Color | Blue |
| Hair Color | Blonde |
| Natural breasts or implants | Natural |
Did Cheryl Ladd Have Any Plastic Surgeries?
Once a Charlie's Angel, Cheryl Ladd has an angel-like beauty. Her gorgeous looks and ageless attractiveness have been a topic of discussion among netizens who have wondered if the actress has undergone any plastic surgery.
Cheryl Ladd has never confessed that she had received cosmetic surgery treatments, leaving fans with the surety that the actress has just aged gracefully.
Cheryl Ladd's Net Worth
Since stepping into the entertainment industry as a musical artist, Cheryl Ladd slowly rose to fame with each of her acting roles and the release of her albums. People still remember her role as an angel in the Charlie's Angels series.
Such performance helped Cheryl rise to prominence and has also added to her whopping net worth of $12 million as of 2022.
Cheryl Ladd's Most Loved Things
Favorite Baseball Team: St. Louis Cardinals
Favorite Animal: Dog
Favorite Drink: Coffee
Favorite Food: Potatoes and cinnamon roll
Favorite Movie: Cinderella
Cheryl Ladd's Most Notable Awards And Nominations
Emmy Award: Outstanding Video Tape Editing For A Limited Series, The Cheryl Ladd Special (1979) – Nominated
Woman of the World Award: 1987
TV Land Award: TV Land Pop Culture Award, Charlie's Angels (2010)
Fun Facts About Cheryl Ladd
Cheryl Ladd always starts her day with a cup of coffee.
Cheryl Ladd performed the national anthem at the 1980 Super Bowl XIV.
Cheryl Ladd is a fan of golf, and she has even written a book about it called Token Chick: A Woman's Guide to Golfing With the Boys.
Cheryl Ladd was initially chosen for the role of Francine Hughes on Breaking Bed.
What face shape does Cheryl Ladd have?
Cheryl Ladd has a square-shaped face, and her side-partitioned hairstyles have always suited her.
What is Cheryl Ladd's hair color?
Cheryl Ladd is a natural blonde bombshell whose glossy hair adds to her sexiness.
Does Cheryl Ladd wear a wig?
Cheryl Ladd does not wear wigs, but Charlie's Angels' aficionados can buy wigs to mimic her captivating mane from the series.
What color eyes does Cheryl Ladd have?
Cheryl Ladd has alluring blue eyes that look even more attractive under her neatly-shaved eyebrows.
Did Cheryl Ladd win an Oscar?
Cheryl Ladd has not won an Oscar yet. But she has received other awards and nominations that recognize her contributions.
Does Cheryl Ladd sing?
Cheryl Ladd sings. She began as a singer before she turned into an actress.
Does Cheryl Ladd speak French?
Cheryl Ladd speaks French. She can also speak German and Spanish.
Did Cheryl Ladd play on Happy Days?
Cheryl Ladd had a cameo in the Happy Days episode Wish Upon a Star, in which she played Cindy Shea.
Where does Cheryl Ladd live?
Cheryl Ladd lives in Los Angeles with her spouse David Ladd.
Cheryl Ladd is best known for playing Kris Munroe on Charlie's Angels, and the series involved a group of confident and influential women in the lead. Kristin Davis is another actress who rose to popularity with her role in a series involving a female clique in the central roles. She is best remembered for acting in Sex and the City.