Cate Blanchett is one of the most prominent actresses of the era, with a highly acclaimed track record of films under her name. Cate's acting has won the hearts of audiences and critics alike in nearly every role she has played to date.
Cate is an extremely beautiful actress who has taken her career leagues beyond what one could've imagined. If you are also one of her biggest fans, then follow along as we go over her net worth, dating history, body measurements, fitness routine, and more.
Cate Blanchett's Story of Success
Cate Blanchett was born on 14 May 1969 in Melbourne, Australia. She was raised by her mother, June Blanchett, a property agent, and her father, Robert Blanchett, an officer in the American Navy.
After finishing high school, Cate decided to study economics at the University of Melbourne but dropped out to travel the world. In Egypt, she was made an extra in a film titled Kaboria. This inspired a love for acting in Cate, and she moved to Sydney to study Drama.
After her graduation, Cate got a stage role in Oleanna, and while her role wasn't very significant, it helped her get noticed by producers across the world. This allowed her to debut and a few more guest appearances in various films.
Cate got a prominent role in the film Paradise Road as a major supporting character. After this, she used the fame from this film to help develop her incredibly successful career that's never seen before.
Cate's first leading role was in Oscar and Lucinda, which got her nominated for many awards. Soon after, she got a prominent role in Elizabeth as Queen Elizabeth I, and this film helped drive her career into global stardom.
After starring in several films and shows, she got another prominent role in The Aviator and even won an Oscar for her role as the Best Supporting Actress. This helped Cate achieve even more fame, and nearly every director wanted to include her in films.
Several critics have described her performance in Blue Jasmine as her best performance to date, and she's also won an Oscar for her lead role in the film. Cate has dedicated herself to her craft, and her hard work has paid off quite well for her career's success.
Since then, she has also taken to TV shows like the Australian drama, Stateless. This goes far to show her love for her craft as no role is too small for Cate to take up if it provides a decent challenge for her.
Some of her recent projects are Nightmare Alley, Pinocchio, and Don't Look Up, which profoundly impacted the mainstream media.
Cate Blanchett's Height and Weight
Cate Blanchett has an impressive height that helps her tower over her haters from the start. She stands 5 ft 8 inches or 173 cm (1.73 m) tall, and her weight is only 59 kg or 130 pounds.
Cate's ideal height and weight ratio come thanks to her desire to eat and live healthily. Her family eats organic food and avoids red meat for its highly fatty nature. She starts her day with a rushed cup of coffee and loves to read the paper right after.
Cate also enjoys a glass of hot water with lemon to start her day right. Numerous fitness enthusiasts and celebrities have used this to maintain their weight and even begin a weight loss journey.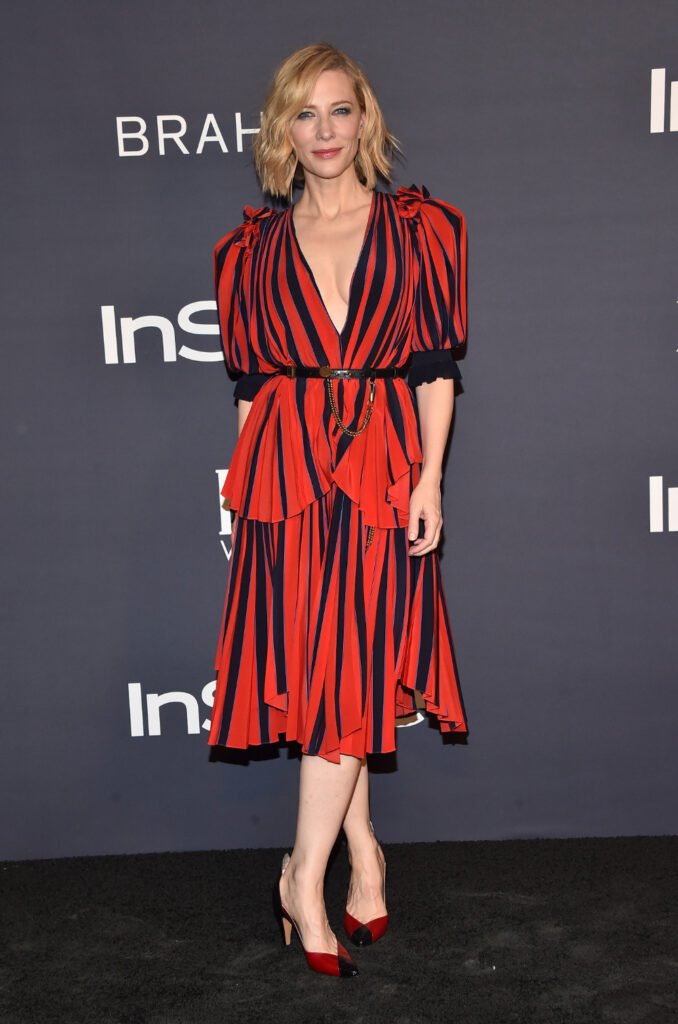 Cate Blanchett's Dating History
Cate Blanchett is a prominent star in Hollywood who has stayed in the media's limelight for her one-person woman devotion and old-school romantic nature. She has a lively aura that can entice anyone, but she believes in true chemistry and aspires to build real connections.
Presently, Cate Blanchett has been married to Australian playwright Andrew Upton since 1997. The duo met in 1996 while working on the play 'The Seagull,' where they grew fond of each other despite being acquaintances for years.
Cate Blanchett had narrated the story of meeting her husband Andrew Upton at the Ellen DeGeneres show, explaining their first date and how they fell for each other.
Initially, they were not interested in each other for years until they spent time together at drinks and were spotted kissing each other while playing poker. After three dates, Cate Blanchett prepared a dish with trout stuffed with walnuts and goat cheese for Andrew Upton.
Despite not liking the dish, Andrew had proposed to Cate Blanchett for marriage, and then both of them realized that they had great compatibility. Both the stars have given the industry couple goals for more than two decades.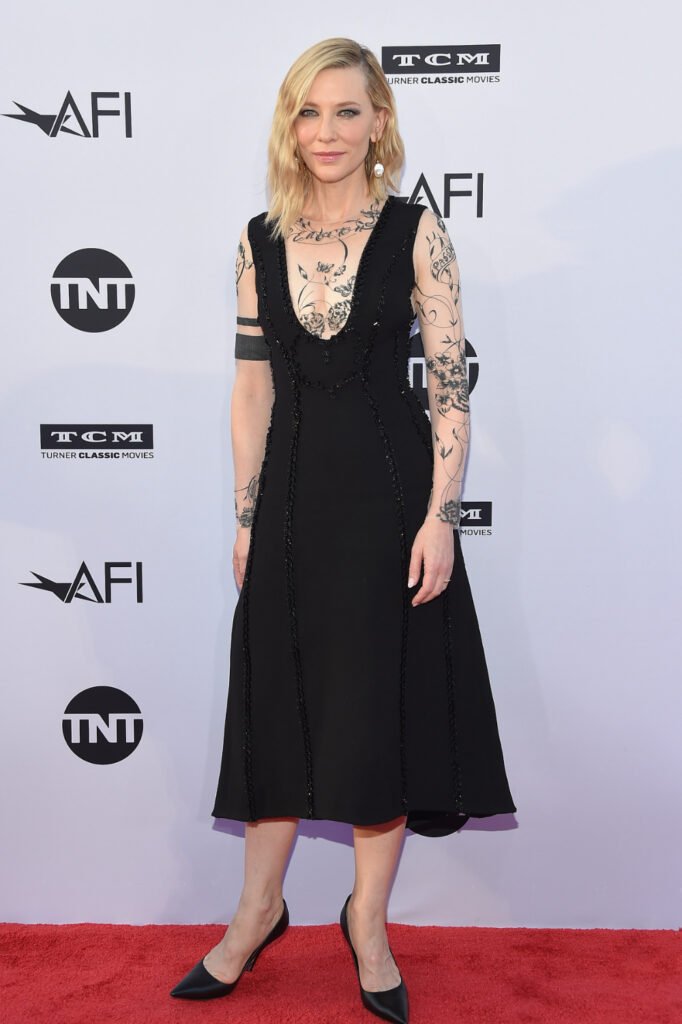 Full Born Name: Catherine Elise Blanchett
Nickname: Cate
Occupation: Actress, Film Director, Film Producer, Television Producer, Voice Actor, Stage Actor, Theatre Director, Theatre Producer
Religion: Non-Religious
Date of Birth: 14 May 1969
Birthplace: Ivanhoe, Australia
Zodiac Sign: Taurus
Father Name: Robert Blanchett
Mother Name: June Blanchett
Siblings Names: Bob Blanchett, Genevieve Blanchett
Spouse: Andrew Upton (m. 1997 – present)
Children: Dashiell John Upton, Roman Robert Upton, Ignatius Martin Upton, Edith Vivian Patricia Upton
Cate Blanchett's Body Measurements
Cate Blanchett's amazing body measurements have made her a fitness inspiration for fans worldwide. Her body measurements are 34-24-35 in or 86.36-60.96-88.9 cm.
Cate Blanchett has developed these perfect measurements by working hard over the years and achieving phenomenal results. Her favorite workout is Pilates since it allows her to pursue her fitness goals without worrying about free time for the gym.
Since Cate's career doesn't allow her much free time, she doesn't get much time to work out. However, she stays quite active while on the clock and has even stated that she often needs to stretch before and after work due to the movement it demands.
Cate Blanchett's Ample Bosom
Cate Blanchett has perfect assets that millions across the globe have fancied. Her breast size is 34 inches, and her bra size is 32B with cup size B.
While most of Cate's roles require her to show off her hot body, when she worked on the film I'm Not There, in which she played Bob Dylan, she had to have her breasts strapped down due to the gender-swapped role.
| | |
| --- | --- |
| Height | 5 ft 8 inches or 173 cm (1.73 m) |
| Weight | 59 kg or 130 pounds |
| Breast Size | 34 inches |
| Bra Size | 32B |
| Cup Size | B |
| Body Measurements | 34-24-35 in or 86.36-60.96-88.9 cm |
| Figure | Slim |
| Chest Size | 34 inches or 86.36 cm |
| Waist Size | 24 inches or 60.96 cm |
| Hips Size | 35 inches or 88.9 cm |
| Shoe Size | 9 (US) or 40 (EU) or 7 (UK) |
| Dress Size | 2 (US) or 34 (EU) or 6 (UK) |
| Eyes Color | Blue |
| Hair Color | Blonde |
| Natural breasts or implants | Natural |
What Does Cate Blanchett Feel About Plastic Surgery?
Cate Blanchett has always been quite vocal about her opinions on plastic surgery. She once mentioned that growing older has a sense of history, and she likes the evolution of that history.
She feels pity for those who chose to undergo plastic surgery, as if they chose to do it out of fear, the fear will remain to be seen through their eyes which are the windows to the soul.
Despite this, some haters have accused Cate of having undergone plastic surgery. These rumors are false, and she is an entirely natural beauty who prefers to remain untouched by the knife.
Cate Blanchett's Net Worth
Cate Blanchett has worked hard as an actress throughout her career and has earned the love of millions of fans worldwide. As of 2021, she has an estimated net worth of $95 million.
Cate Blanchett was the eighth highest-paid actress in 2017 who earned $12 million. She has appeared in several brand advertisements, which has paid her millions of dollars. She has endorsed Procter & Gamble's SK-II and is also the brand ambassador for the Australian Conservation Foundation.
Cate Blanchett's Most Loved Things:
Favorite Food: Cheese and Vegemite on Toast
Favorite Hobby: Modeling
Favorite Products: SK-II Facial Treatment Cleansing Oil, Dermalogica Daily Microfoliant and Intraceuticals Rejuvenate Enzyme Exfoliant, SK-II LXP Ultimate Revival Serum
Favorite Sports: Bowling
Favorite Color: Persian Blue, Dark Puce
Notable Awards Won by Cate Blanchett
BAFTA Awards: Best Performance by an Actress in a Leading Role, Elizabeth, 1999
Academy Awards, USA: Best Performance by an Actress in a Supporting Role, Oscar, 2005
BAFTA Awards: Best Performance by an Actress in a Supporting Role, The Aviator, 2005
Elle Women in Hollywood Awards: Woman of the Year, 2012
Dublin Film Critics Circle Awards: Best Actress, Blue Jasmine, 2013
Academy Awards, USA: Best Performance by an Actress in a Leading Role, Oscar, 2014
BAFTA Awards: Best Leading Actress, 2014
AACTA International Awards: Best Lead Actress, Blue Jasmine, 2014
GALECA: The Society of LGBTQ Entertainment Critics: Film Performance of the Year – Actress, 2016
A Few Fun Facts About Cate Blanchett
Cate Blanchett holds the record as the only Australian actress who has won the Oscars twice. She has won the Academy Awards in 2005 and 2014 in the best-supporting actress and best actress category, respectively.
Cate Blanchett was just fifteen years old when she was working at a nursing home from where she almost got fired because of shaving her head.
In 2001, Cate Blanchett was awarded the Australian Centenary Medal from the Queen's New Years Honours list for acting and Australian Society.
What face shape does Cate Blanchett have?
Cate Blanchett has a kite-shaped face and has a porcelain complexion with admirable facial features.
What is Cate Blanchett's hair color?
Cate Blanchett's natural hair color is Blonde which she has rocked in side-swept bangs and shoulder-length wavy hairstyles.
What color eyes does Cate Blanchett have?
Cate Blanchett's natural eye color is tempting Blue and has captivated the hearts of millions.
Does Cate Blanchett have tattoos?
No, Cate Blanchett does not have any visible tattoos on her body, but she was in the media's spotlight for wearing Yacine Aouadi's design which featured hand embroidery tattoos.
Does Cate Blanchett have an oscar?
Yes, Cate Blanchett has won two Academy Awards (Oscar). She won it in 2005 for Best Supporting Actress and in 2014 in the Best Actress category.
Does Cate Blanchett speak German?
Yes, Cate Blanchett is a fluent German speaker who is multilingual and knows English, Spanish, and Russian.
Does Cate Blanchett have a degree?
Cate Blanchett is a graduate of Methodist Ladies College, Melbourne, and she has pursued a degree in fine arts and economics at the University of Melbourne.
Did Cate Blanchett study ballet?
Yes, Cate Blanchett studied ballet in childhood while in the Ivanhoe Girls' Grammar School, but her formal instruction ended after graduating. Later, she took ballet lessons and several other dance combinations to perform for the film.
Did Cate Blanchett play in Titanic?
No, Cate Blanchett was not in the movie Titanic.
Cate Blanchett is a notable celebrity in the industry who has astonished the world with her diverse skill set. She reminds us of the star Janel Parrish, who has profoundly impacted her fans' lives with her exemplary transformational journey. So do check out her stellar body figures and fitness tips you can adopt in your life.