Brenda Song is an international sensation who has made a name for herself by acting in various kids' shows and films. She gained her fame thanks to her amazing acting talent and has a big reputation for being a kind soul.
Brenda is a gorgeous lady whose voice is to die for. If you can't get enough of this beautiful babe, then follow along as we go over her dating history, fitness routine, body measurements, and more.
Brenda Song's Story of Success
Brenda Julietta Song was born on 27 March 1988 in Carmichael, California. Her parents originally belonged to the Xiong Clan, but they moved to California, the United States, and changed their last name to Song.
Brenda started in the entertainment industry as a child model in San Francisco. She was spotted at a local shopping mall by a modeling agent and soon started getting commercial gigs for brands like Barbie and Little Caesars.
Her film debut came in Requiem as a younger version of Fong, later played by Tamlyn Tomita. Brenda impressed the film's director Elizabeth Sung quite a bit with her performance and was given a chance to work on Sung's other film – White Fox.
Soon after, she also made her TV debut in Thunder Alley. This allowed her to become a recurring character in Fudge, a children's show at the time. After that, she kept her career going in full throttle as time went by, bagging more and more successful roles.
Brenda got her breakthrough on a Disney Channel movie called Get a Clue, in which she starred opposite Lindsay Lohan. This role allowed her to become quite famous among kids' shows and even get a recurring role in the Disney show Phil of the Future.
She got a prominent role in The Suite Life of Zack & Cody as the spoiled brat London Tipton. The role was given without an audition as her acting skills were quite well known throughout the film industry.
The role made Brenda a household name worldwide and boosted her career to new heights. She even got a chance to do voice acting in Disney's American Dragon: Jake Long. The series was another big hit and helped kick start her career to mainstream levels of fame.
Since then, Brenda has been doing several popular films for studios like Fox and Netflix. As a result, her career is very successful, and she's never looking back.
Brenda Song's Height and Weight
Brenda Song has an impressive height that has always made her look taller than most girls her age. She stands 5 ft 2 inches or 157 cm (1.57 m) tall, and her weight is only 51 kg or 112 pounds.
Brenda maintains her perfect height and weight ratio by following an overall healthy lifestyle. Her clean diet plan may not be a part of any predefined diet, but she does her best to avoid processed foods and junk food at all costs.
Her diet mainly consists of whole foods like eggs, oatmeal, fruits, chicken, fish, nuts, and yogurt. These mindful eating habits have allowed her to enjoy delicious meals every day without worrying about her weight.
Brenda Song's Dating History
Brenda Song is a phenomenal celebrity whose dating history is open to the public. We have covered all the relationships in which she's shared a fair share of her past while pursuing her acting career.
Brenda Song's first relationship started in 2006 with Israeli-American actor, director, and musician Raviv Ullman aka Ricky. The two met while filming 'Phil of the Future.' Unfortunately, this relationship didn't work out well, and they mutually decided to part ways in 2007.
After separating from Ricky, Brenda Song's name was linked with co-star Jesse McCartney who she met on the sets of 'The Suite Life of Zack & Cody' in 2005.
The media linked the pair when the two stars collaborated on Jesse's song 'Good Life.' They confirmed their relationship with the public and dated for almost a year when things started falling apart.
During this period, Brenda Song's name was linked to celebrities Aaron Musicant, Jason Dolley, Flo Rida, and Joe Jonas, with whom she had briefly spent some time. Still, none of these associations saw their bright side at the time.
Brenda Song's first serious relationship started in 2010 when she fell in love with American musician Trace Cyrus. They first met at Nylon Magazine's Young Hollywood event. After that, the couple started dating and made numerous appearances on the red carpet.
In 2011, Brenda Song and boyfriend Trace Cyrus were engaged, but when rumors of Brenda being pregnant started circulating in public, they decided to separate. However, Brenda and Trace were still in an on-and-off relationship and finally called it quit in 2017.
Presently, Brenda Song is married to actor Macaulay Culkin who she started dating after separating from Trace Cyrus in 2017. The duo met while filming 'Changeland' in Thailand.
The couple has been together since 2017, and they have appeared together at several award shows and movie premiers. Recently the couple welcomed their child, who they named Dakota Song Culkin, in honor of Macaulay's late sister.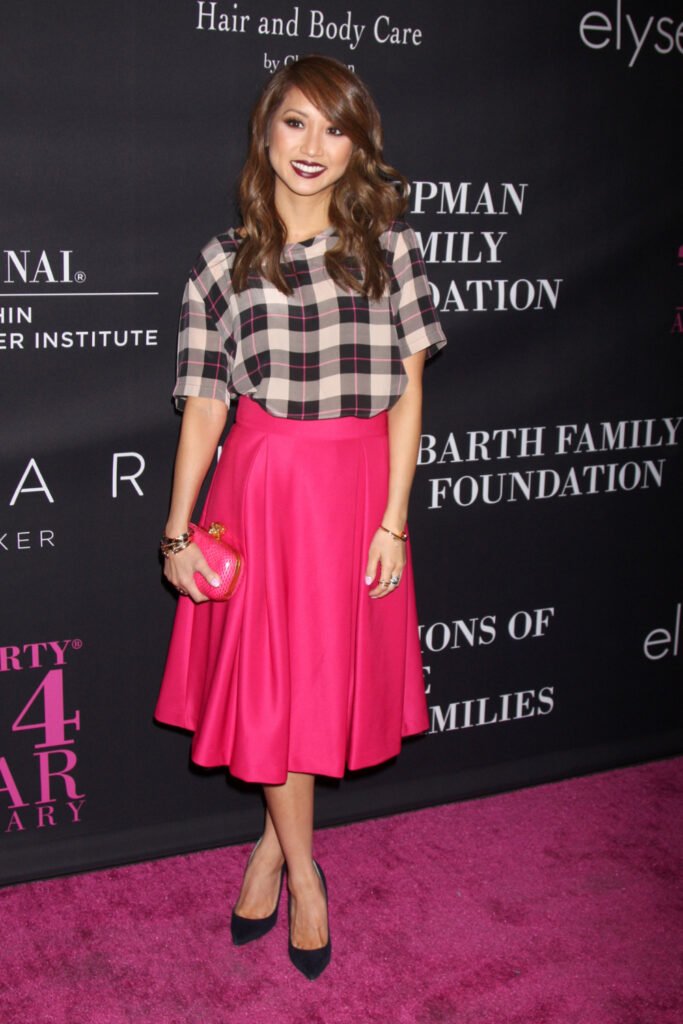 Full Born Name: Brenda Julietta Song
Nickname: Bren, B, Bren S, BS,
Occupation: Actress, Voice Actor, Model, Singer, Taekwondo Athlete, Spokesperson, Television Producer, Film Producer
Religion: Christianity
Date of Birth: 27 March 1988
Birthplace: Carmichael, California, United States
Zodiac Sign: Aries
Father Name: Not Disclosed
Mother Name: Mai Song
Siblings Names: Timmy Song, Nathan Song
Spouse: Macaulay Culkin (m. 2017 – present)
Children: Dakota Song Culkin
Brenda Song's Body Measurements
Brenda's figure is perfect enough to make young actresses in Hollywood envy her. Her body measurements are 34-24-34 in or 86.36-60.96-86.36 cm.
Brenda doesn't maintain her perfect measurements with a strict diet or by going to the gym regularly. Instead, Brenda is the kind of celeb to take her workouts to a more fun location like various exercise classes.
Her favorite sessions are Bikram Yoga which she performs three times a week. This routine allows her to relax and have free time for other activities and spend time with her family.
This shows that you don't need to spend your entire day at the gym to be fit. Instead, you can just find something you love and do it every day.
Brenda Song's Ample Bosom
Brenda Song has perfect assets that are fancied by her fans across the world. Her breast size is 34 inches, and her bra size is 32B with cup size B.
Brenda is an extremely confident actress who has been working hard to rise to the top in her career. She does this without being forced into sensual scenes, and we respect her for being bold and true to her beliefs.
| | |
| --- | --- |
| Height | 5 ft 2 inches or 157 cm (1.57 m) |
| Weight | 51 kg or 112 pounds |
| Breast Size | 34 inches |
| Bra Size | 32B |
| Cup Size | B |
| Body Measurements | 34-24-34 in or 86.36-60.96-86.36 cm |
| Figure | Slim |
| Chest Size | 34 inches or 86.36 cm |
| Waist Size | 24 inches or 60.96 cm |
| Hips Size | 34 inches or 86.36 cm |
| Shoe Size | 6 (US) or 36.5 (EU) or 4 (UK) |
| Dress Size | 6 (US) or 38 (EU) or 10 (UK) |
| Eyes Color | Dark Brown |
| Hair Color | Dark Brown |
| Natural breasts or implants | Natural |
Did Brenda Song Undergo Double-Eyelid Surgery?
Ever since her role as London Tipton, Brenda has been in the limelight for her whole life. However, when she auditioned for Crazy Rich Asians, she was turned away for not looking Asian enough.
This controversy triggered a sequence of rumors stating that Brenda underwent a double-eyelid surgery to change her appearance. Haters have been stating this was an attempt to look less Asian.
While Brenda has no official response, we know she hasn't undergone any surgery. Her appearance has changed over the years, so her eyes have started to look different. But she is a natural beauty and does not need surgery to alter her looks.
Brenda Song's Net Worth
Brenda's famous works on the Disney Channel have helped push her career to new levels. In addition, she has been able to take her life to new heights with her amazing talent and beautiful looks. As of 2022, she has an estimated net worth of $5 million.
Her massive net worth comes from her great works in various successful movies and TV shows from the mid-90s. She worked hard to play out each role with perfection, and her acting skills are deserving of every bit of the success that she has earned.
Brenda Song's Most Loved Things:
Favorite Food: Sushi
Favorite Hobby: Squash
Favorite Music: Indian Classical
Favorite Products: Obagi's Vitamin C Eye Brightener, Tatcha's The Pearl Tinted Eye Illuminating Treatment
Notable Awards Won by Brenda Song
Young Artist Awards: Best Performance in a TV Movie (Comedy) – Supporting Young Actress, Young Artist Award, 2001
Young Hollywood Awards: Best Role Model, 2006
Young Hollywood Awards: Superstar of Tomorrow, Young Hollywood Award, 2006
Hollywood Film Awards: Ensemble of the Year, Hollywood Film Award, 2010
Phoenix Film Critics Society Awards: Best Ensemble Acting, PFCS Award, 2010
Palm Springs International Film Festival: Ensemble Cast Award, The Social Network, 2011
A Few Fun Facts About Brenda Song
Brenda Song is an American actress who loves to study acting and has watched several Audrey Hepburn films to get a varied perspective.
Brenda is a Taekwondo expert who got her black belt at fourteen. She wanted to learn ballet in her childhood but had to participate in the Taekwondo class with her brother.
What face shape does Brenda Song have?
Brenda Song has a round-shaped face with an equal proportion of exquisite beauty complimenting her facial features.
What is Brenda Song's hair color?
Brenda Song rocks natural Dark Brown hair in different hair lengths and textures.
What color eyes does Brenda Song have?
Brenda Song's mesmerizing Dark Brown eye color has captivated everyone's heart.
Does Brenda Song know kung fu?
Yes, Brenda Song has learned kung fu after earning a black belt in Taekwondo at the age of fourteen.
Does Brenda Song have a twin?
No, Brenda Song does not have a twin in real life. However, she has appeared on the show 'The Suite Life of Zack & Cody' with the Sprouse twins.
Does Brenda Song sing?
Brenda Song has purposely sung poorly 'Bling is My Favorite Thing' on ​​'The Suite Life of Zack & Cody.'
Is Brenda's song Chinese?
Yes, Brenda Song is Chinese as she has inherited Thai and Hmong descent from her parents.
Where does Brenda Song live?
Presently, Brenda Song lives in Los Angeles as she continues to pursue a remarkable career in acting.
Brenda Song has lived a prolific career in Hollywood and left her mark in the industry as a versatile celebrity. She has made significant contributions in the mainstream media like her peer Mae Whitman who has delineated mesmerizing performances. Do check out her inspiring life story and stellar appearances, which have captivated audiences' hearts.