At the 2021 Cannes Festival, Andie MacDowell turned all the cameras towards herself. Well, the credit goes to the silver in her hair as she looked beautiful in an ankle-length dress.
MacDowell has earned a few Golden Globe nominations; however, she is still just as humble, down-to-earth, and sweet. This article covers every important event in her personal and professional life, so let's get started!
Andie MacDowell's Story of Success
Andie MacDowell was born in Gaffney, a small town in South Carolina. MacDowell's mother, Pauline Johnston, was an alcoholic and died at 53 due to a heart attack.
On a trip to Los Angeles, Andie was spotted by a person working for Wilhelmina Models. Through the company, MacDowell was able to sign a modeling deal with Elite Model Management based in New York City.
During the early 1980s, Andie appeared in Vogue magazine and represented several luxury brands, including Yves Saint Laurent.
Her beauty caught the attention of the makers of Greystoke: The Legend of Tarzan, Lord of the Apes, and consequently, she was cast in the film.
MacDowell was shocked to learn that Glenn Close dubbed her lines in the film. However, it didn't break her spirit, and she continued learning and growing.
Afterward, Andie appeared in Sex, Lies, and Videotape, an independent film by Steven Soderbergh. Her outstanding performance helped her earn several awards and nominations.
This opened doors to other opportunities, and in 1993 MacDowell was seen in Groundhog Day, directed by Harold Ramis.
Additionally, she was also seen in Four Weddings and a Funeral co-starring Hugh Grant. Andie MacDowell starred in Jane by Design, where she played the role of Gray Chandler Murray.
Andie also appeared in Cedar Cove between 2013 and 2015. and in the horror-comedy movie Ready or Not, which was completed in around 26 days.
In 2021, she was seen in the Netflix series Maid. The show also co-starred her daughter Margaret Qualley.
Andie MacDowell's Height and Weight
Andie MacDowell's tall build makes it easier for her to wear long sleek dresses. She stands 5 feet 8 inches or 173 cm (1.73 m) tall, and her weight is only 125 lbs or 57 kg.
Andie MacDowell's diet is pretty simple, and she admits to trying Ayurvedic Cleanses to keep herself fit. The actress eats organically grown vegetables along with brown rice.
Her meals are complete with Raita, a South Asian dish made with yogurt and cucumber.
Andie MacDowell's Dating History
MacDowell got married to Paul Qualley in 1986. Qualley, a rancher and a former model, met MacDowell while shooting for a series of Gap ads. However, their union ended with a divorce which was finalized in 1999.
The former couple has three children, a son, Justin, and two daughters, Rainey and Margaret.
After the divorce, Andie started dating Dennis Quaid, but their relationship lasted only for a year.
After that, MacDowell rekindled her friendship with her high school classmate Rhett Hartzog. After dating for a while, the couple tied the knot in 2001. However, Andie's marriage with Rhett didn't last long, and they divorced in 2004.
Full Born Name: Rosalie Anderson MacDowell
Nickname: Andie MacDowell
Religion: Undisclosed
Date of Birth: 21 April 1958
Birthplace: Gaffney, South Carolina, US
Zodiac Sign: Taurus
Father Name: Marion St. Pierre MacDowell
Mother Name: Pauline Johnston
Siblings Names: Beverly MacDowell
Spouse: Rhett Hartzog (2001–2004), Paul Qualley (1986–1999)
Children: Margaret Qualley, Rainey Qualley, Justin Qualley
Andie MacDowell's Body Measurements
Looking at Andie MacDowell's stunning figure, no one can believe that she has three children, all adults at present. Her body measurements are 36-26-37 in or 91-66-94 cm.
When Andie's mother died of a heart attack, she began to worry more about her own health. It encouraged her to start experimenting with different exercises. Andie loves biking, running, walking, jogging, and hiking.
In addition to that, she also lifts weights and practices yoga. Andie believes that yoga helps her in maintaining her flexibility and mobility.
Andie MacDowell's Stunning Bosom
Andie MacDowell's sex appeal speaks for itself, especially due to her stunning bosom. Her breast size is 36 inches, and her bra size is 34C with cup size C.
Andie MacDowell's steamy scene in Love After Love is enough to make her fans crazy. The beautiful actress was seen naked, showing her ample breasts and a sexy figure.
MacDowell said that she pays a lot of attention to her body by staying active and eating a balanced diet. Well, the results sure are jaw-dropping!
| | |
| --- | --- |
| Height | 5 feet 8 inches or 173 cm (1.73 m) |
| Weight | 57 kg or 125 pounds |
| Breast Size | 36 inches |
| Bra Size | 34C |
| Cup Size | C |
| Body Measurements | 36-26-37 in or 91-66-94 cm |
| Figure | Slim |
| Chest Size | 36 inches or 91 cm |
| Waist Size | 26 inches or 66 cm |
| Hips Size | 37 inches or 94 cm |
| Shoe Size | 8 (US) or 38.5 (EU) or 6 (UK) |
| Dress Size | 4 (US) or 36 (EU) or 8 (UK) |
| Eyes Color | Hazel brown |
| Hair Color | Gray |
| Natural breasts or implants | Natural |
What Does Andie MacDowell Think About Plastic Surgery?
Andie MacDowell has lived up to our expectations every time she has appeared on the television screen. The actress is a pro and takes every role very seriously.
As MacDowell is aging, her fans suspect that she is undergoing some cosmetic procedures to look young. So let's see what the actress has to say about plastic surgery.
Talking to ABC News correspondent Abbie Boudreau, Andie stated that she has never been under the knife and is all about embracing her flaws. She added that she follows a simple beauty routine consisting of coconut oil and homemade scrubs.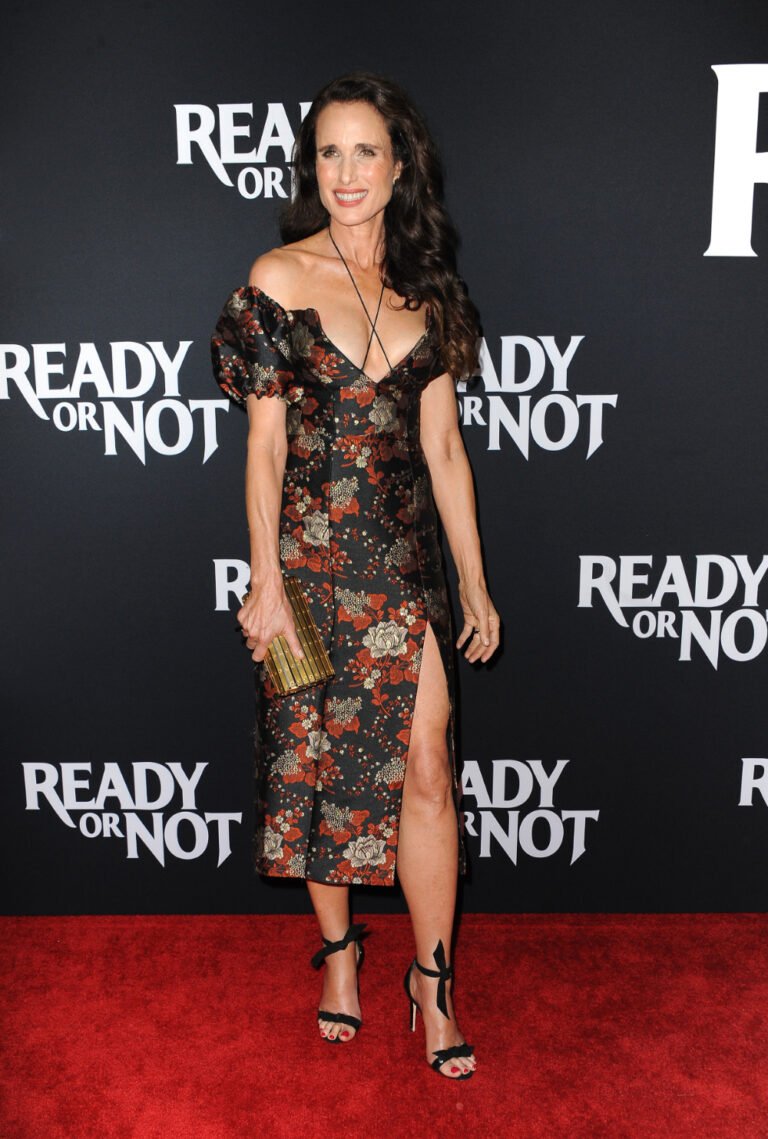 Andie MacDowell's Net Worth
As a model, Andie MacDowell worked with several big companies, including Calvin Klein. Apart from appearing in critically acclaimed movies, the actress has contributed to several independent projects. As of 2021, she has an estimated net worth of $20 million.
Andie MacDowell's Most Loved Things:
Favorite Hobby: Cooking
Favorite Beverage: Tea
Favorite Chocolate: UliMana Truffles
Favorite Holiday Destination: Paris
Notable Awards Won by Andie MacDowell
Los Angeles Film Critics Association Award, 1989: Best Actress
Independent Spirit Award, 1990: Best Female Lead
Saturn Award, 1994: Best Actress
A Few Fun Facts About Andie MacDowell
The curly-haired Andie MacDowell believes in living in the moment. Here are some exciting facts about the actress.
When Andie was a teenager, she worked at McDonald's and Pizza Hut. She has always been very hardworking, which is still visible in her performances.
Andie has been the face of many prominent brands. Besides, she was the international spokesperson for L'Oreal for more than twenty-five years.
What face shape does Andie MacDowell have?
Andie MacDowell has a square-shaped face. Her skincare routine usually consists of oils and scrubs that give her a natural glow.
Does Andie MacDowell have gray hair?
Yes, Andie MacDowell has gray hair. She stopped dying her hair and now feels like a badass for embracing her natural hair color and texture.
What color eyes does Andie MacDowell have?
Andie MacDowell has hazel brown eyes. The actress wears kohl and mascara most of the time to complete her look.
Does Andie MacDowell have tattoos?
No, Andie MacDowell does not have any tattoos on her body.
Does Andie MacDowell sing?
Andie MacDowell isn't a professional singer. However, she has sung in the 1996 film Michael, directed by Nora Ephron.
Is Andie MacDowell vegan?
No, Andie MacDowell isn't vegan. However, she prefers eating organically grown vegetables most of the time. Besides, she avoids eating processed/packaged food.
Where does Andie MacDowell live?
Andie MacDowell lives in Marina del Rey, California, as of 2013. When the actress was married to Paul Qualley, she lived in Montana.
Andie MacDowell is one of the 50 Most Beautiful People in the World, as stated by People magazine. Well, if it were in our hands, we'd keep her in the first place! Her impressive height reminds us of Camilla Belle, who is just as tall as her.