Amanda Seyfried is a one-of-a-kind actress when it comes to winning hearts, thanks to her humility, kind nature, and, of course, larger-than-life talents. From her unforgettable portrayal of Sophie in "Mamma Mia!" to her powerful performance in "Les Misérables, she's a pure sight to behold on and off screen!
This multifaceted woman never fails to captivate her audiences with her remarkable acting prowess. She's also known for her love of animals and farming, making her even more lovable to her fans! We really just can't get enough of her!
IN A GIST
Hollywood diva Amanda Seyfried is 5 feet 2 inches or 159 cm (1.59 m) tall.
Taking pride in her petite figure, Amanda Seyfried maintains her weight at around 54 kg or 119 pounds.
Born on the 3rd of December, Seyfried belongs to the sun sign Sagittarius. Want to learn more about her? Read on about Seyfried's career, measurements, and more.
How Old Is Amanda Seyfried?
Popular American actress Amanda Seyfried was born on December 3, 1985, making her 37 years old currently. Born and raised in Allentown, Pennsylvania, Seyfried has been rocking Hollywood since 1996!
A Brief Look at Amanda Seyfried's Career
Amanda took to the stage at the early age of 11 with her modeling career and even appeared on the covers of Francine Pascal Books. This helped kickstart her modeling career with The Limited Too.
When she turned 15, Amanda began training with a vocal coach to train her singing voice for the soap opera As the World Turns. She continued acting in soap operas throughout her childhood and graduated from high school in 2003.
Seyfried gained more recognition with her roles in the 2012 film Les Misérables. After this, she kept entertaining the audience with her brilliant work in other movies like The Big Wedding, While We're Young, Ted 2, The Last Word, Gringo, You Should Have Left, Things Heard, etc.
Amanda Seyfried was recently seen in the main cast of the biography drama TV series The Dropout in 2022 and The Crowded Room in 2023.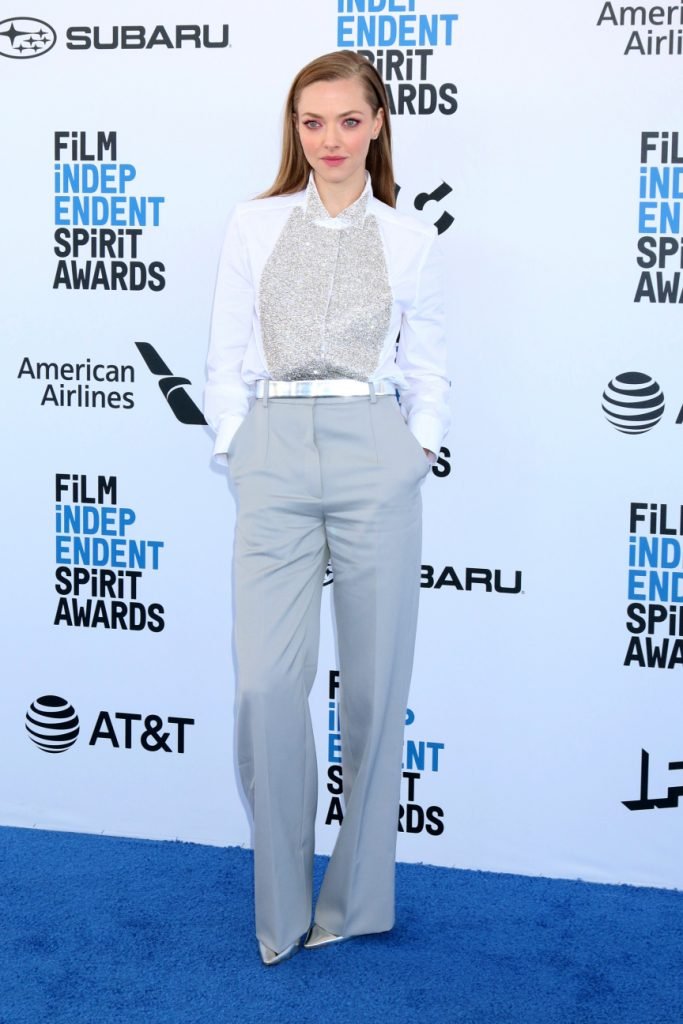 Amanda Seyfried's Relationships
Amanda Seyfried is a beautiful star and, as a result, has had no trouble finding love in the entertainment industry. Let's take a look at some of the celebs who have been lucky enough to date her.
Her earliest known celeb boyfriend is Micah Alberti, with whom she had a brief relationship. The couple was together from 2002 to 2006 and seemed to have pretty good chemistry.
After a series of brief relationships, some of which are probably only rumors, Amanda found herself with Justin Long in 2013. They were together for two years before breaking up for unknown reasons.
In February 2016, Amanda met the love of her life, Thomas Sadoski, and they got married in 2017. Since then, they have been living together happily with their two children.
Full Born Name: Amanda Michelle Seyfried
Nicknames: Minge, Mandy, Anxiety Girl
Religion: Christianity
Date of Birth: December 03, 1985
Birthplace: Allentown, Pennsylvania, United States
Zodiac Sign: Sagittarius
Father: Jack Seyfried
Mother: Ann
Sibling: Jennifer Seyfried
Spouse: Thomas Sadoski (m. 2017)
Children: Nina Sadoski Seyfried, Thomas Seyfried-Sadoski
Amanda Seyfried's Height and Weight
Amanda Seyfried sure has a striking physique which has helped her ace some of the hottest roles in cinema history. Seyfriend's average height of 5 feet 2 inches or 159 cm (1.59 m) really does justice to all the young teen roles that she plays on screen.
Thanks to her height, Amanda was a perfect match for the role of Karen Smith in Mean Girls and its sequel. Besides, Seyfried's well-kept body weight of around 54 kg or 119 pounds gives her the confidence to carry her figure with confidence on and off camera.
While it is tempting to think that Amanda got such a gorgeous figure by going on intense diets, this isn't the case. She did once try out a raw diet for five days but admitted that she wouldn't want to do it again.
The actress also loves to indulge in recreational physical activities like balancing, canoeing, playing tennis, and more. No wonder she's so full of energy and vibrance!
Amanda Seyfried's Body Measurements & Gorgeous Features
The Chloe actress has a toned figure that has made women across the world hold on tighter to their boyfriends. If you wondered about her vital stats, well, Seyfried's body measurements are 35-25-35 inches or 89-63-89 cm.
Moreover, she's also blessed with unique, expressive green eyes which illuminate her adorable heart-shaped face enough to grab her audience's attention. Seyfried's golden blonde hair also adds to her flashy look!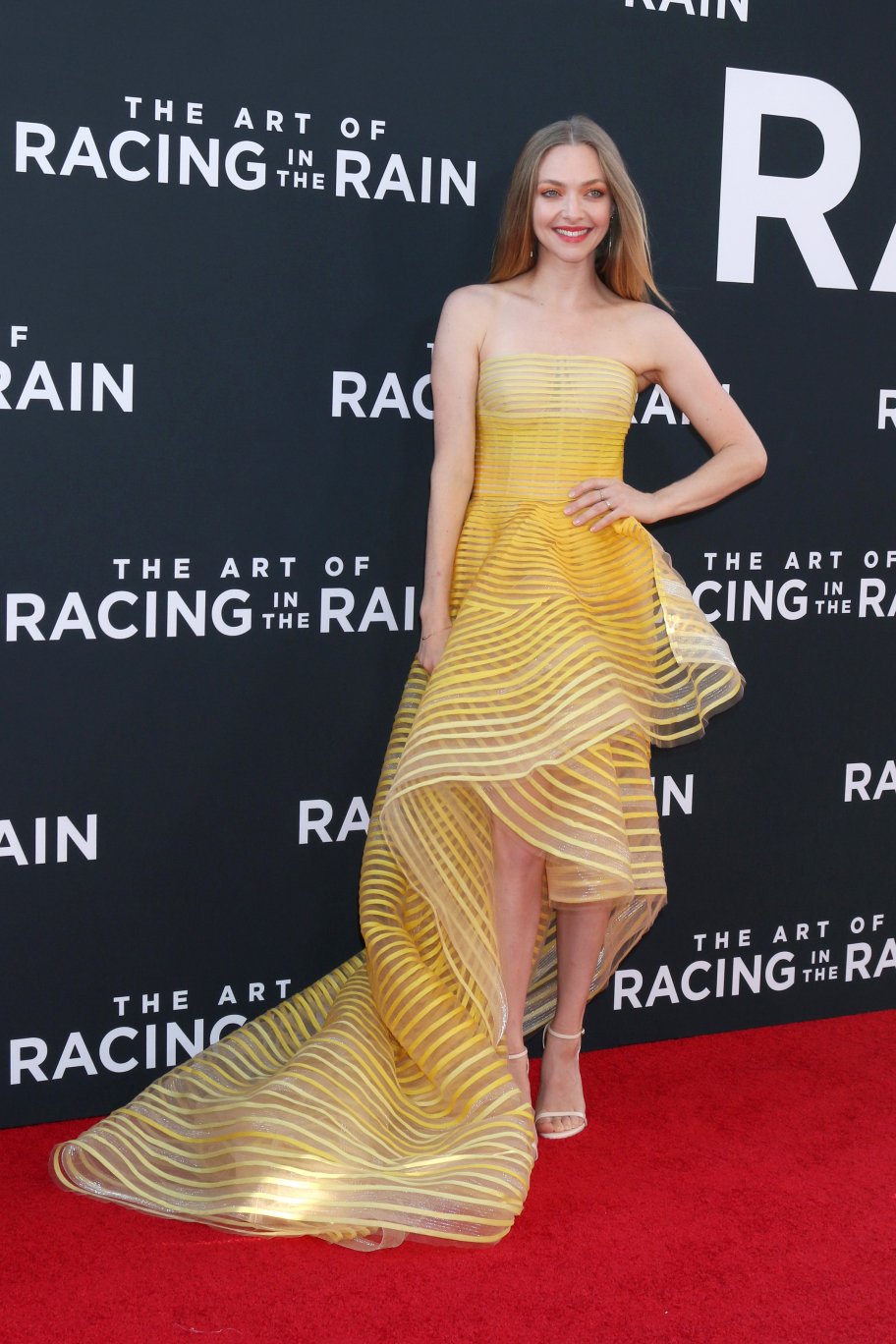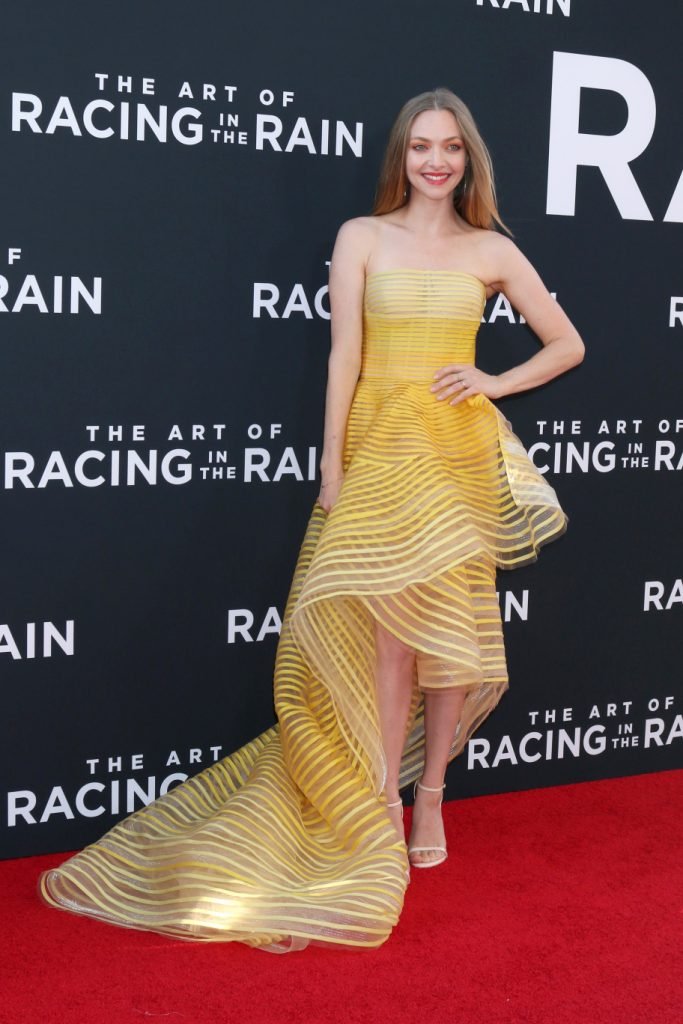 Amanda Seyfried's Ample Bosom
Amanda's perfect assets have been the subject of envy for most young actresses of today. She confidently flaunts her breast size of 35 inches, wearing a possible bra size 34C with a cup size C.
Amanda knows she's hot and is not afraid to show her confidence. According to Daily Mail, she once spoke about her breasts and stated that she found her curves beautiful when they were size D.
She later worked hard to lose weight, and her bra size went to a C which she found to be a little upsetting since she gave herself a hard time getting to her current weight.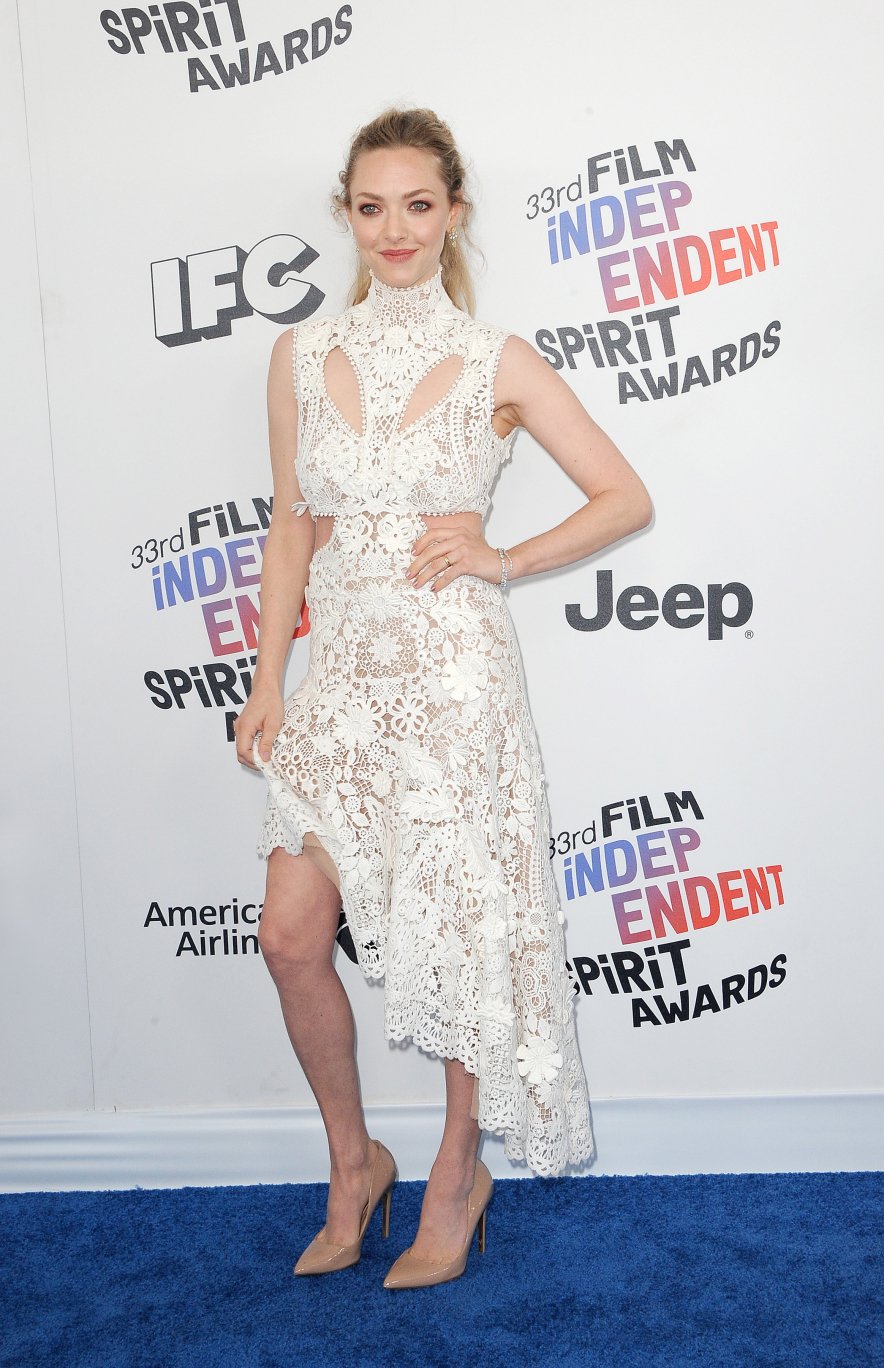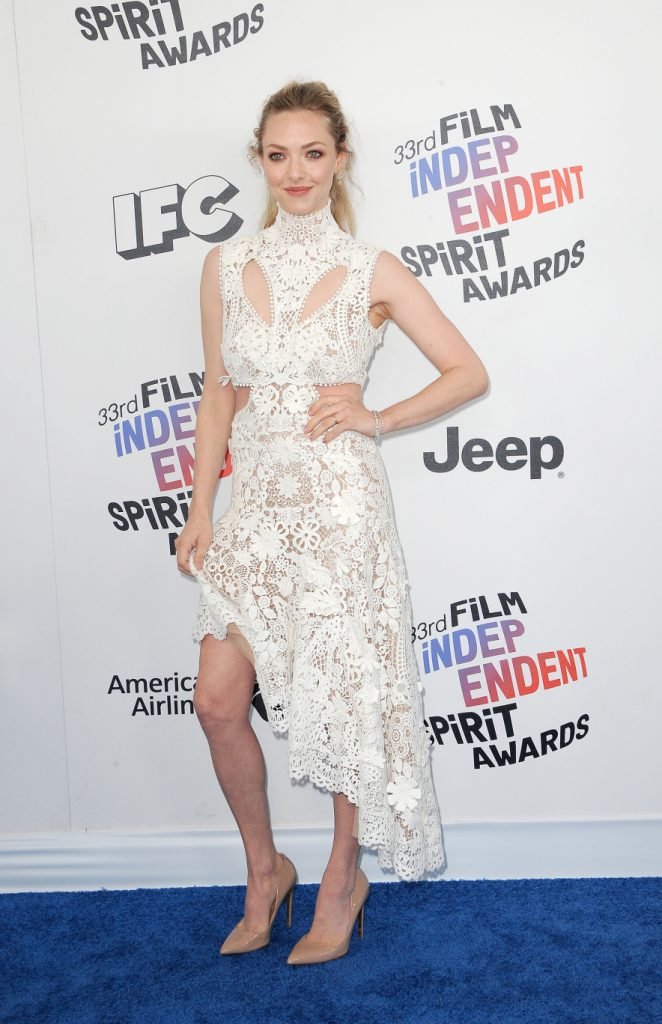 | | |
| --- | --- |
| Height | 5 feet 2 inches or 159 cm (1.59 m) |
| Weight | 54 kg or 119 pounds |
| Face Shape | Heart |
| Breast Size | 35 inches |
| Bra Size | 34C |
| Cup Size | C |
| Body Measurements | 35-25-35 inches or 89-63-89 cm |
| Figure | Slim |
| Dress Size | 6 (US) or 38 (EU) or 10 (UK) |
| Shoe Size | 8 (US) or 39 (EU) or 6 (UK) |
| Eyes Color | Green |
| Hair Color | Golden Blonde |
Disclaimer
Amanda Seyfried's Net Worth
Amanda Seyfried has had an extremely popular career, and it has helped her earn quite a bit of fortune and fame. She has played unforgettable roles in several popular hit films and series, such as The Dropout, building an estimated net worth of $16 million as of 2023.
Amanda Seyfried's Favorites
Favorite Animals: Dog, Horse
Favorite Food: Pizza, Marbled Shortbread
Favorite Hobbies: Horseback Riding, Boating, Traveling
Favorite Writer: Scarlett Curtis
A Few Fun Facts About Amanda Seyfried
Amanda Seyfried has always been extremely committed to her acting career and even missed 70 days of school during her senior year to pursue acting.
She even kept this up in college when she put her studies on hold to film the movie Mean Girls. Fortunately, the film was a massive success, and Amanda got her time's worth.
However, if Amanda wasn't an actress, her dream would have been to study meteorology since she is quite fascinated by weather phenomena.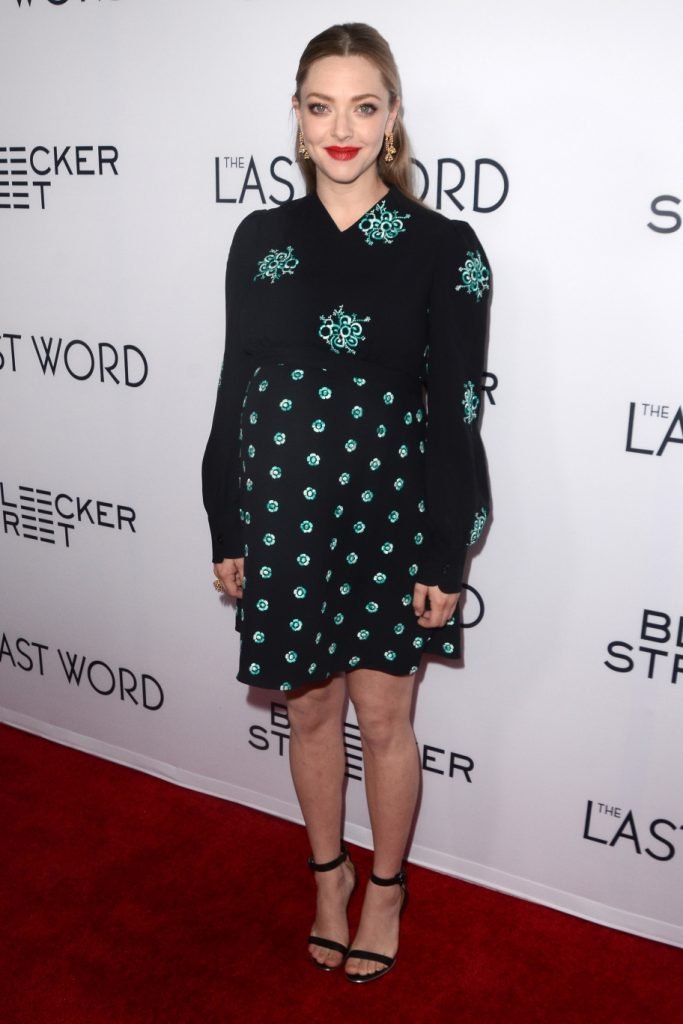 What is Amanda Seyfried's face shape?
Amanda Seyfried has a beautiful heart-shaped face which is best complimented by her medium-length hair.
What color eyes does Amanda Seyfried have? 
Amanda Seyfried's eyes are a pretty light shade of green, looking unique and appealing.
What is Amanda Seyfried's hair color?
Amanda Seyfried has shiny and bright golden, wheatish blonde hair.
Does Amanda Seyfried have naturally curly hair?
Amanda's hair is naturally wavy, but she also looks stunning in curly hair.
Does Amanda Seyfried have tattoos?
Yes, Amanda has 'minge' tattooed on her left foot.
Did Amanda Seyfried win a Golden Globe?
Seyfried recently won a Golden Globe Award for Best Actress in 2023 for her outstanding performance in the miniseries The Dropout.
Did Amanda Seyfried learn Mandarin?
Amanda likely learned the Mandarin language for the TV series The Dropout.
Can Amanda Seyfried play guitar?
Yes, Seyfried can play guitar, as seen on her Instagram account.
Is Amanda Seyfried vegan?
Amanda is not a strict vegan, but she has tried vegan and vegetarian diets.
Did Amanda Seyfried sing in Ted 2?
Seyfried played the role of Samantha Leslie Jackson in the 2015 comedy film Ted 2.
Was Amanda Seyfried in House?
Amanda appeared in a guest role in the medical drama series House as Pam in the episode "Detox."
What mental illness does Amanda Seyfried have?
Amanda Seyfried has OCD, or Obsessive-Compulsive Disorder, which has caused her to be on a dose of Lexapro since she was 19 years old.
Did Amanda Seyfried go to college?
Amanda joined Fordham University, New York City, in 2003 but didn't continue her studies once she got the role in Mean Girls in 2004.
Where does Amanda Seyfried live?
Amanda Seyfried currently lives in New York with her adorable family.
Amanda Seyfried is an amazing star who has worked hard throughout her career to get to her current level of fame. Quite like Amanda, her Mean Girl co-star Lindsay Lohan has successfully established herself to be one of the hottest actresses of today.