Alyssa Jayne Milano is a phenomenal star who has taken the world by storm with her energetic aura and splendid career growth. She is an all-time star who has inspired the youth to pursue their dreams while crossing all the hurdles in life with grace.
You've come to the right place to know major insights into Alyssa's life, as we have explored her journey to stardom, romantic relationships, fitness routine, and other personal information you might be interested in knowing.
Alyssa Milano's Success Story
Actress Alyssa Milano was born into a family of creative artists, as her parents, Thomas M. Milano and Lin Milano, were fashion designers, talent managers, and film music editors.
The diva was born on 19 December 1972 in Bensonhurst, New York, the United States, and she inherited Italian-American ancestry from her parents. Besides her affluent heritage, she has put all the hard work into her career to justify her worth in the industry.
Alyssa Milano credits her babysitter, who took her to the auditions of Annie – a national touring company. At just seven, Alyssa received her breakthrough through television commercials.
She pursued acting from a young age in New York and got significant opportunities to partner with Broadway productions in the initial stage of her career. She was managed by Peace Productions, which helped her acquire several significant roles in commercially successful movies and television shows.
Alyssa Milano made her Hollywood debut in 1984 as Diane in the movie 'Old Enough' – a drama film that grasped the audience's attention and made her noticeable. She stayed in Los Angeles to pursue her dreams, and after gaining fame, she got featured in the New York Times.
In the same year, she was cast in the sitcom 'Who's the Boss' and later appeared in its subsequent seasons in about 196 episodes which brought her prominence.
Alyssa Milano's widely acclaimed roles were in the series Charmed, Mistresses, and Melrose Place, which put her in the media's limelight and helped her establish her name amongst the remarkable actresses of her prime.
In the present, Alyssa Milano is fancied for her transformational career growth as she has delineated magnificent performances as a successful Actress, Voice Actor, Producer, and Activist.
Alyssa Milano has contributed significantly to the pop and rock genres of music as a euphonious singer. She released her debut album titled 'Look In My Heart' in 1989, and her dulcet tones made her fans fall in love with her.
More than anything, Alyssa Milano is a benevolent person who has supported noble causes and is renowned for her activism. She has helped raise awareness against AIDS and even showed affection to people who have AIDS to emphasize that it doesn't spread through casual contact.
Activist Alyssa Milano has supported president Joe Biden's administration during his White House stay. President Biden's government promotes equal voting rights, strict laws against sexual assault, and eradicating poverty and hunger issues worldwide while supporting South Africa.
Alyssa Milano is a PETA, #metoo movement, equal rights, and UNICEF supporter and spokesperson for Proactiv. Alyssa, being the woman brand ambassador for UNICEF since 2003, has acted as an influential figure in raising funds for helping children worldwide.
Alyssa Milano's Height and Weight
Alyssa Milano has a petite figure, and she stands at an adorable height of 5 feet 2 inches or 157 cm (1.57 m) and weighs about 61 kg or 134 pounds that have put her in some noteworthy position in her career.
Alyssa Milano has maintained her shape by making an essential reform in her eating habits. She eats an immaculate diet and believes in eating an adequate amount of food that keeps the body nourished and full of energy.
Alyssa and her husband follow the Atkins program, which focuses on eating high-protein foods rather than including carbohydrates in their diet.
Alyssa Milano follows a moderate diet that includes oatmeal, salad, grilled fish, vegetables, fruits, Chicken, Cheese, Nuts, Cheesy Cauliflower, and Guacamole.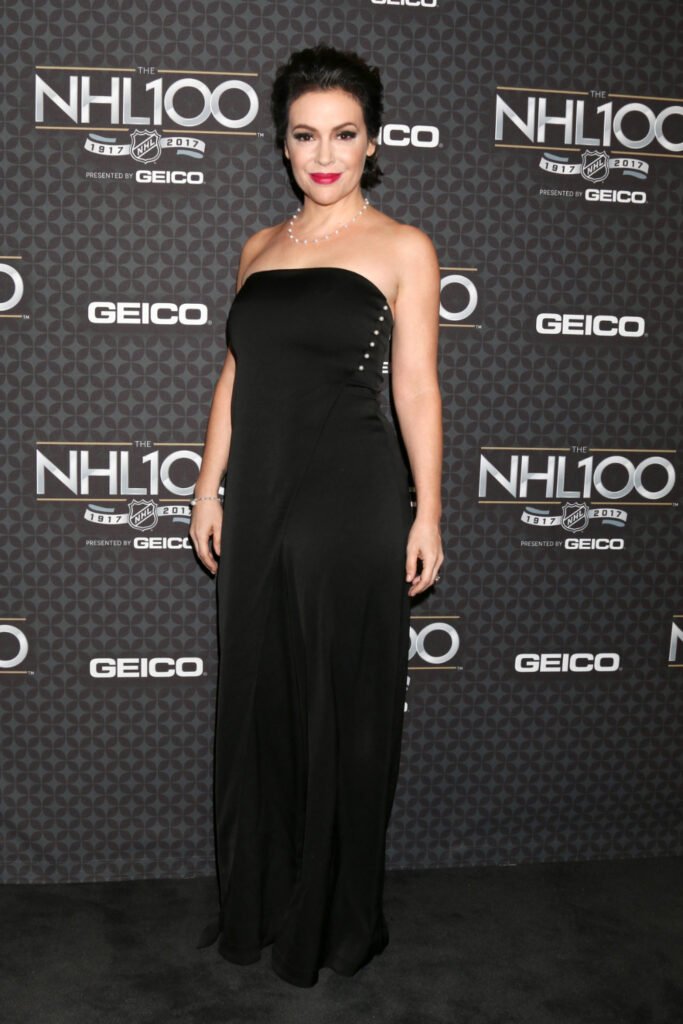 Alyssa Milano's Romances
Alyssa Milano has an ostentatious appearance characterized by her distinguishing features like tattoos, tempting curves, and captivating eyes and facial expressions, making anyone fall for her.
Alyssa has a history of romantic relationships which were out in the open as she has spent quality time with her co-stars and people she fell in love with.
Alyssa's first relationship was in 1985 with the American actor Kirk Cameron. They dated for a year and realized that they were too young to plan their future together. They mutually agreed on separating to focus on their respective careers.
From 1986 to 1993, Alyssa's name was linked to celebrities Corey Feldman, Crey Haim, David Arquette, Eric Niles, and Scott Wolf, with whom she shared some great bonds but couldn't make any relationship work.
In 1998, she fell in love with fellow singer Cinjun Tate after dating for almost a year. However, the duo had a split within a while because they faced irreconcilable issues within their personal lives that they could not cope with.
In 2002, Alyssa spent time with phenomenal singer Justin Timberlake, and people loved their real-life chemistry. Then, when people wished to see them reading wedding vows together, they went through an amicable breakup that broke everyone's heart.
Presently, Alyssa Milano is married to the Creative Artists agent David Bugliari who she started dating in 2007. The couple decided to marry each other in 2009 after finding solace in each other's companionship.
Unfortunately, in 2009, she faced a miscarriage, but in 2011, the couple was blessed with a boy named Milo, and a daughter named Elizabella, born in 2014. Since then, their adorable family has lived happily together and has made occasional appearances in public.
Full Born Name: Alyssa Jayne Milano
Nick Names: Lissie-Girl, Conan, Lyssa, Lyssie
Religion: Roman Catholic
Date of Birth: 19 December 1972
Birthplace: Bensonhurst, New York, United States
Zodiac Sign: Sagittarius
Father Name: Thomas M Milano
Mother Name: Lin Milano
Siblings Names: Cory Milano
Spouse: Cinjun Tate (m. 1999 – div. 1999), David Bugliari (m. 2009 – present)
Children: Milo Thomas Bugliari, Elizabella Dylan Bugliari
Alyssa Milano's Body Measurements
Alyssa's well-proportioned physique has astonished millions and left them wondering how she has maintained such a stellar figure. Alyssa's exact body measurements are 37-24-33 inches or 93.98-60.96-83.82 cm, which her fans widely searched.
Alyssa Milano has followed a strict fitness regime to attain a commendable figure and sustain the industry's competition. She has trained in the gym to have sweat workout sessions and lose extra calories.
Alyssa Milano's workout sessions include cardio, burlesque, dance, yoga, and pilates, which have helped her attain a great shape. In addition, she goes for morning walks in the park with her son and burns fat with non-exercise activity thermogenesis.
Alyssa Milano's Ample Bosom
Alyssa Milano has left fans in fascination with her amazing physique. She has an ample bosom figure with a breast size of 34 Inches which she flaunts in a bra size of 34C while wearing a cup size C.
Her best-dressed looks on red carpet events got her featured amongst the sexiest and most beautiful women in the world during the early 2000s.
| | |
| --- | --- |
| Height | 5 feet 2 inches or 157 cm (1.57 m) |
| Weight | 61 kg or 134 pounds |
| Breast Size | 37 inches |
| Bra Size | 34C |
| Cup Size | C |
| Body Measurements | 37-24-33 inches or 93.98-60.96-83.82 cm |
| Figure | Average |
| Chest Size | 37 inches or 93.98 cm |
| Waist Size | 24 inches or 60.96 cm |
| Hips Size | 33 inches or 83.82 cm |
| Shoe Size | 6 (US) or 36.5 (EU) or 4 (UK) |
| Dress Size | 6 (US) or 38 (EU) or 10 (UK) |
| Eyes Color | Dark Brown |
| Hair Color | Dark Brown |
| Natural breasts or implants | Natural |
Truth About Alyssa Milano's Plastic Surgery
Alyssa Milano has always been open about the whereabouts that has made her fans praise her even more. Her honesty has challenged other people in the industry to be at the top while sharing the truth about their personal lives.
Recently, when Alyssa was asked to share her wrinkle-free skin-care routine, she was adamant about sharing that she has got Botox done to look fascinating. This revelation left the fans in admiration, and they respected Alyssa's honesty and her decisions in life.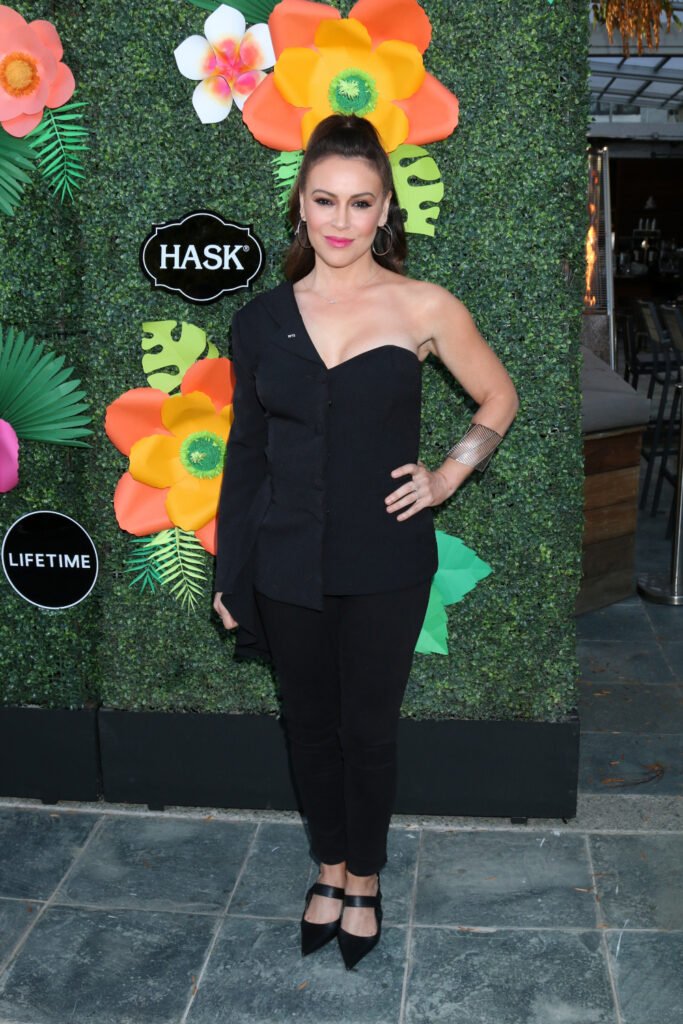 Alyssa Milano's Net Worth
As of 2022, Alyssa Milano has earned a fortune for herself. Alyssa Milano's net worth is estimated at $10 Million, which she has earned by showcasing her immense talents in the industry. 
Alyssa Milano is a beloved celebrity with larger-than-life talents recognized for indulging in several ventures. She participates in digital ad campaigns on social media platforms like Instagram as an influencer.
Alyssa's major source of income is from endorsing brands such as PETA, UNICEF, ProActiv, and NFL Touch Women's Fashion Collection by Alyssa Milano. In addition, she has appeared in television commercials for Candies Shoes and Cologne, Hi-C Fruit Drinks, and the Wen Healthy Hair Care System.
Alyssa Milano's Most Loved Things:
Favorite Foods: Fish, Chicken, Cheese, Nuts, Cheesy Cauliflower, Guacamole
Favorite Products: Homeopathic Medicine Kit, Febreze Sleep Serenity Bedding Refresher, Graco Low-Range Baby Monitor, White Noise Machine
Favorite Colors: Lavender, Green
Favorite Sports: Baseball
Favorite Song: Blackbird – The Beatles
Awards Won By Alyssa Milano
Kids' Choice Awards, USA: Favorite TV Actress, 1988-1990
Young Artists Awards: Best Supporting Actress in a Television Series, 1986
Young Artists Awards: Best Young Female Superstar in a Television, 1988
Exciting Facts About Alyssa Milano
In 1998, a web designer allegedly shared Alyssa Milano's naked pictures on the internet against whom she fought a legal case. As a result, she was compensated with about $230K in a default judgment finalized by the court.
Alyssa Milano is water-phobic, making filming some scenes in the series 'Charmed' with Shannen Doherty very difficult.
In 2009, she faced a miscarriage which put her in depression but later in 2011; she filmed 'New Year's Eve' while being four months pregnant.
The spaceship in the movie Guardians of the Galaxy is named after her – 'The Milano.' Likewise, the character of Ariel in the movie 'The Little Mermaid' is a depiction of Alyssa's beauty as she was the main source of inspiration while writing.
What is Alyssa Milano's face shape?
Alyssa Milano has a heart-shaped face that looks adorable because of her vivid beauty and captivating facial expressions.
What color is Alyssa Milano's hair?
Alyssa Milano's natural hair color is Dark Brown, and she has experimented with her hair to make them look curly, wavy, and layered at different life instances.
What color are Alyssa Milano's eyes?
Alyssa Milano has mesmerizing Dark Brown shade eyes, which have captivated many hearts.
Does Alyssa Milano have tattoos?
Alyssa Milano has seven tattoos on her body which reflect her creative artwork. In addition, her tattoos depict the things in which she believes and finds spirituality.
She has an 'Om' tattoo on her wrist, flower, vines, angel, wings on her ankles, circle and snake on her forearm, Tibetan tattoo on her back, cross, jewelry, rosary on her shoulder, and a girl portrait on her stomach.
Does Alyssa Milano speak Italian?
Alyssa Milano has inherited Italian-American descent and speaks several languages like Spanish, Finnish, German, Swedish, and Greek but doesn't know how to speak Italian. This is because she was born and brought up in the United States.
Does Alyssa Milano have a college degree?
Alyssa Milano acquired formal education from The Buckley School, and she received on-set lessons from a personal tutor who helped her get a degree while pursuing acting.
Alyssa Milano is a versatile celebrity who has earned a prominent position in Hollywood by showcasing her marvelous talents. Her journey to success reminds us of diva Gwen Stefani who has charmed the world with her diverse skill set. Look her up as her journey to success is inspirational, and she has an incredible figure.