From a vibrant 5-year-old facing the camera for the first time to a woman in her 40s with a never-ending zest for life, Alison Sweeney has grown more beautiful and promising with time!
Whether it is Samantha from The Days of Our Lives or her witty self at The Biggest Loser, Alison knows how to bring her flavor to every performance. And she keeps learning and mastering her craft with every role that comes her way!
IN A GIST
Alison Sweeney has a spectacular height of 5 feet and 4 inches or 163 cm.
Sweeney weighs around 58 kg or 128 pounds and follows fresh fitness routines to maintain it.
Her birthday falls on the 19th of September, and she is 46 years old.
Alison hosted The Biggest Loser for 13 years before bidding the show a heartfelt goodbye. Continue reading to learn more about Alison's life, career, measurements, lifestyle, favorites, and more!
Alison Sweeney's Age and Birthday
The Hollywood stunner celebrates her birthday on the 19th of September under the star sign Virgo. Born in 1976, Alison is 46 years old, but her enthusiasm for life isn't bound by a number. She is truly living on the edge!
Alison Sweeney's Educational Background
Alison was interested in acting from a pretty young age. Still, she attended UCLA to study economics, but due to her casting in the soap opera Days of Our Lives, she dropped out.
It's not easy to give up one's education to follow their passion, but Alison went to follow her dreams and achieved stardom at a young age.
Alison Sweeney's Precious Family
Alison was born in Los Angeles to an army veteran, Stender Sweeney, and a professional horse rider, Polly Sweeney. She has often mentioned how her parents inspire her to be a good human and that she is grateful to be born into her family.
She once shared her childhood photo with her fans mentioning that her parents found it while cleaning the attic! How adorable is that?
Alison is the middle child of her family and has two brothers with whom she shares a special bond. The way Alison keeps sharing nostalgic photos of the trio shows that she misses the old times.
Alison has been happily married to David Alan Sanov since 2000; that's 12 years of tying the knot. The couple has two children; a son and a daughter.
Alison Sweeney's Career Highlights
Alison was only five when she appeared in a Kodak advertisement. Then she made her acting debut in the crime drama Simon & Simon but waited three years for her breakthrough as Samantha 'Sami' Brady on the 1987 soap opera, The Days of Our Lives.
Alison portrayed the popular character for almost ten years, from 1993 to 2014, intermittently, and won several awards, including a Daytime Emmy nomination in 2015. She reprised her role many times and finally became a regular again in 2021.
Alison also hosted the reality show The Biggest Loser from 2007 to 2015 and impressed her TV audience. She has also starred in Hallmark movies like Murder, She Baked series, and Open By Christmas, becoming a popular household name in America.
She holds many notable performances on TV shows like Tales from the Darkside, Family Man, Brand New Life, Friends, and Mercy, under her name.
Besides, the woman also directed episodes of the soap opera General Hospital back in 2014. During this time, she also wrote three books; The Star Attraction, Scared Scriptless: A Novel, and Opportunity Knocks.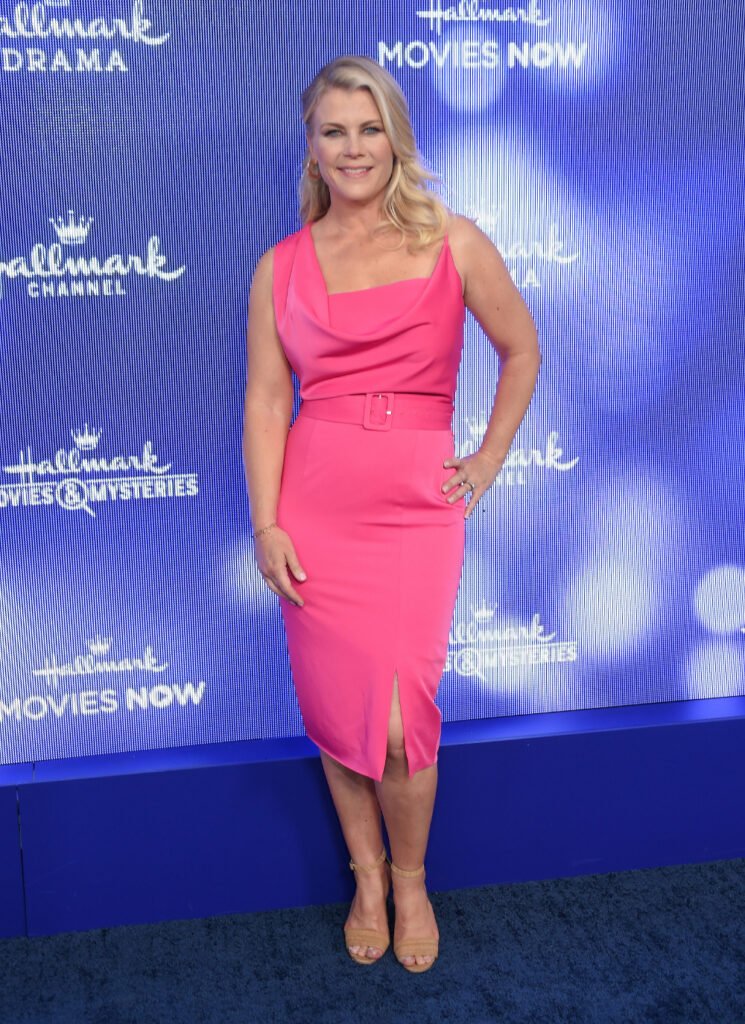 Full born name: Alison Jane Sweeney
Nicknames: Alison
Occupation: Actress, Author, Director
Date of birth: September 19, 1976
Birthplace: Los Angeles, USA
Education: UCLA, Los Angeles, California
Zodiac sign: Aquarius
Father name: Stender Sweeney
Mother name: Polly Sweeney
Siblings' name: Ryan Sweeney, Sten Sweeney
Spouse: David Alan Sanov (m. 2000)
Children: Benjamin Edward Sanov, Megan Hope Sanov
Alison Sweeney's Impressive Height and Weight
Alison stands tall at 5 feet and 4 inches or 163 cm (1.63 m) and maintains her weight at around 58 kg or 128 pounds. She is dedicated to healthy living and follows a variety of fitness regimes to stay toned.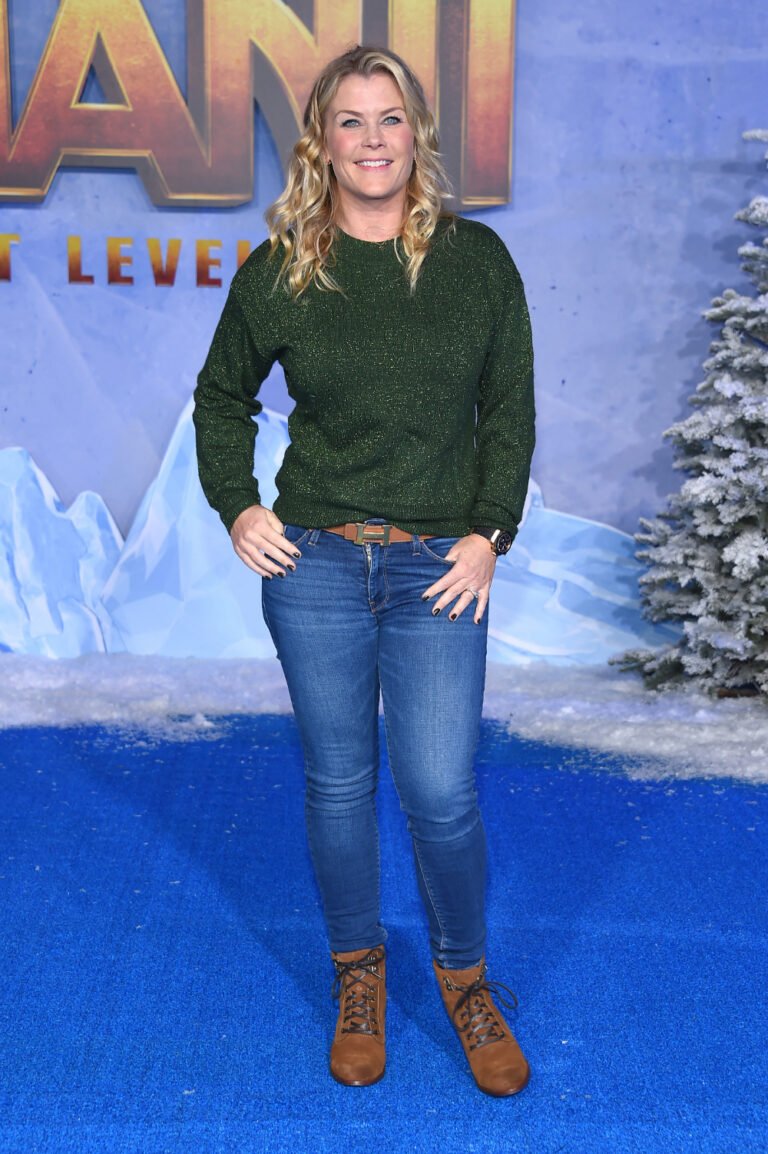 Alison Sweeney's Body Measurements and Physical Traits
Alison Sweeney has estimated body measurements of 36-28-34 in or 91-71-86 cm, and she possibly wears a bra size of 36B with a cup size B. She is a gorgeous lady in every sense.
Her toned body perfectly suits her square-shaped face, expressive blue eyes, and lustrous blonde hair that falls above her shoulders. Even reading about her physical traits makes one want to look at her photo or in person – that's how magical Alison is!
How is Alison Sweeney so fit in her 40s?
Alison Sweeney is a workout queen who spends a big part of her life either on a yoga mat or in the gym. Besides, she loves mixing technology with her exercise and resorts to fresh fitness routines.
Sweeney also loves to go out in the wilderness and soak in the beauty of nature. She is a passionate runner, horse rider, and hiker and is, thus, physically very active.
And it's not just workout regimes that contribute to her fitness, but also the balanced diet comprising leafy greens, almonds, salmon, mango, etc. Even though she regularly consumes nutritional salads, Alison loves to plan taco dinners with her children now and then.
| | |
| --- | --- |
| Height | 5 feet and 4 inches or 163 cm (1.63 m) |
| Weight | 58 kg or 128 pounds |
| Face Shape | Square |
| Bra Size | 36B |
| Cup Size | B |
| Figure | Athletic |
| Body Measurements | 36-28-34 in or 91-71-86 cm |
| Shoe Size | 6 (US) or 36 (EU) or 4(UK) |
| Dress Size | 8 (US) or 38 (EU) or 10 (UK) |
| Eyes Color | Blue |
| Hair Color | Blonde |
Disclaimer
Alison Sweeney's Social Media Following
Alison is pretty vocal about health and fitness on her channel and garners a lot of attention for her workout videos. Plus, her warm and loving personality attracts thousands of followers to her accounts every day!
Alison Sweeney's Net Worth
Alison Sweeney isn't only beautiful; she has a big brain and tremendous talent to build a multimillion-dollar empire in her name. She's been a part of some of the longest-running American shows, several Hallmark films, and brand promotions.
Adding up, Sweeney has an estimated net worth of $9 million as of 2023 and is on her way to doubling it in the coming years.
Alison Sweeney's Favorite Things
Favorite Animals: Dogs, Horses
Favorite Book: Believe It by Jamie Kern Lima
Favorite Activity: Cooking, Gardening
Fun Facts About Alison Sweeney
Alison is allergic to animals, but she still has several pets at home. An animal lover indeed!
She once suffered from Bulimia.
Alison is an active human being and enjoys gardening, swimming, kickboxing, etc.
She is pretty fluent in Spanish even though she is of Irish descent.
She published her memoir All The Days of My Life (So Far) in 2004.
What face shape does Alison Sweeney have?   
Alison Sweeney has a square-shaped face which perfectly suits her big eyes and bright smile. 
What is Alison Sweeney's hair color? 
Sweeney has natural shoulder-length blonde hair that compliments her athletic build and sharp features. 
What color eyes does Alison Sweeney have? 
Alison has deep blue eyes that sparkle with beauty and grace. 
Did Alison Sweeney win an Oscar?         
Alison hasn't won an Oscar yet but was nominated for a Daytime Emmy in 2015. 
Did Alison Sweeney win the Fear Factor?    
Alison Sweeney participated in the celebrity episode of Fear Factor in 2002 but didn't win it. 
Did Alison Sweeney leave the hallmark channel?      
Alison will be releasing a Hallmark movie this year. So, no, she hasn't left the channel. 
Did Alison Sweeney go to college?    
Alison attended UCLA to study economics but dropped out to work in the Days of Our Lives. 
Where does Alison Sweeney live?    
Alison Sweeney lives in Los Angeles, California, with her husband and two kids. 
Alison Sweeney is blessed with beauty and talent, but it was her intrinsic work ethic that brought her to the throne. Her passion for acting reminds us of another American actress Mädchen Amick who is the queen of her own craft.